Matrox Graphic Cards Validated for Use with Mura Video Wall Controllers
Matrox announces its P690 PCI graphic cards have been approved for use alongside its Mura MPX-based video wall controllers.
Matrox is a Montreal, Canada-based manufacturer of video solutions, including boards, appliances and software.
Recently, the Canadian company announced that its P690 PCIe x16 and P690 Plus LP PCIe x16 graphic cards have been validated for use with its Mura MPX-based video wall controllers.
Matrox explains the approval streamlines dealers' ability to install and configure flexible and powerful systems for their clients.
Matrox Graphics' Ron Berty on Signal Distribution Options
Take Our Latest Quiz
Recommended For You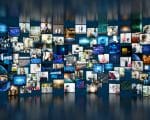 Organizations are seeing a boon when implementing AV over IP technology, and integrators are finding happy customers when installing AV over IP. In this webinar, you'll learn exactly why you need AV over IP.
After attending this free webinar from Commercial Integrator and TechDecisions you'll understand what you need – and everything you can do – to ensure you get the best UC services for your organization working together.