Business Enhancements Via Analytics: What Integrators Must Know About NEC ALP Pro
NEC ALP Pro represents 'evolution' of Analytics Learning Platform with real-time business intel in retail, hospitality, transportation and smart cities.
Content from our Sponsor
Leave a Comment
Integrators and customers in the retail space are already starting to understand the power of having real-time business intelligence at their fingertips thanks to NEC's Analytics Learning Platform [ALP].
With the release of ALP Pro this summer, NEC is aiming to bring that unique ability to integrators and customers in the hospitality, entertainment and transportation markets as well as those in smart cities by harnessing artificial intelligence in age, gender, events, weather and other demographics.
"It's a much deeper level of intelligence," says Kelly Harlin, analytics platform strategist at NEC Display Solutions of America, Inc., noting the data comes from and is measured using traditional means but also through social media and other less-common channels.
"It's about using what's happening in your environment," she says. "It's very localized, very targeted."
With the help of ALP Pro, digital signage kiosks and other NEC displays will "start to suggest content" based on who's interacting with the displays, stitching it together in a way that appeals to particular people and changes dynamically based on who's interacting with the technology at that particular time.
"It's using AI to heavily target for you," says Harlin. "It provides an operational element." That includes helping business owners with staffing levels to improve wait times, for examples.
ALP Pro "optimizes message delivery with automated content creation and recommendations for targeted customers using AI-based analytics, enabling retailers to customize their content based on age, gender, events, and weather."
ALP is targeted more to small businesses, while ALP Pro is more suitable for larger enterprise businesses.
"ALP Pro…leverages the power of AI to automatically deliver optimized messaging, including being able to measure customer wait times and trigger content, as well as provide a deeper level of analytics to evaluate message performance," said Richard Ventura, VP of strategy for NEC Display Solutions of America.
NEC ALP Pro sets and recommends rules for target ads depending on non-identifying demographic data such as age, gender, events and weather. ALP Pro can also create and recommend content automatically for targeted segment shoppers by analyzing retailers' merchandise photos and videos.
NEC ALP Pro consists of hardware, software, cloud services, managed services, and big data analytics – as well as consulting, customized software, content creation, installation, and 24/7 support.
The platform consists of an edge computing appliance, cameras, and sensors. The system is designed with full API integration into key digital signage content management systems, allowing it to deliver and trigger content onto different media player platforms. 
ALP Pro integrates technology from Data Call for weather and location-based data, Sophatar for PoS integration and AI powered insights from Oculus360.
In addition, ALP Pro is also integrated into the BrightSign platform, NAVORI, StratosMedia and Signagelive content management systems (CMS), and Microsoft Azure and Intel for infrastructure.
The platform uses NEC EVA for anonymous video analytics.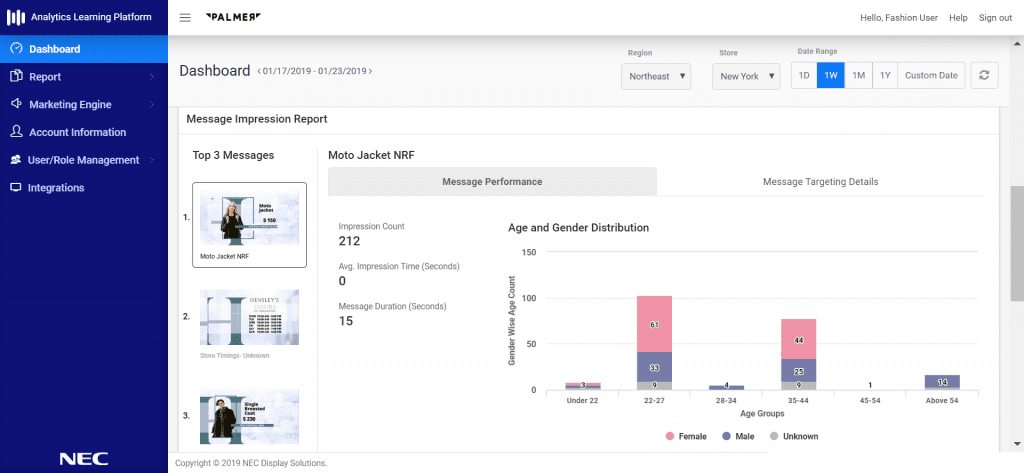 Markets Where ALP Pro Can Make A Difference
The retail space is likely to be primed to benefit most from the release of ALP Pro in the summer.
"Being able to understand who's in your store, where they're spending their time and which ads are driving conversion is extremely valuable," says Harlin. "A lot of time retailers aren't quite sure who their customers are.
They're excited about having opportunities to target demographics they weren't really thinking about."
High Street Collective is launching what it calls a Living Retail Lab, where it will incorporate ALP Pro in an effort to improve overall business intelligence and operations through artificial intelligence. The yearlong endeavor started in early May.
NEC is also targeting ALP Pro to the hospitality market, those who operate cinemas, convention centers and municipalities that operate as "smart cities." They plan to look at education and health care in the future too, says Harlin.
ALP Pro will help those who run convention centers deal better with traffic flow, using signage and driving business to the food court or other recreational areas at time when the demand for taxis and other transportation might be at its highest.
That includes posting specials on menu boards inside the facility and determining attendee demographics to help better target what they want to make their visit more enjoyable.
In the transportation market, NEC envisions ALP Pro as a key tool in helping those using airports or public transportation facilities to "navigate the environment better," says Harlin.
That could ease the strain on airport gate agents by incorporating more wayfinding and increase the loyalty programs available through the airlines, mass transit line or the vendors and restaurants within those buildings.
"It's about driving a better customer experience by conveying information more effectively," says Harlin.
Movie theaters can use ALP Pro outside the building and in the lobby for improved traffic flow and to help increase the visibility of concession stands and ticket windows, for example, while smart cities can incorporate digital signage kiosks and billboards and also trigger content on visitors' mobile phones.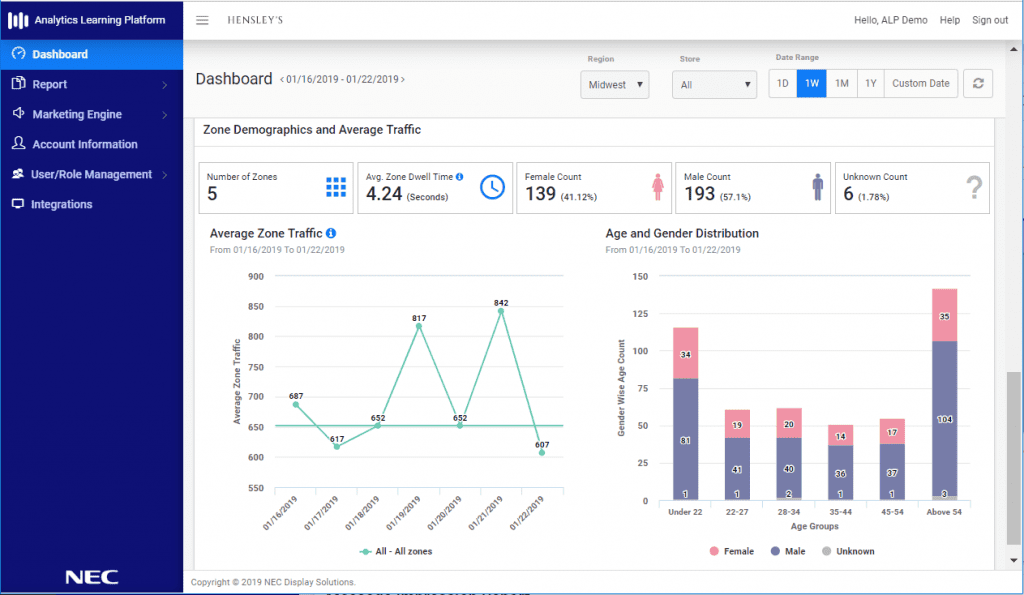 If you enjoyed this article and want to receive more valuable industry content like this, click here to sign up for our digital newsletters!