Samsung Semi-Outdoor Signage Now Available Through Almo Professional A/V
Were you at DSE last month?
Content from our Sponsor
Leave a Comment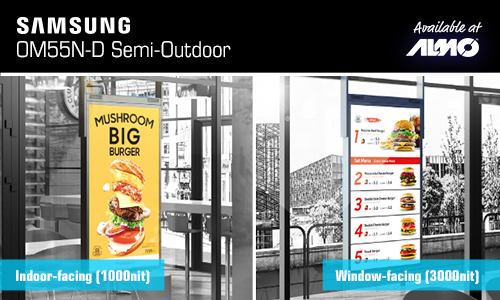 According to the Digital Signage Federation, DSE 2019 was record-breaking in that it had one of its highest overall attendance rates (with 73 percent FIRST-time attendees).
One of the DSE show stoppers was the new Samsung OMN-D Series, which features the FIRST double-sided screen for optimized storefront window environments.
This means businesses can run DIFFERENT content on EACH side of the screen, all from a single display!
The most unique aspect of this display is that the brightness is adjusted differently for the outdoor and indoor sides. In other words, the window-facing side's 3000nit brightness maintains picture quality regardless of sunlight, while the in-store side features 1000nit brightness, delivering information clearly!
The window-facing screen is for bright visuals and prominent positioning to motivate a passerby into the store. Once inside, the indoor-facing screen enhances the shopping experience with content promoting sales, new merchandise and information.
Key highlights of the Samsung OMN-D Series:
Sleek design fits in. The slim 54.5mm depth and contemporary design integrates into any storefront window environment and makes it a natural extension of the store.
Streamlined content management. Includes an embedded MagicINFO Player S6, backed by the powerful TIZEN operating system for painless content management and seamless content transition.
Energy efficient. Consumes less power than conventional displays while delivering a brilliant picture and spectacular performance.
Ready to go. It is not a custom-built model, but an out-of-the-box solution ready for order through Almo today!
Want to learn more about the Samsung OMN-D Series? Join industry guru, Jonathan Brawn, principal of Brawn Consulting, for a webinar about optimizing use of this unique display, hosted by Almo Professional A/V? Register here to save your spot!
The Samsung OMN-D Series is available through Almo Professional A/V now. Contact your Almo territory manager to order today.