How the AV of Jeopardy! Has Changed Since 1984
Jeopardy has gone through seven set changes, each of which brings new AV technologies to one of America's favorite game shows.
Leave a Comment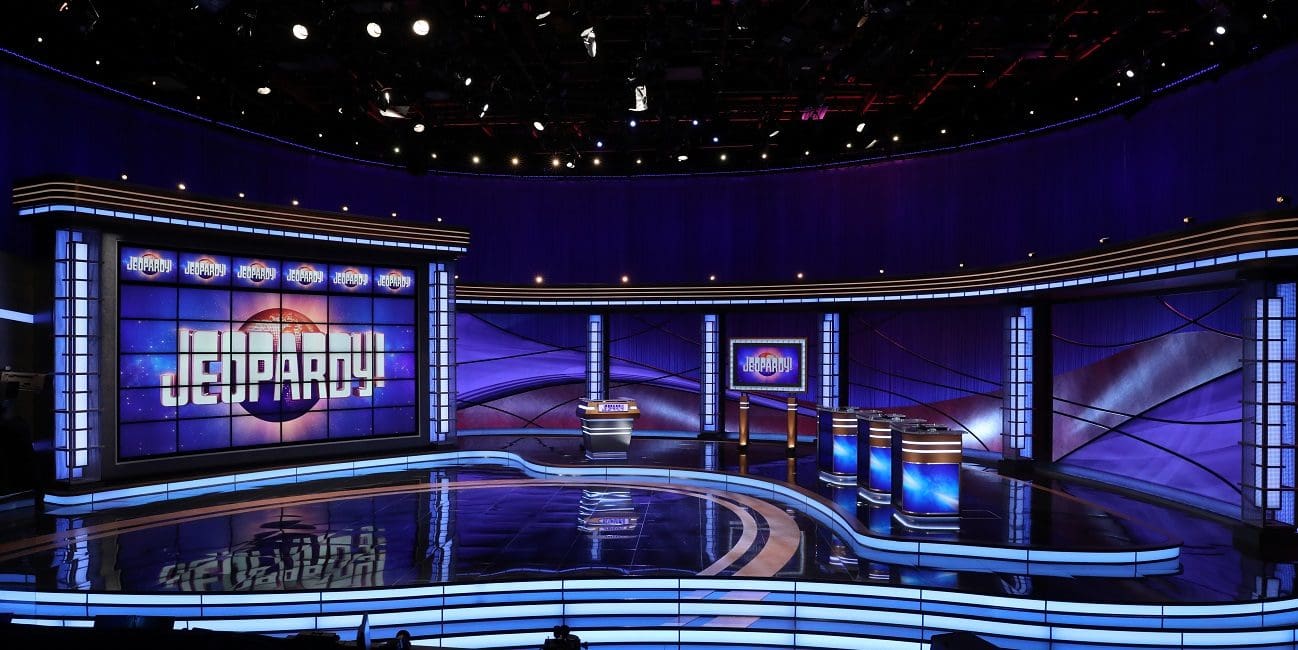 It's not just the quality of the questions, intelligence of the contestants and command of the late host Alex Trebek that has made Jeopardy! a family favorite game show for decades.
The show also utilizes the latest in display and audiovisual technology to bring the fast-paced, classic thinking person's game show to life and into our homes.
Commercial Integrator reached out to Sony, which owns Jeopardy!, to learn more about the technology used by Trebek, the contestants, and show runners.
We were put in touch with Vista Electronics, a Valencia, Calif.-based vendor and contractor for Jeopardy!, Wheel of Fortune, and other game shows.
CEO Ron Schwab calls the company a custom electronics firm that designs, installs, integrates and manages the audiovisual equipment used in on set, including the video wall game board and contestant lecterns. The company also designs and manufactures custom processer-based control systems.
In an email, Schwab broke down his company's involvement with the Jeopardy! set since 1984, through Trebek's battle with cancer and to the present day as the show is in search of a new host to replace Trebek.
Set #1 (1984-1991)
According to Schwab, this was the original Jeopardy! set. The main components were three contestant podiums, host podium, a header that supported large Jeopardy! logo sign can letters with integrated lighting and the video wall.
"On this first version of Jeopardy!, the categories at the top of the gameboard were neon front lit graphic cards that were dropped in place by a prop man working on a scaffolding behind the video wall monitors," Schwab says.
The video wall was made up of 30 25-inch diagonal Proton monitors sourced from a 36-channel routing switcher, and the graphics processer was a Chyron 4100 with two channels of Abekas A53D and an Abekas A53D Combiner doing the video blow out effects for the video wall.
Contestant podiums contained seven segment reflective Staver displays for scoring along with a 25-inch monitor for displaying the telewriter output of the contestant name and Final Jeopardy answers.
Set #2 (1991-1996)
The set went through a bit of a redesign, including a large "Jeopardy" sign with letters that had a white diffuse face backlit with red, green and blue neon for color mixing and sequenced lighting effects, Schwab says.
In addition, the video wall was redesigned using a 6×6 matrix of Hantarex 28-inch monitors sourced by a PicBloc video wall processer.
The Chyron 4100 was replaced with a Chyron Super Scribe with intelligent control. Game control processers were replaced with new gear and custom software to streamline the game.
According to Schwab, the company also designed and fabricated new 7-segment internally lit readouts with drivers for the contestant podiums. 
Set #3 (1996-2002)
According to Schwab, this new set was commonly referred to as the "Library Set" that included faux stained wood framework, new host entrance doors for Trebek, new podium designs and of course, a video wall refresh.
This new video wall consisted of a 6-x matrix or Barco SCM2850 28-inch diagonal monitors. The video wall processer was upgraded to a PicBloc 3 and a Chyron Infinit! with intelligent interface for graphics generation.
Contestant podium monitors were upgraded to the Sony PVM 2950.
7-segment lit readouts were left in service, however new drivers were designed and fabricated. The scoring system processor was upgraded and new control software written.
Set #4 (2002-2006)
This new set was designed with more open space, but the Barco 6×6 monitor matrix and Chyron Infinit! Remained, Schwab says.
The biggest AV change here was the contestant podiums, as the new design included a single Sony PFM42b2 42-inch diagonal plasma monitor in portrait aspect that incorporated both the scoring and telewriter outputs on one video output source.
"To accomplish this task without having to employ three two-channel DVEs, Vista designed a three-channel downstream keyer that would independently combine scoring and telewriter signals for each of the 3 contestant monitors," Schwab says.
Set #5 (2006-2009)
For this set refresh, Schwab and his company incorporated more hi-definition elements.
The video wall was rebuilt to change from 4:3 to 16:9 aspect ratio, and the rear projection engines from Toshiba 4130-U video cubes were mounted into a 6×6 matrix rack structure.
A custom rear projection screen was made from 36 lenticular screens supported by a rear structure of extruded aluminum channel.
"This resulted in 36 discreet images that would form one large screen image with no physical separation from the individual screens," Schwab says.
Set #6 (2009-2013)
This set was designed and built for a remote production of the show at the 20098 CES in Las Vegas, and it would later be installed as the new permanent set at Sony Pictures Studios in July 2009.
This included a new video wall and trapezoidal set piece, using 36 Sony 42-inch flat screen LCD monitors.
"The entire game control and display system was designed from ground up for this new set and technical package effort," Schwab says.
The company used six Spyder video processers from Vista Systems to drive the video wall, and the Chyron Lyric with intelligent interface was integrated as the new character generator.
A new hi-definition still store for recall of video clues was designed.
For scoring, a single 42-inch Sony monitor was mounted in portrait aspect in front of contestants.
The company took a new approach in designing the telewriter processors in which scoring and telewriter outputs were generated by one machine.
"The scoring/telewriter Page 5 of 6 processors would respond to commands from both the game operator and scoring operator over our control network," Schwab says. "There are a total of 18 processors, control and slave, on that network."
Set #7 (2013-Present)
This set was much different than previous designs with new lighting features and architectural elements, but the video wall began this period unchanged from the previous version. However, in 2015, the monitors were replaced.
"The challenge was to find a replacement monitor that was close in size to the Sony so as not to have to build a new video wall structure," Schwab says.
To do this, Vista Electronics created their own hybrid monitor using the enclosure and LG display glass from a monitor manufacturer and then integrated a Digital View processor board and power supply module.
"These are the most stable monitors that have been installed on the show to date," Schwab says.
Going forward
Trebek, who lost a long battle with cancer on Nov. 8, will eventually be replaced after his last episodes are aired this week.
One of Schwab's company's primary goals over the years has been to keep him as informed and comfortable as possible.
That includes providing him with audio and video monitors with combined signals, cue lights for right and wrong answers, sound effects triggers and  a "stop tape" button.
The company even provided custom stools for his podium that allowed him to rest while recovering from an injury.
"In observance of Alex's legacy, we will give the same consideration to other possible guest hosts for Jeopardy!," Schwab says.