Gefen 2nd-Gen AV-over-IP Available for Preorder
Gefen 2nd-Gen AV-over-IP is now available for preorder. The electronics manufacturer announced its latest AV distribution solution at ISE 2018.
Leave a Comment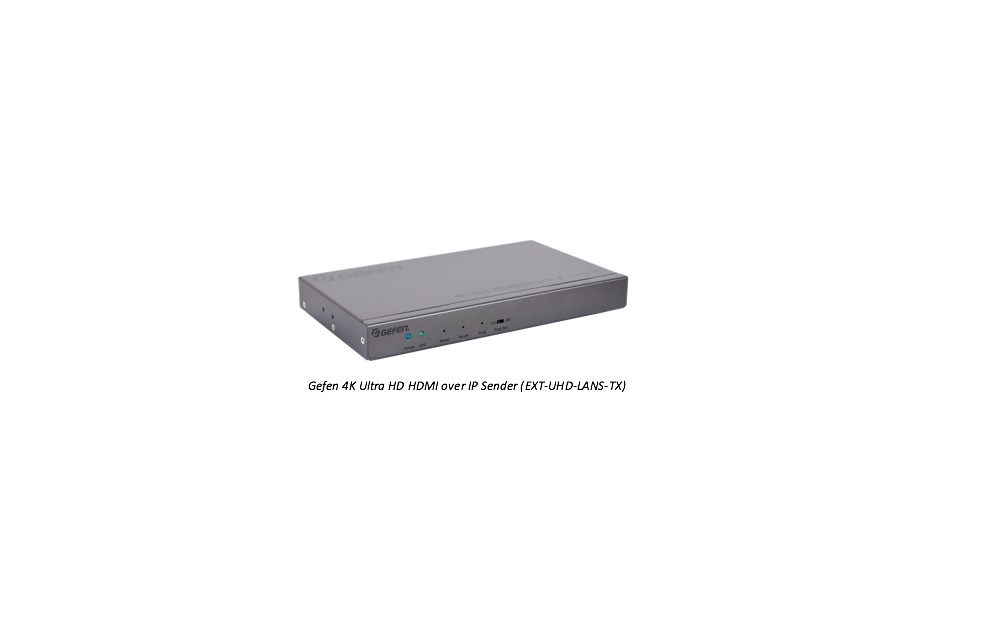 The Gefen 2nd-Gen AV-over-IP line of products were introduced as part of the Nortek Security & Control brand's ISE 2018 show festivities.
According to the commercial electronics manufacturer, it's new line of AV-over-IP solutions work with standard networking gear to enable professional integrators to distribute a variety of AV content.
"The Gefen AV-over-IP solutions provide expandable and secure AV routing and distribution over a standard Gigabit Local Area Network [LAN]," says Jason Fitzgerald, product manager, Gefen.
"The Gen 2.0 KVM AV, and audio products offer improved performance and enhanced functionality such as 4K UltraHD with HDR support, built-in scalers, video-wall control, independent USB, RS-232, IR, audio routing, and backward compatibility with first-generation products."
Gefen 2nd-Gen AV-over-IP Products Offer Integrators an Array of Choices
Gefen explains that its new second-generation line of AV-over-IP solutions offers professional integrators a number of important features that include a KM Emulation option that facilitates real-time, simultaneous keyboard and mouse control of each source from all connected workstations. This option Gefen emphasizes, eliminates the inherent limitations of previous generation systems.
"The sender and receiver units are powered through a standard PoE-enabled IP network switch, which simplifies installation and placement," notes Fitzgerald.
"When used in conjunction with the EXT-CU-LAN Matrix Controller, system configuration is automated and very quick. It's Mass-Firmware-Update [MFU] feature keeps the entire system up-to-date without the need to access and upgrade each unit separately."
The Gefen 2nd-Gen AV-over-IP line features these products:
EXT-UHD-LANS-TX 4K UltraHD HDMI over IP Sender
EXT-UHD-LANS-RX 4K UltraHD HDMI over IP Receiver
EXT-UHDKA-LANS-TX 4K UltraHD HDMI KVM over IP Sender
EXT-UHDKA-LANS-RX 4K UltraHD HDMI KVM over IP Receiver
EXT-DVIKA-LANS-TX 4K UltraHD DVI KVM over IP Sender
EXT-DVIKA-LANS-RX 4K UltraHD DVI KVM over IP Receiver
EXT-VGAKA-LANS-TX VGA KVM over IP Sender
EXT-VGAKA-LANS-RX VGA KVM over IP Receiver
EXT-ADA-LAN-TX Digital and Analog Audio over IP Sender
EXT-ADA-LAN-RX Digital and Analog Audio over IP Receiver
EXT-DPKA-LANS-TX 4K DisplayPort KVM over IP Sender
EXT-DPKA-LANS-RX 4K DisplayPort KVM over IP Receiver
More ISE 2018 Coverage: ISE 2018 Attracted Almost 81,000 People to Record-Breaking Pro AV Exhibition