LED Video Walls Enhance Visitors' Journey at One World Observatory
One World Trade Center replaces projectors in One World Observatory with floor-to-ceiling Leyard LED video wall in effort to more fully engage visitors.
Leave a Comment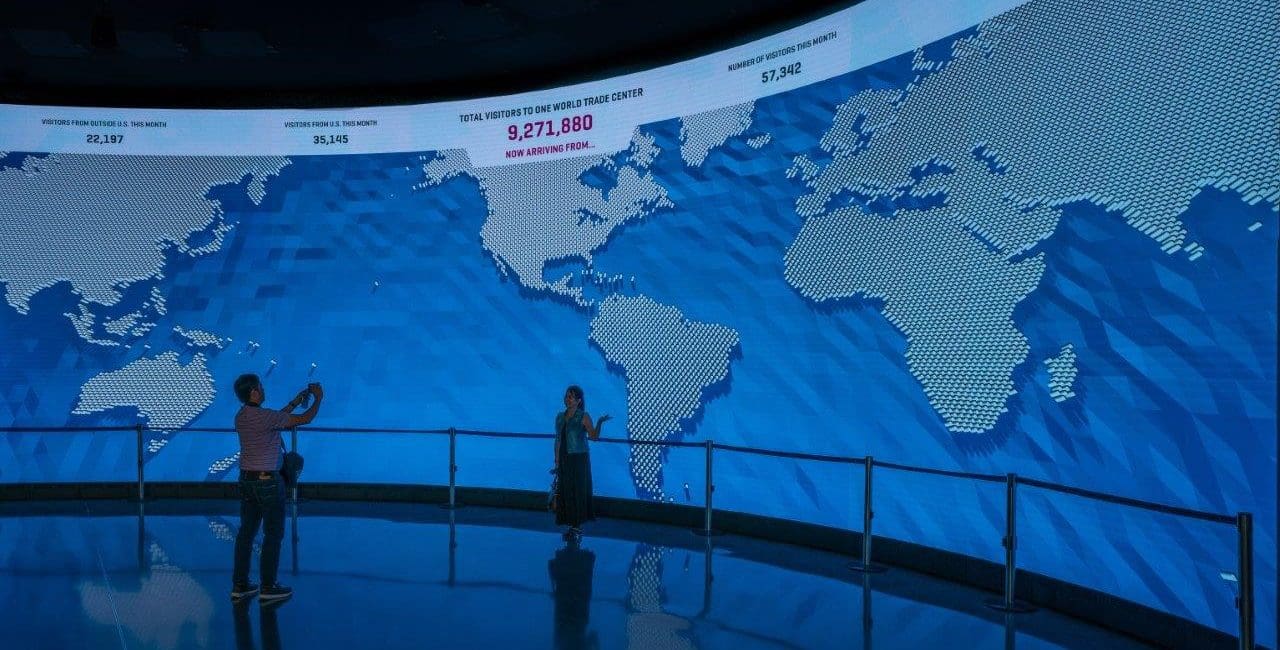 Anyone who lived through the 2001 terrorist attacks on America that killed more than 3,000 people and led to the destruction of two World Trade Center towers in New York City doesn't need much to feel emotional about that day and the weeks and months that followed.
But technology can certainly crank that emotion and the memories of the innocent people who lost their lives and the heroes who ignored their own mortality by rescuing others even if it cost them their own lives.
One World Trade Center—the tallest building in the Western Hemisphere and the sixth-tallest in the world—opened in November 2014 and has represented one of the places where people who never can forget the happenings of that time in America will go to learn more about the stories behind it.
The One World Observatory, which offers views of New York City's iconic sights, surrounding waters and skyline from the building's 100th, 101st and 102nd floors, takes people on an emotional and physical journey using sights, sounds and technology.
The visitor journey at One World Observatory begins at the street-level entrance and one level below in the Global Welcome Center, where guests are greeted and invited to explore exhibits prior to taking elevators up to the three-story observation deck.
Near the beginning of 2019, Legends Hospitality—which developed and operates the One World Observatory—determined that key upgrades were necessary to improve the guest experience, leading to projects that integrated display technologies.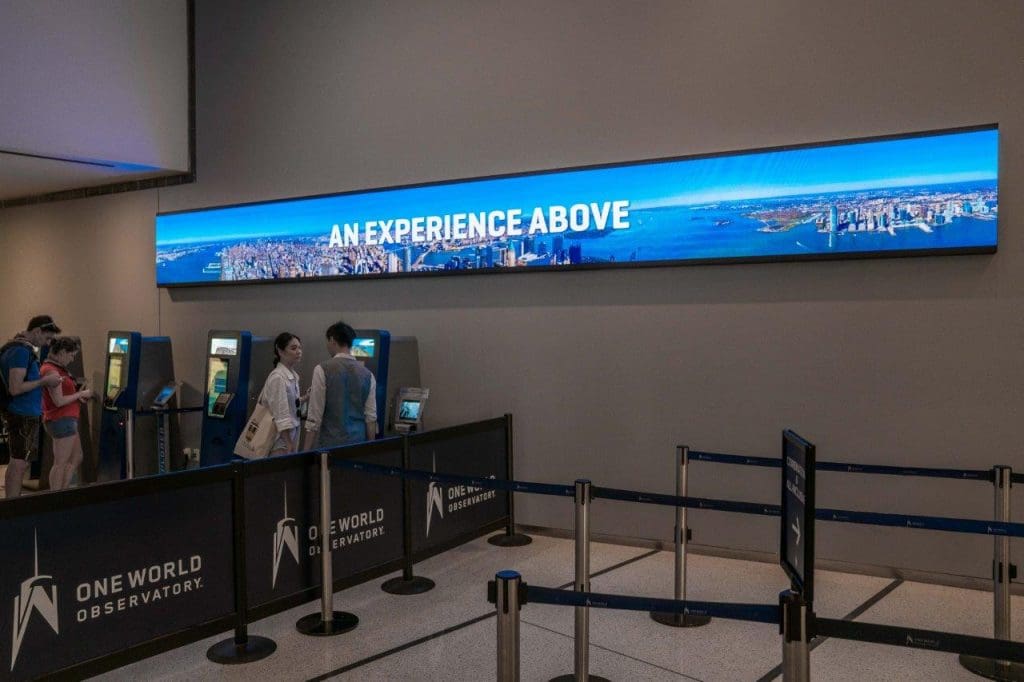 One World Observatory Adds LED Welcome Wall
Legends, the company that operates the One World Observatory, replaced an aging and malfunctioning projector system with a curved floor-to-ceiling Leyard TVF Series LED video wall with a 1.8mm pixel pitch.
Named the Welcome Wall, the installation is composed of two adjoining Leyard TVF Series LED video walls—a 47.6-foot-wide, 15.6-foot-high video wall array in a 24×14 configuration and a 15.9-foot-wide, 7.8-foot-high video wall array in an 8×7 configuration—that create a seamless digital surface.
The Welcome Wall greets One World Observatory visitors with a large world map that transforms into a rotating globe and back to a map at regular intervals.
Guests buying tickets online or at the kiosk are asked to indicate their hometown, and when their ticket is scanned at the security check, their hometown is highlighted on the map.
Graphics are used to show the relative number of visitors from certain areas around the world and a stats line displays attendance data, such as the total number of visitors for the week.
The Welcome Wall also recognizes the global diversity of people that visit the One World Observatory by displaying and rotating the word "welcome" in multiple languages.
"The new technology allows us to do what we originally had envisioned—to create a 'wow moment' for our guests," said Delfin Ortiz, general manager at Legends One World Observatory.
"With the projector system, people were not acknowledging that there was anything of real interest," he said. "But now, visitors regularly gather in front of the video wall for pictures. We feel it's a great way to connect with visitors."
Legends has started using the video wall to acknowledge holidays and Ortiz anticipates using the installation in the future to highlight special events or to show appreciation to larger visiting groups.
"Our focus is the customer journey and the Welcome Wall enables us to enhance that journey in the most impressive way," he said.
New Kiosk and Box Office Video Walls
After the Welcome Wall upgrade, Legends looked for further digital opportunities to better communicate to One World Observatory guests.
This led to two more LED video wall installations—a 23.8-foot-wide, 2.2-foot-high Leyard TVF Series LED video wall with a 1.8mm pixel pitch (TVF1.8) in a 12×2 configuration that serves as a kiosk wall; and a 15-foot-wide, 5-foot-high Leyard VersaLight Series LED video wall with a 2.5mm pixel pitch (VLI2.5) in a 19×3 configuration that serves as a box office wall.
Located at the entrance, the 12×2 Leyard VersaLight Series LED box office wall provides a tool to educate visitors about the experience that each ticket option offers as well as the various amenities available throughout One World Observatory.
"The LED display really makes a difference with the ticket buying experience," said Ortiz. "It's an incredible way to present our offerings to guests."
The 19×3 Leyard TVF Series LED kiosk wall, located above the actual kiosks where customers purchase their tickets, is used for directional wayfinding and to further communicate ticket options to guests.
"Since half of our audience is from outside the U.S., we need to be able to communicate with non-English speakers," Ortiz said. "The LED kiosk wall allows us to do that using visuals that are clear and dynamic. Not only was it a tough project, but this is a pretty tough building to have any project done."