Matrox AV over IP, Video Wall Solutions to Debut at InfoComm 2019
At the upcoming InfoComm 2019 in Orlando some of the new products on display will include Matrox AV over IP and video wall solutions.
Leave a Comment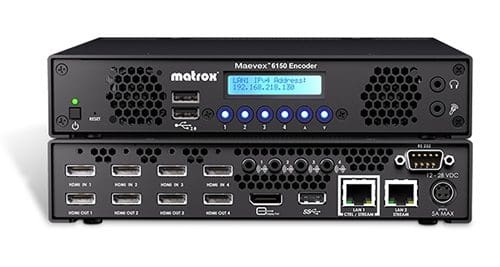 At the upcoming InfoComm 2019 in Orlando on June 8-14, products such as the latest Matrox AV over IP, video wall and AIMS IP theater solutions will make their market debut.
Matrox says it will also showcase its complete range of IP products, including its latest quad 4K enterprise encoders, remote recorder appliances, 4K capture/encode/decode multi viewer cards, lecture capture appliances, 4K/multi-HD webcasting encoders and 4K IP KVM extenders.
As part of the launch of the video wall products, Matrox will hold a raffle where it will giveaway one of its new video wall products.
The company will also showcase a newly added feature that will be included in its Extio 3 IP KVM extenders that improves the functionality of its KVM signal extension and switching capabilities.
Matrox says that its Maevex 6100 Series enterprise-grade encoders will now support  IPv6, HLS streaming and MOV recording.
Another product making its debut at the show will be the Monarch EDGE. This product features 3G/12G-SDI and 25GbE SMPTE ST 2110 connectivity, multi-protocol support that includes RTMP, SRT, MPEG2, TS and RTSP.
Matrox emphasizes the Monarch EDGE 4K/multi-HD webcasting and remote production (REMI) encoder provides H.264 streams that deliver resolutions as high as 3840×2160 at 60Hz or quad 1920×1080 at 60Hz with chroma subsampling rates up to 4:2:2.
Alliance for IP Media Solutions (AIMS) IP Theater Showcase Class
The Alliance for IP Media Solutions (AIMS) is a non-profit trade group that is working towards the adoption of standards for the broadcast and video industries as they transition from SDI to IP video transmission technologies.
As a full member, Matrox will be supporting AIMS in its InfoComm booth (#375) where the organization will be showcasing the benefits of open-standard approaches for the pro AV and installed systems market.
AIMS will be holding demonstrations featuring the SMPTE ST 2110 standard, and it will host a panel session on Tuesday June 11 from 1 p.m. to 3 p.m. in room W304E (ISO20) called, "Audio and Video Streaming Using Established IP Standards."
Matrox AV over IP, Encoders and LCS Capture Cards on Display
In addition to the Matrox AV over IP, KVM IP extenders and Monarch EDGE products, the Canadian electronics company will show its Maevex 6020 Remote Recorder. This product is a Panopto-certified component that supports live streaming and direct to the Panopto video platform recording.
In addition, Matrox will show its Mura IX video wall and multi viewer cards. Matrox says these products feature advanced capture, encoding, decoding and display capabilities that stream and record desktops, entire video walls and selected regions of interest.
Moreover, the company's LCS Lecture Capture Appliance is a multi-source product that streams and records.
Matrox will show how IT administrators can utilizes the LCS Lecture Capture Appliance into open video and learning management systems, and how operators can define profiles for live streams and recorded lectures by mixing camera and presentation materials.