Moynihan Train Hall Serves as a Model for Speech Intelligibility
ANC and Advance Sound Company transform historic Manhattan building in former post office to Moynihan Train Hall with modern AV systems.
Leave a Comment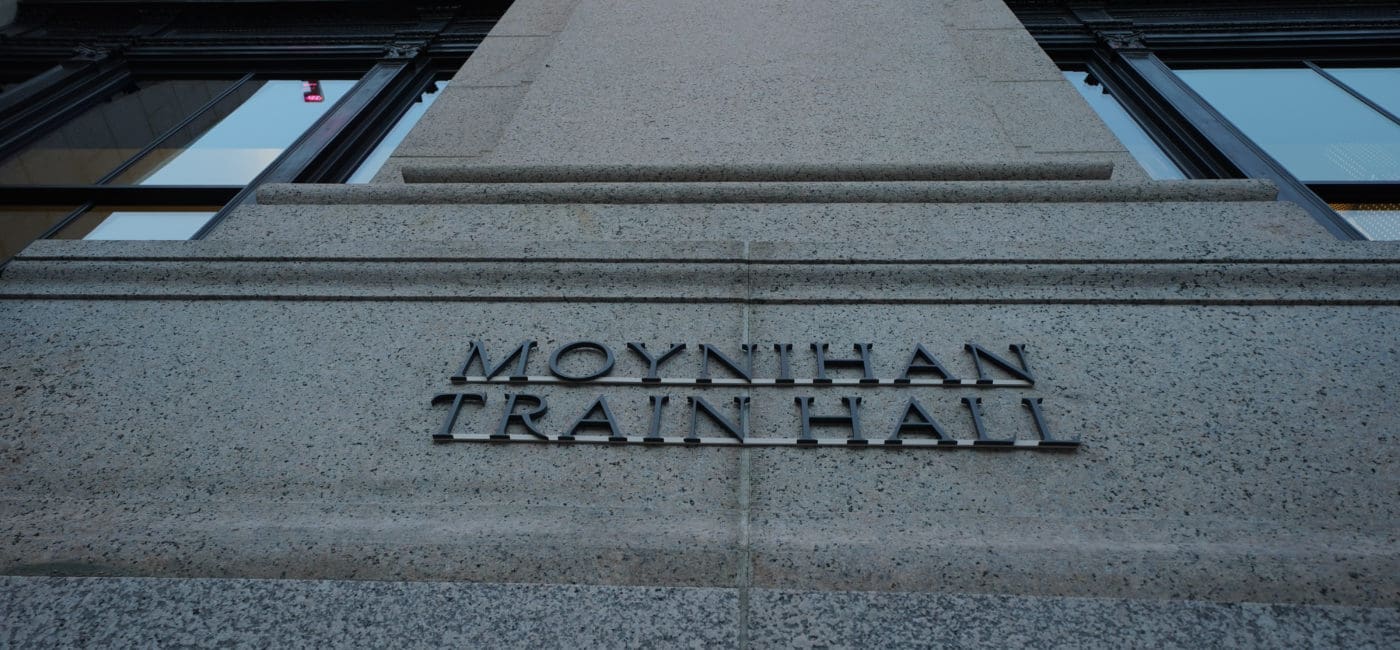 The James A. Farley Building in midtown Manhattan was the main United States Postal Service (USPS) building from its opening in 1914.
Added to the National Register of Historic Places in 1973, it was officially renamed after James Farley, the 53rd Postmaster General, in 1982. In 2002 the USPS sold the building to the New York state government to make way for the Moynihan Train Hall, which opened Jan. 1, 2021.
The Moynihan Train Hall is an expansion of NYC's Pennsylvania Station into the James A. Farley Building and provides new access to most of Penn Station's platforms for Amtrak and Long Island Railroad passengers, serving 17 of the station's 21 tracks.
The 225,000-square-foot train hall was built to alleviate congestion in Penn Station, which saw 650,000 daily riders before the COVID-19 pandemic in 2020. The $1.6 billion renovation historically restored the building, added a central atrium with a glass roof and includes retail space, a 320-seat waiting area, public bathrooms and three areas with works of art.
Demolition on the train hall began in 2012 and Advance Sound Company started the project in 2018 and was tasked with the audio installation for the expansive hall.
Audio requirements included quality paging and distribution for the two major train systems utilizing the train hall; Amtrak and MTA Long Island Railroad.
With the addition of a Symetrix Prism 8X8 Processor, Advance Sound Company gave the train hall the opportunity to utilize the system for digital signage audio or audio performances in the future.
The new train station, a tangible link to New York's grand history, also features a modern digital passenger experience courtesy of ANC.
Partnering with Empire State Development Corporation, ANC's role as lead AV integrator in the project has created a digital media network aimed at improving passenger connectivity and comfort.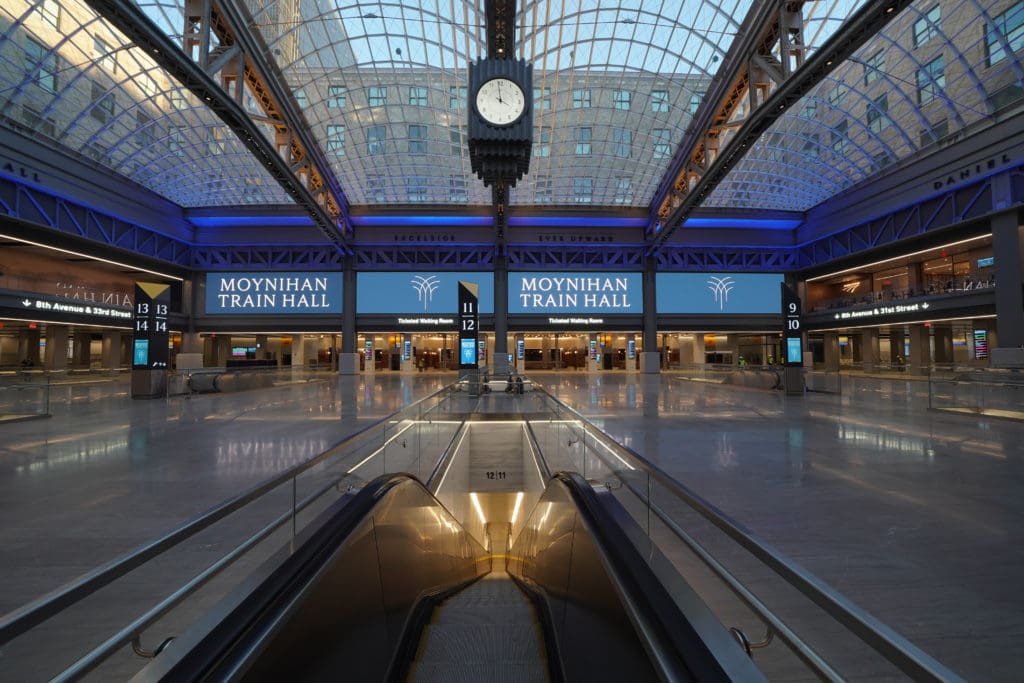 Inside Moynihan Train Hall
ANC completed its work in two phases. Phase I featured deployment of more than 1,700 square feet of 4mm LED throughout the train hall. It includes digital screens in a range of sizes; LCD kiosks; and a unique trapezoid-shaped display in the north entrance stairwell.
Ceiling box screens alongside glass lighting fins in the east bay simulate the sky. The displays have live video capabilities and regularly feature important updates for passengers, along with NY-centric visuals to promote travel and create a more relaxing commuter environment.
Phase II deployment integrated 150 assets, including LCD and fine-pitch LED displays unique to national transit stations to ensure a variety of passenger information from multiple transit entities are easy to find.
The physical build-out over two phases creates a digital environment that ensures passengers are immersed in a true New York experience. The train station now features live video capability and real-time transit updates through its complete digital network.
Additionally, ANC's content management system, LiveSync, combines information from three different transit providers, the Metropolitan Transit Authority, the Long Island Railroad and Amtrak, to display complex train times and information for each transit authority across the digital network.
ANC also used digital technology along with projection and lighting to mimic a skylit serenity inside Moynihan Train Hall.
Historic Venue Gets Modern Audio System
Advance Sound Company COO and senior engineering manager Thomas DePace used SoundTube's CM82-EZ-II and CM62-EZS-II ceiling-mount loudspeakers for the job because of their tensioned wing system, color coding, response and the minimal depth of the CM62-EZS-II speakers.
Advance Sound Company created a 164-zone Dante system to manage the audio that was installed between June and December 2020.
"We designed a custom work cabinet with carpeted shelf and foam dividers to deliver zones of speakers at a time," said DePace. "This eliminated on-site waste, as well as allowed our office technical staff to tap and test speakers and safety cable prior to delivery to the site.
"With the intense security protocols in place to bring product into the building, we had to make it as easy as possible to get through the intake inspection to prevent job delays. In addition to the high-level security requirements, we also had COVID-19 procedures to follow. It was a very condensed time frame for such a large installation under normal conditions," he said.
"Architectural design caused varying ceiling types, so it was important that we had adjustable speakers that had the same voicing in all the areas," said DePace. "Speakers installed in the tech panels were black, while speakers in gypsum ceilings were white, and speakers in custom wood ceilings were custom-painted beige.
"Speakers in the main train hall had to be hidden behind HVAC louvered diffusers. They also had to be specifically aimed and panned accordingly. As such we enlisted the help of Polar Focus to design a custom beam mount bracket that could be adjusted to appropriate depths and angles," he said.
"Coverage and frequency response were the most important specs that allowed for an even and intelligible system," said DePace. MSE Audio's color-coded backboxes and tiles bridges assisted the installation team to match the previously installed bridges to the appropriate speaker and diameter.
"Since we're still under COVID-19 restrictions, Moynihan Train Hall is operating at 25% of capacity," said DePace. "This reduced volume of passengers required us to lower the overall building audio volume. It's amazing to hear how clear and precise the sound is regardless of the volume.
"With the high ceiling heights, we're even able to get the reverberation level to under two seconds," he said.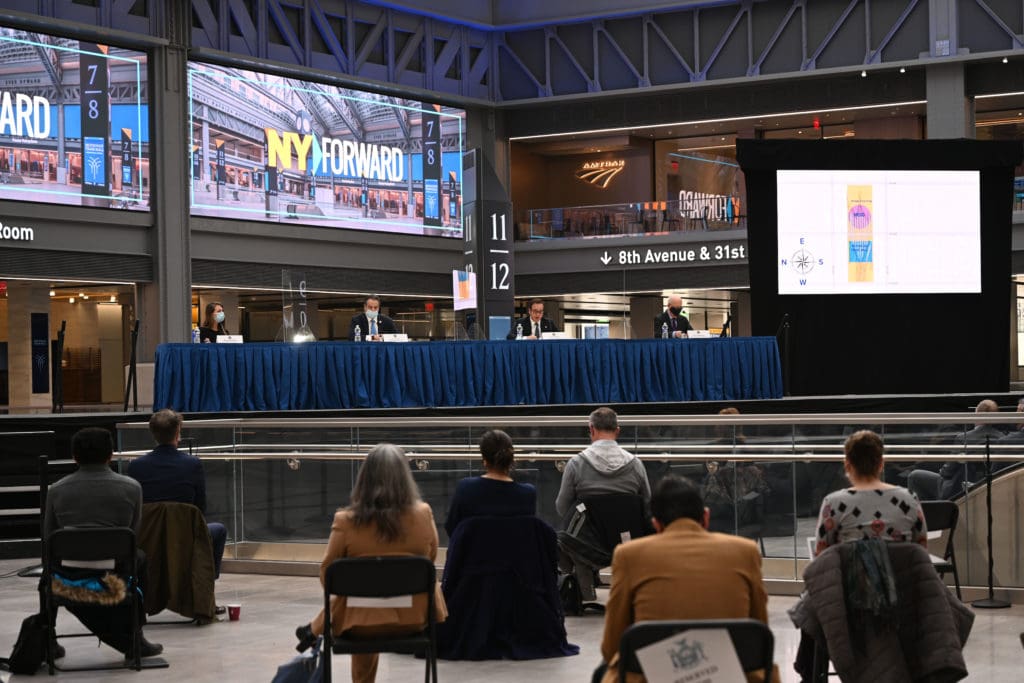 If you enjoyed this article and want to receive more valuable industry content like this, click here to sign up for our digital newsletters!