Santan Mountain Casino Reaches New Heights With Planar LED Videowalls
The installation in Santan Mountain Casino's BetMGM Sportsbook features three Planar TVF Series LED videowalls with a 1.8mm pixel pitch.
Leave a Comment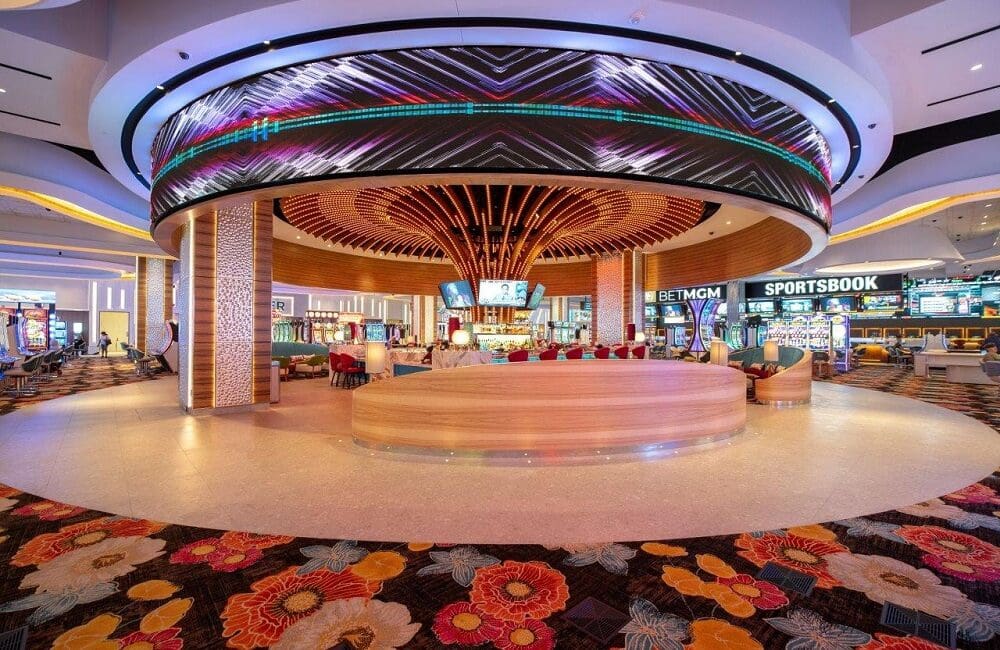 In summer 2023, Gila River Resorts & Casinos unveiled the new Santan Mountain Casino on the Gila River Indian Community in Chandler, Ariz. This 160,000-square-foot gaming destination features over 800 slot machines, 25 table games and plenty of amenities. The casino also boasts restaurants and bars, a nearly 7,000-square-foot vibrant ballroom and the state's largest casino sportsbook.
Per a statement, Santan incorporates non-traditional design elements that depart from traditional casino aesthetics. The interior features white and vibrant colors. Along the front façade are expansive windows that provide sweeping views of the desert landscape while allowing in abundant natural light during the day. "We took the rulebook for a dark, dungeon-like casino and threw it out," says Santan Mountain Casino general manager, Blake Katsnelson. Santan Mountain Casino's unique design approach also spills over to its use of LED display technology from Planar.
An Unforgettable Sportsbook Experience
According to the casino, it's only fitting that the largest sportsbook in Arizona would have the largest sportsbook LED videowall. Designed by Immersive Studios and installed by technology integrator Immedia; the installation in the Santan BetMGM Sportsbook features three Planar TVF Series LED videowalls with a 1.8mm pixel pitch. The LED videowalls, mounted side by side, create a 129-foot-long continuous LED display.
Anchoring the massive installation is a nearly 95-foot-long, 11-foot-high (48×10) middle array that is flanked to the left by a nearly 10-foot-long, 11-foot-high (5×10) videowall. Additionally, on the right, there is a nearly 24-foot-long, 11-foot-high (12×10) display installed on a 90-degree turn.
The Installation
"Our goal was to create a Las Vegas-style sportsbook and be the number one choice for anybody who's into sports betting or watching games," Katsnelson says. "So, we went big with these Planar videowalls and set up stadium seating to ensure an optimal view for all patrons. Every seat is a good seat and the technology gives us customization. [Thus,] we can break up the giant display and show 40 games at once or feature one or two major games across the entirety of the screen."
While the center videowall helps deliver the ultimate sports viewing experience, the two side Planar TVF Series LED videowalls serve as sports tickers. This then allows guests to clearly view the betting odds for each featured game.
According to Katsnelson, the combined LED display is a dramatic 'wow factor' in the sportsbook. "The whole display is massive, but at the same time it's very crisp and clear," he says. "The sound system that goes with it is amazing. You feel completely immersed in any game you're watching. It allows us to draw people in and give guests exactly what they really want."
Based on their experience operating sportsbooks at other properties, Gila River aimed to create a much more powerful and dynamic viewing experience at their BetMGM Sportsbook, adds Immedia project consultant, Matt Clist. "They wanted larger-than-life entertainment and knew videowall technology was going to be a mission-critical piece for their new sportsbook," Clist remarks. "We worked collaboratively with the team of project partners to execute the final design."
Halo LED Elegance in the Hive
The central bar at Santan Mountain Casino — named "Hive" — is an eclectic space that serves as a congregation spot for guests. It contains a circular bar featuring an art installation illuminated with vibrant lights known as the "Tree of Life." Surrounding the entire bar area is a custom-built halo LED display. This is a 58-foot-long, five-foot-high (19-foot-diameter) Planar CarbonLight CLI Flex Series LED videowall. It also comes with a 1.9mm pixel pitch.
During sporting events, like football, the halo LED display can be divided into sections to show multiple games simultaneously. The casino also created custom marketing content for the display. These include animated videos and digital art that "add to the ambiance and excitement of the property," according to Katsnelson.
He continues, "It's a design feature that serves as an impressive focal point. The LED display can be customized to anything we want. We look at it as another guest service initiative that takes the whole experience to the next level."
According to Clist, the halo LED videowall from Planar allows Santan Mountain Casino to tie into the branding connected to the property. He adds, "Planar provided an unbelievable product that really works to enhance the senses and the visual experience of the Hive."
Immersive Studios also led the design for the halo LED display. Art Vivas, director of innovation and design at Immersive Studios, states, "It all came down to using really great technology to build something that looks truly spectacular. The casino can use the display to be as creative as they want for entertaining and marketing."
Seamless Collaboration
Emphasizing both the sportsbook and halo LED display designs, Vivas notes that ownership gave them the freedom to expand upon the project vision as they saw fit. "From a technological standpoint, they allowed us to apply our experience, expertise and ideas not only to designing the video walls; but also in the way they are used."
For example, in the initial talks, Gila River expressed interest in hosting a DJ and using the sportsbook as a space for entertainment. Vivas and his team used that idea to set up the large Planar LED videowall as a vibrant canvas for a DJ to tap into at Santan Mountain Casino. "It becomes a giant, captive surface for abstract imagery or live videos," Vivas says. "Kick it up with a high-end performance sound system and now you've got an entertainment venue."
Vivas adds that the project was one of the best collaborations he's ever been a part of. "It all started with great ownership. The Gila River team was very open and communicative. Then, the integrator did an amazing job in taking the design to the finish line. And with Planar, you couldn't ask for better support — they did an incredible job."
If you enjoyed this article and want to receive more valuable industry content like this, click here to sign up for our digital newsletters!