Solutionz's Digital Signage Project Increases Engagement At California Cannabis Dispensary
Digital signage and touchscreens installed by integration firm Solutionz create an engaging customer experience at HerbNJoy dispensary.
Leave a Comment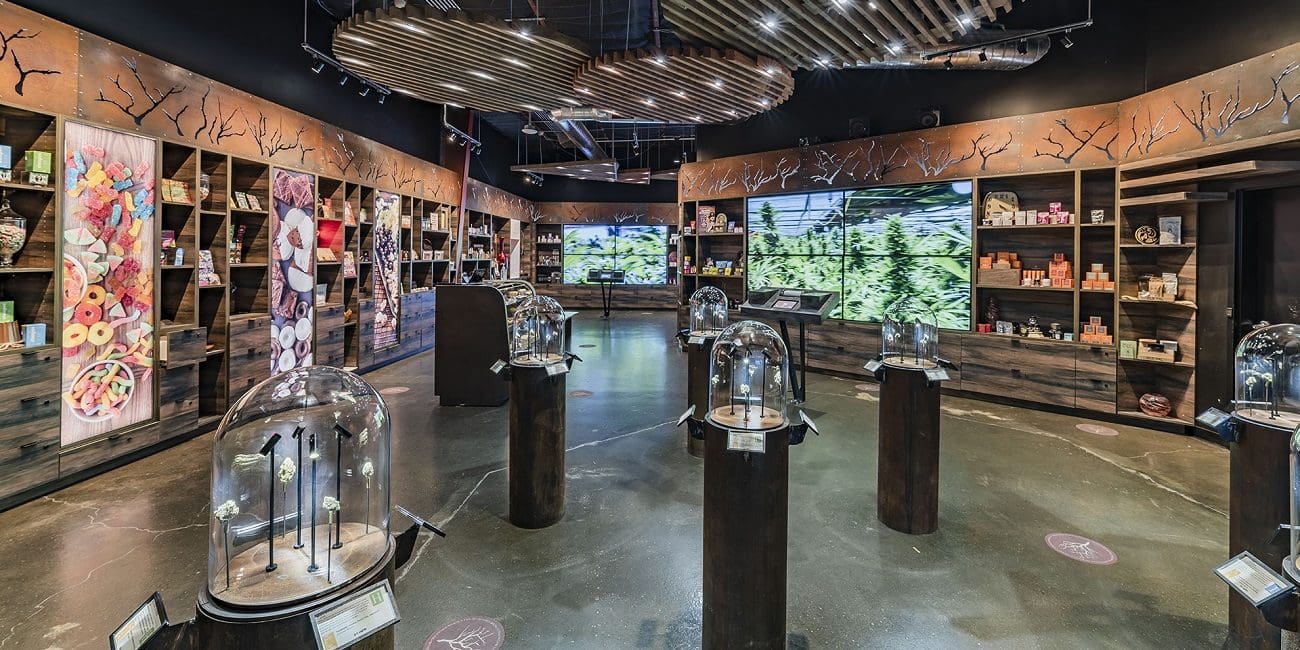 My time as a professional journalist has given me the opportunity to cover some very cool and historic stories, including some of the first recreational marijuana sales on the East Coast.
What struck me inside those stores was the immense amount of technology, like digital signage, self-service kiosks, professional sound systems, access management, security cameras and more.
As I began covering the pro AV world in the fall of 2019, I soon realized what industry was responsible for setting up those various systems. As cannabis becomes legalized throughout the U.S., it seems that this niche vertical is becoming more mainstream for the audiovisual world.
One recent example is Solutionz, Commercial Integrator's 2019 Integrator of the Year, and their digital signage project at a HerbNJoy dispensary in California.
It's no accident that today we are showing how we bring the WOW factor to the #cannabis industry. Check out how @HerbNJoy is educating customers with @BrightSign #digital signage: https://t.co/8lzuKCqpVW #cannabisindustry #digitalsignage #avintegration #casestudy #dispensary pic.twitter.com/6WP97XoXWR

— Solutionz Inc (@SolutionzInc) April 20, 2021
The project included multiple 2×2 video walls powered by BrightSign digital signage media players connected to BrightSign's Network, the company's cloud management platform for digital signage networks and Bluefin touchscreens controlling the experience. The video walls are configured using four 65-inch displays that are connected to Datapath video wall controllers to split video across the four displays.
HerbNJoy wanted the "wow" factor that typically comes along with digital signage projects, California has a very mature cannabis market and there are hundreds of adult-use dispensaries, so the signage was intended to make the store stand out from the crowd and engage with customers.
Solutionz installed Bluefin touchscreen displays with built-in BrightSign players that are connected to BrightSign Network, the provider's cloud-based content updating service. According to Solutionz, customers can use the touchscreens to display specific product information and educational content, and the staff uses the BrightSign platform to show different products and make recommendations to customers.
This has lead to an increase in sales per customer as people learn more about the products and the variety from which they can choose. These customer experiences are building solid customer loyalty and are reducing the need to spend on marketing.
Jeff Linden, CEO of HerbNJoy, says the company is now expanding stores and bringing the same technology with them.
"Now, as we expand stores, I get to weave in new experimental elements," Linden says. "The system designed by Solutionz is flexible enough to allow me to do that. At every store I get a little more creative. It's on a platform and with a team that I can trust to support that."