Texas School District Deploys Video Wall With LG Displays
Hays Consolidated Independent School District in Texas has gone big into video with an 86-inch video wall at the high school.
Leave a Comment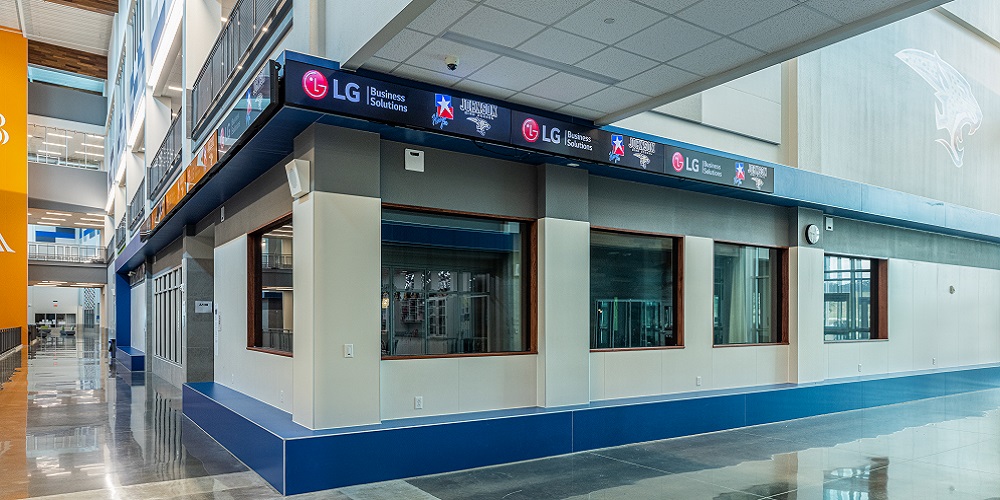 The Hays Consolidated Independent School District, located south of Austin, Texas, has gone big into video with a 86-inch ticker-style video wall at the district's Johnson High School that highlights the school's mission and provide a visual canvas for communicating with students, staff and visitors.
The district, one of the fastest-growing in the state, has already been deploying projection technology to present information in the classrooms and uses Mirroring360, an app that allows students and teachers to share content from mobile devices via classroom computers.
Now, the district is pivoting to flat screen displays for digital signage throughout the school, including in cafeterias where digital displays are used for the menus.
"Johnson High School is a career and technical education showcase school," says Dianne Borreson, the district's chief technology officer. "We wanted to showcase them even more, and with a multimedia design curriculum and a production studio, we had a good opportunity."
At the high school, the original concept was a large LED signage solution that became a stretch display concept that takes traditional LCD screen technology in a super wide format for delivering the same impact more cost effectively. The school chose LG displays for the installation.
According to Paul Venincasa, an executive with Trox, the school's technology solutions provider, the display was designed with eight total screens installed end-to-end.
"First you have five screens, then the videowall turns a corner and there are three more," Venincasa says. "And it's designed to be a single canvass when the school wants it to be, with content spanning all eight screens. Or it can be segmented, with one or more screens devoted to a specific message or video feed."
The video wall at Johnson High School includes a Crestron control system and 4K video processing so the school could have total flexibility in how it uses the wall. Through a touch screen control panel, users can select a video source and a display and precisely place content on the video wall.
"A single monitor is essentially four TVs in a stretch frame, so think of the wall as having 32 inputs," Venincasa says. "We wanted to provide a connection to each input so that the end user could put any source material to any input on each display and matrix it any way they preferred."
And when desirable, the system is set up so content can scroll across the entire 57-foot videowall.
"It turned out to be exactly what we were thinking of when we had the idea of the videowall — splitting it up and having multiple feeds and really thinking through it as a production," Borreson says. "And we can have students actually create the content, like in the multimedia design class. I see all kinds of applications only limited by our imagination."
Venincasa says surrounding districts have caught wind of the Johnson High School videowall and begun inquiring. That's no surprise to Borreson: "With a videowall like this, you can really display and showcase everything that's happening in a school."