VuWall To Bring AVoIP Videowall Solutions to InfoComm
VuWall will showcase TRx 3.2 updates featuring Genetec Plug-in, PAK Videowall Node & Application Server solutions at InfoComm.
Leave a Comment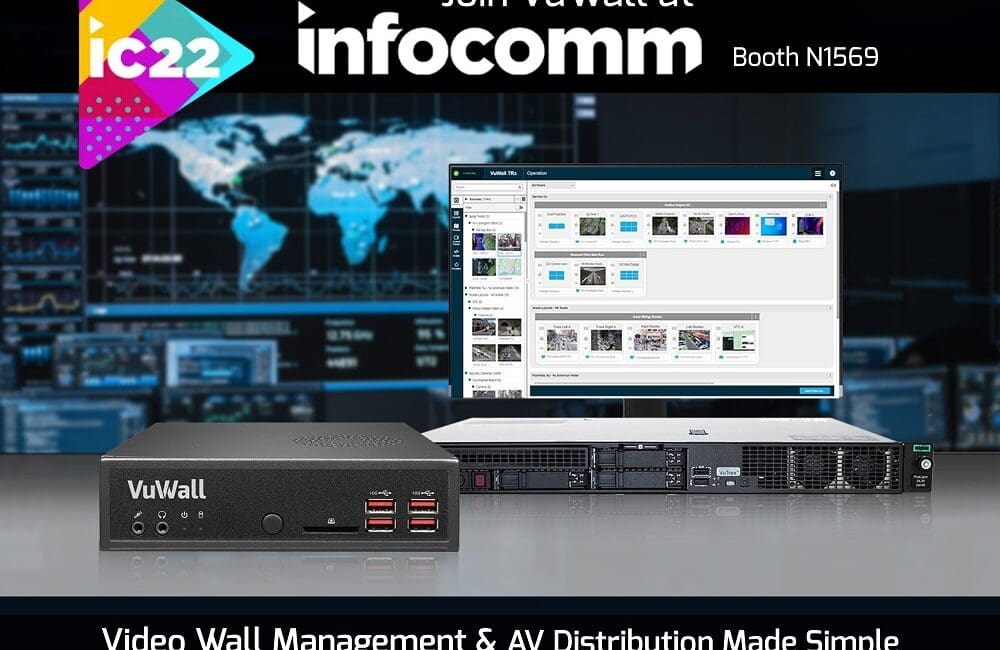 VuWall, the Montreal-based videowall control systems and unified visualization solutions provider, will be presenting to integrators and control room operators at InfoComm 2022, modular AV-over-IP video solutions that are easy to install, deploy and manage. In booth N1569, the company will demonstrate the version 3.2 updates to its TRx videowall management software — including the new plug-in for Genetec Security Center and improved interface reactivity and performance — as well as its PAK Videowall Node and Application Server.
"The flood of data in control centers is increasing dramatically," says Mark Schmidt, chief technology officer of VuWall. "Integrators are tasked with deploying network-based solutions that allow all this information to not only be managed easily by the operator but also addressed in seconds. At InfoComm, attendees will see our latest solutions for quickly building an infinitely scalable and interoperable system that allows users to instantly manage any and all feeds with zero errors."
TRx Version 3.2 Furthers Interoperability and Ease of Operation
VuWall's latest TRx version 3.2, built on an open, interoperable architecture, continues to bring even more value to its design, according to the company. With all AV equipment installed on the same network, organizations will be to grow their pool of equipment as their needs evolve. Adding videowalls or information displays without having to replace their existing devices is a common example.
End users also expect to be able to use products from different brands with different capabilities in the same environment with seamless compatibility. Most of all, they expect to have a central control system that can easily follow the evolution of their AV infrastructure without having to reprogram existing settings every time they add new equipment.
TRx 3.2 already supports all standard protocols and is compatible with many third-party solutions that include all SDVoE devices, IHSE, Adder, Genetec, Milestone and NDI-compatible devices.
In addition to third-party interoperability, TRx version 3.2 boasts improved UI reactivity and performance that enable it to handle thousands of devices and perform multiple tasks simultaneously without slowing down.
TRx Plug-in for Genetec Security Center Delivers Multi-format, Multi-standard Interoperability Between Devices
VuWall's TRx centralized management software is now officially certified by the Genetec Development Acceleration Program to run with Genetec Security Center 5.10.
VuWall and Genetec's integrated solution provides customers with a comprehensive system for complete videowall control where operators can manage and visualize IP cameras along with other content sources from a single easy-to-use platform.
It allows control room operators to manage VuWall videowall controllers, change feeds and display content directly from the familiar Genetec Security Center interface without switching applications.
Users can easily control the videowall system, including Genetec cameras as well as content from other videowall sources such as web apps, maps, RSS feeds, HDMI devices and computers with intuitive, drag-and-drop operation.
Create Infinitely Scalable Videowalls With VuWall's PAK Solution
Now shipping, PAK is a networked, multi-decode node that can operate as a standalone device or can be stitched with other PAK nodes to build an IP-based videowall that is infinitely scalable.
Integrators can simplify videowall deployments by reducing the number of connections and eliminating a single point of failure — reducing project risk and offering improved reliability.
It features four HDp60 outputs or one 4Kp60 output and multi-format decoding of up to 32 HD streams per device, including H.264, NDI and remote desktops or virtualized browsers using VNC. It is easy to set up and configure and can be managed through TRx, according to the company. Its eco-friendly design boasts low power consumption and a compact form factor that is small enough to be mounted behind monitors, saving rack space and reducing extended video cable runs.
VuWall Application Server Enables Quick, Centralized Access to a Multitude of Sources
Part of VuWall's ecosystem, the Application Server is an appliance for streaming, sharing, controlling and visualizing websites and applications across AV/IT networks. VuWall's scalable and versatile solution simplifies videowall deployments by providing quick access to websites, dashboards and applications from a single centralized source. Centralizing web browser and application deployments in a single appliance eliminates loading times and alleviates processing power from the videowall itself.
It also increases security by isolating browsers and applications into one secure virtual machine architecture, preventing unwanted access and intrusions. It features multi-platform compatibility, making it possible to open applications and web browsers on any underlying operating system, whether Windows or Linux.
It also provides a way to access and interact with an unlimited number of websites and applications from anywhere on the network, easily, reliably and securely. In addition, it can accommodate any number of sources needed without affecting other devices on the network and facilitates seamless maintenance of certificates, licenses and plug-ins for IT professionals.
If you enjoyed this article and want to receive more valuable industry content like this, click here to sign up for our digital newsletters!