A Helpful Guide on Effectively Working with AV Subcontractors
Subcontractors can help your business grow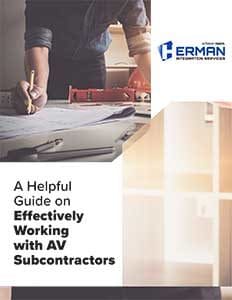 Working with subcontractors is a great way to help supplement your own fulltime staff or to extend your project reach by allowing them to own a project. They can fill knowledge gaps and allow you to take on more jobs. But how do you create a solid partnership with a subcontractor that you can feel confident about?
This is where creating a plan can help you kick-off a successful relationship. Without pre- and post-sales planning, you will waste valuable time and money at the end of the project. It's also good to know if your organization is even ready to work with a subcontractor and if they are, finding the right fit. Additionally, making sure that their on-site experience is smooth and making sure that schedules and timelines are reviewed are a great way to build a long-lasting relationship with a subcontractor.
In this new download, "A Helpful Guide on Effectively Working with AV Subcontractors" you will learn:
What it takes for your organization to be ready to partner with subcontractors
How to reach and know your partner
How to plan and create a process for project management
How to define roles and responsibilities
How to prep your new team for on-site deliverables and timelines
And much more!
Download this new report today to make the most out of your partnerships with subcontractors!