Cell Phone Habits of American Workers Should Repulse You—But They Probably Won't
If you don't think we've got an addiction to our cell phone habits, these stats might convince you otherwise. Nothing, it seems, is more important.
Leave a Comment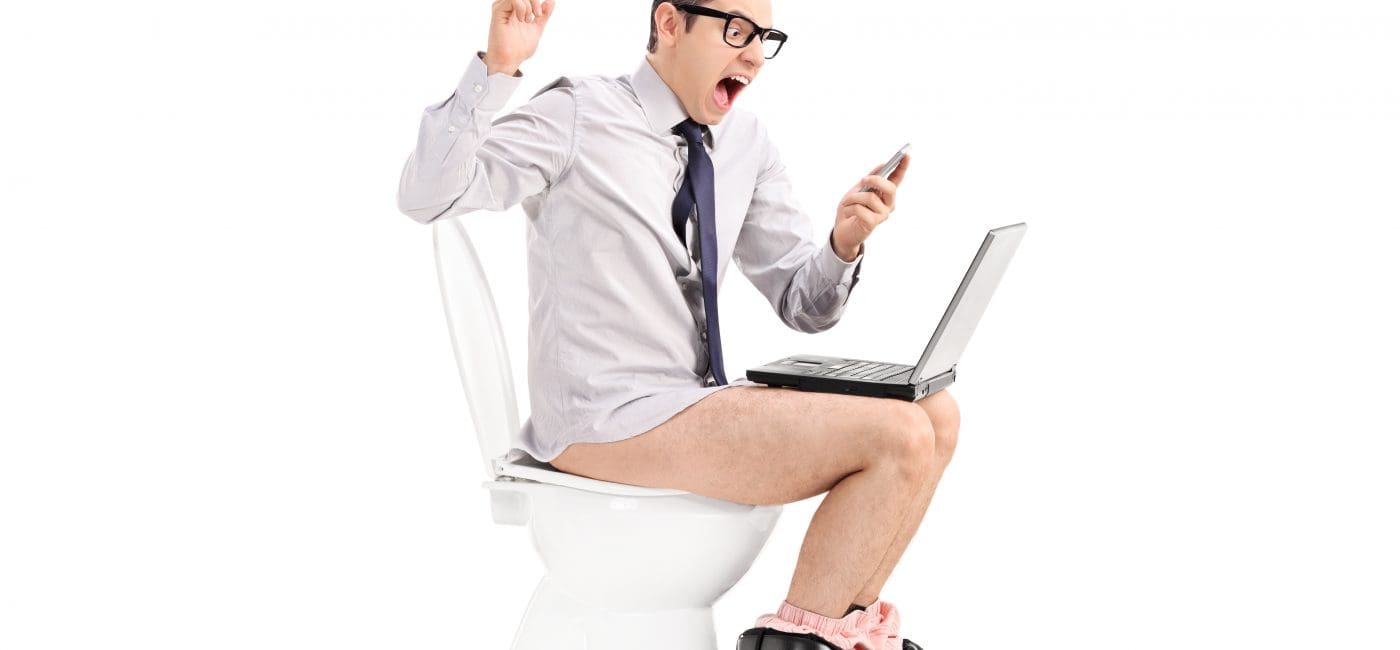 Here's something that probably won't surprise you but should actually disgust you: more than half of the people who responded to a recent Wilson Electronics survey on cell phone habits say they take work calls or read or answer emails while they're in the bathroom.
I wasn't surprised that this practice is most popular among those 25-34 years old at almost 65 percent, but I was repulsed to read that my age group [45-54] did this second-most at work, with 56.4 percent admitting it. You know that means even more of them actually do it, by the way.
I was surprised only 47 percent of those 18-24 said they take calls or deal with emails while in the bathroom since it seems that segment of the workforce is traditionally the most connected.
Maybe they just didn't want to admit it out of fear their co-workers would find out.
As if you can say "only" in a case like this, only 51.7% among those aged 35-44, 46.6% among those aged 55-64 and 36.4% among those aged 65+ admitted to taking care of digital business while dealing with biological business at work.
I know I'm fighting a losing battle on this, but I can't for the life of me understand the necessity of bringing your phone into the bathroom, let alone pulling it out and touching it while I'm using the bathroom.
Without being overly graphic, I have other priorities when I'm in the stall or on the loo.
I probably shouldn't be surprised by the findings in the Wilson Electronics survey, especially knowing that 90 percent of 18- to 29-year-olds sleep with their smartphones in or next to their beds—or that there are more than 378 million active cell phones for 328.5 million Americans.
After years of being a cell phone holdout—I've only had one for a little more than 10 years—I now am part of the two-phone club, as anyone who's seen me trying to juggle my personal and work phones on the trade show floor can attest.
I guess you could say I'm part of the cell phone habits problem in that case.
Better Work-Life Balance Needed
Wilson Electronics, through its partnership with the Google Surveys Publisher Network, conducted its seven-question survey in December, gathering responses from 1,000 people across the U.S. ages 18 to 65+.
Nearly half of all respondents say their cell phone habits include checking their devices for at least an hour a day for work-related reasons during work days (Monday to Friday), led by 55.6 percent among those age 18-24.
Those youngsters lead the way in checking their phones during work for personal reasons too at almost 70% saying they do it at least an hour a day. That's well above the average of 50.6 percent.
Just over 30 percent of survey responders say they had lost a deal/client or missed a key business decision/sale because of poor cellular connectivity. This average percentage remained consistent across genders and all age groups surveyed.
More than half (51.7%) of respondents cited having had cell phone connectivity issues that interrupted their work on a daily to yearly basis and just more than 20 percent say they've missed an important life event for an "urgent" work call or email.
You probably won't be surprised I still own a landline and prefer using my office landline to my work cell phone whenever possible. Of course, I'm in the minority there, with almost 55 percent of survey respondents saying they prefer a bring-your-own-device policy over being required to use an office line.
How is your company doing in relation to these issues? What do your employees think about how often they can use their cell phones for work or personal matters? Do you want them calling you from the bathroom or would you prefer they wait until after they flush to handle company business?