Boca Raton Fire Department Employs Uniden Cell Booster For Failsafe Emergency Response
Installed by Atlantic Technology Group, the turnkey Uniden system connects Boca Raton firefighters to AT&T FirstNet and all commercial carriers.
Leave a Comment
Photos & Slideshow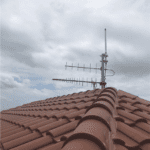 ---
Spotty cellular connections are a huge source of frustration when you're trying to chat and text with friends and family. The implications are much more severe when you're an emergency responder trying to save lives. A team of dedicated firefighters in Boca Raton, Fla., has discovered a failsafe way to keep the lines of communication open, thanks to the addition of a Uniden Cellular cell booster system. Installed at the 20,000-square-foot fire department, the commercial-grade cell booster leverages AT&T's ubiquitous public safety network, FirstNet.
Created specifically for law enforcement, firefighters, EMS and other first responders, FirstNet propagates emergency calls on its own dedicated frequency band to preclude communication bottlenecks. Still, FirstNet cellular signals can struggle to break through the "structural barriers" of densely constructed buildings, as was the case at the Boca Raton Fire Department. The administration contacted Rockland, Md.-based Atlantic Technology Group (ATG) to remedy the situation.
The Struggle for Signal
"The second our technicians walked into the fire department, the bars on their cellphones nearly disappeared," relates ATG project leader Chris Ender. "It was clear we needed to do something. They needed a reliable back-up communications system to take incoming calls and to communicate with firefighters on in the field should their land mobile radios go down."
Ender considers the building's largely concrete and metal construction as the primary culprit. "It's a very common issue in buildings made of dense materials," he explains. "No matter how strong the cell service is outside, it can't penetrate the tough exterior, resulting in weak or even non-existent service inside." ATG recommended the department invest in a cellular booster from New York-based Uniden. "Uniden's U70 Duo Bundle Smart Cellular Booster Kit was perfect for the project," Ender says.
Bringing in Uniden
It would leverage the department's existing AT&T FirstNet service and provide access to any cell service for personal calls. It could also scale easily to the size and scope of project and cost significantly less than a standard DAS (distributed antenna system).
Uniden technicians had performed an RF survey of the Boca Raton Fire Department prior to installation to identify weak spots. This gave ATG a clear roadmap to follow. "Uniden's technical assistance and range of turnkey solutions tailored to serve the coverage needs of a range of building sizes, geography and customer demands make our job much easier," Ender notes. He adds, "From one provider we have all the components necessary to commission a complete, establishing strong, reliable cell connections for our customers quickly, which in the case of an emergency response team like the Boca Raton fire station is imperative." A traditional DAS, by comparison, can take months to deploy, according to Ender.
Enders estimates the installation — a two-man job — took no more than a couple of hours. He and another tech mounted a passive high-gain antenna on the roof of the building. This would capture both cell signals from AT&T FirstNet as well as other commercial carriers. The signals travel via coaxial cable to a communications closet where they are split. A Uniden U70FN Smart Cellular Booster amplifies and distributes the FirstNet signal throughout the building. A Uniden U70 Smart Cellular Booster does the same for incoming cell signals from other carriers.
Satisfied Customers
No matter where the firefighters are, they have a full cell connection to both FirstNet and their preferred personal cell service. This includes the lounge area, in the bunks, kitchen or even vehicle bays.
Also Read: Is Old Power Infrastructure the New Commercial AV Conundrum?
Per a statement, the improvement in cell reception inside the first department was immediate and seamless. It required no learning curve. It also had no complicated setup on each person's cellphone or special steps to follow. Ender enthuses on the positive feedback of the project. He states, "The fire chief seeing a full set of bars appear on his phone for the first time ever in the building was all the validation we needed that this system would support the vital emergency services this department and community depend on."
Click on "View Slideshow"  on upper-right corner for images of the Uniden cellular booster installation at Boca Raton Fire Department.
If you enjoyed this article and want to receive more valuable industry content like this, click here to sign up for our digital newsletters!