DITEK Power Line Conditioner Features Embedded Surge Protection
The plug-in power line conditioner from DITEK does not require an electrician to install and can be wall-mounted on any surface.
Leave a Comment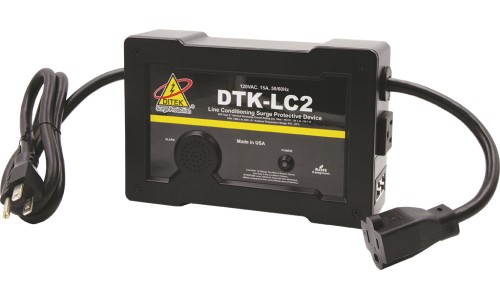 A new DITEK power line conditioner — DTK-LC2 — combines 120V power filtering and protection from surges.
This compact new combination simplifies implementation of indoor point-of-use surge protection for sensitive electronic systems while ensuring that protection is operating correctly, according to the company.
The plug-in design does not require an electrician for installation and can be wall-mounted or set on any convenient surface. As an additional benefit, a single channel of Ethernet/PoE protection is provided for network connections.
If protection is compromised, the device will alert staff with both a strong audible alarm and a confirmation LED to make sure that vital equipment does not remain unprotected.
"The new DTK-LC2 line conditioner with surge protection establishes a new level of convenience for clean, protected power," says Kyle Seay, field sales engineer, DITEK. "It makes it easier than ever to implement 120V EMI/RFI noise filtering with a multi-stage hybrid protection circuit for fast response and excellent surge protection. Now every critical electronic system with a power plug can benefit from industry-leading protection — and users can always be sure that protection is in service."
Read Next: Everything AV Pros Really Need to Know About Power Conditioning
The DTK-LC2 is UL1449 listed as a Type 3 SPD for surge protection, UL1283 listed for EMI/RFI noise filtering, and complies with applicable IEEE standards. The DTK-LC2 is made in the USA, with a 10-year limited warranty.
This post premiered on our sister site, Security Sales & Integration.