The AV Industry's Latest Podcast Focuses on an Underrated Topic
The Next Generation of Energy aims to help integrators understand why reliable power is the foundation for their clients' AV systems.
Leave a Comment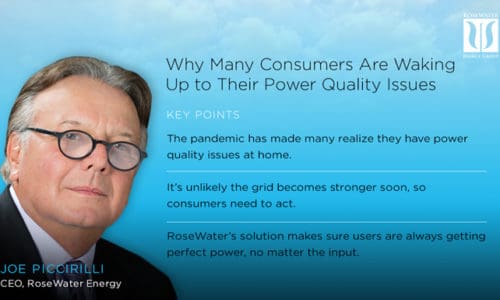 I wish I could take credit for the AV industry's latest podcast, The Next Generation of Energy. After all, it wasn't that long ago when I invited Joe Piccirilli, founder of RoseWater Energy, onto our own podcast, AV+, to talk about how power management is a critically-underrated part of AV solutions worldwide.
I wonder if they got the idea to podcast from taking part in that episode? (Probably not, but the speculation makes me feel like I made a good impression).
Anyway, RoseWater Energy has launched their new podcast for the AV industry to help integrators better understand power management and how they can eliminate issues for their clients.
Their first episode details how the pandemic has made consumers "wake up" to their power quality issues and what integrators can do to ensure they have consistent power.
"There are so many product issues blamed on integrators when power and its reliability are the culprits," said Joe Piccirilli.
"The goal of our podcast is to help integrators understand why reliable power is the foundation for the home or business. Power quality and reliability need to be addressed at the planning stages of the installation – not as an afterthought. As the grid continues to degrade, power and energy management will be more important to an integrator than the network."
Read Next: Power Management Solutions are Critical Right Now: Here's Why
Future episodes will include thought leaders in energy and power management including integrators and manufacturers.
The Next Generation of Energy podcast is available on Spotify & iTunes, as well as on the RoseWater Energy website.
While you're at it, be sure to check out our own podcast, AV+, for a broader topical show on everything under the AV umbrella.
If you enjoyed this article and want to receive more valuable industry content like this, click here to sign up for our digital newsletters!