Marshall Furniture: Built to Last
Marshall Furniture marries foundational values with visionary new leadership.
Sponsored Content
Leave a Comment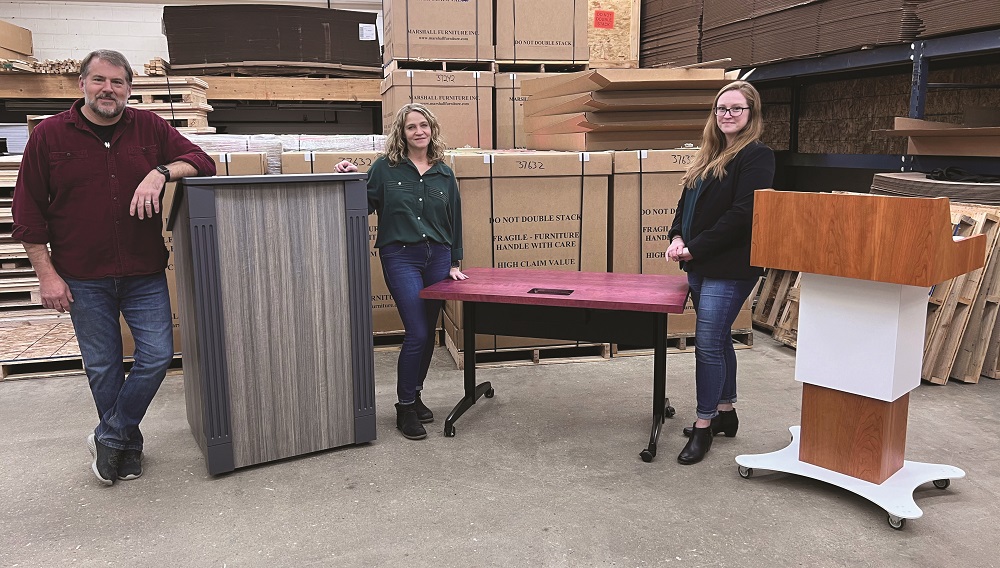 Marshall Furniture is one of the rare companies that embodies two divergent qualities simultaneously: The 36-year-old presentation technology furniture provider upholds and reflects its decades-old founding values while, at the same time, leaning into the transformative vision of its bold, young leadership team. This not only makes the Antioch, Ill.-based company exciting to watch but also offers the exemplar of a leading vendor leveraging its agility and pivoting to tomorrow's burgeoning opportunities. To learn more, Commercial Integrator catches up with Michelle Wille, managing partner; Tom Feldkamp, director of business development; and Ariel Blaha, sales manager, about the Marshall Furniture of both yesterday and tomorrow.
A Proud Heritage
Marshall Furniture had its beginnings in the mid-'80s when its founder, Dick Mangione, recognized the dearth of customization options for technology furniture back then. At the time, Mangione worked for Luxor, and customer comments had become so frequent as to be a refrain: They were looking for an upgraded caliber of furniture. "It was mostly utilitarian, metal, clanky-looking furniture that was being rolled in," Wille recalls. Unwilling to settle for that, Mangione reached out to local millwork shops and began creating carts built to client and architect specifications. "It just started to build from there," Wille adds, saying that cart operations eventually expanded to lecterns, tables, credenzas and more. Although Mangione began on a local level, word soon got out, and he started expanding operations and growing territorially. By 1986, Marshall Furniture was born. 
The company has long maintained an integrator-centric posture, and that dates back to those very early days. According to Feldkamp, "Our audiovisual integrators — our dealers — were the foot soldiers for us," working to announce to clients that Marshall Furniture had ideal solutions for their applications. With that, the company not only began to earn brand equity in the Midwest but also started to fan out, its reputation eventually stretching from coast to coast. Feldkamp, doubling down on the point, adds, "The integrators were the ones that really sold our product and spread the word about what we could do." Quickly, the name "Marshall Furniture" became synonymous with premium-quality, highly customizable technology furniture. 
Bold New Leadership
By January 2018, Mangione was ready for retirement. Fortunately, he had overseen a strategically devised transition plan to ensure his company remained in good hands. That included establishing a team of long-tenured junior partners who, boasting a combined 70-plus years working at Marshall Furniture, were immediately able to ascend to both ownership and leadership. Along with Wille, who is responsible for sales and marketing, the other partners are Jim Schaffroth (lead on engineering) and Colleen Maatta (heading up finance). "The partners made sense," Wille observes, "because each of us represents a very important entity of the company." Mangione wasn't looking for mere caretakers but, rather, for visionaries who would keep Marshall Furniture in step with the times and present a fresh approach to doing business. On that score, the new team has been wildly successful. 
With Wille, Schaffroth and Maatta at the helm, Marshall Furniture has layered additional structure onto its foundation. For example, the company has established sales territories, thus avoiding what had become a too-common question during trade shows — namely, "Who's my rep?" According to Feldkamp, Marshall Furniture's formerly freewheeling approach boiled down to everyone pitching in to help clients on an à la carte basis. But that simply had become overwhelming for integrators. "It was their request that we have a designated, better structure," he acknowledges. "They want to know who their rep is," Wille adds, concurring. "It helps us strengthen that relationship, and it creates ownership." Importantly, territory managers know their territory inside out (e.g., what schools are in the area, what matters in that region). What's more, with established accounts within designated territories, Marshall Furniture knows what projects are going on at any moment in any given territory. 
Less Reactive, More Resourceful
Marshall Furniture's new leadership has doubled down on ensuring integrators and their clients have access to the information they need whenever they need it. In the old days, the company was highly phone call driven, with associates whiling away the hours talking through custom solutions with callers seeking assistance. As we know, however, the zeitgeist of the moment is immediacy; rarely do integrators or clients these days have the time to start from square one on long phone calls. Thus, Marshall Furniture has developed a better-designed website and produced readily available design drawings. 
"I think the new focus is being more resourceful and more forward thinking." Michelle Wille, managing partner, Marshall Furniture
"People want to be able to go to your website and look at what you have available, and then talk to you about it," Blaha declares. "So, it's important to make that available for them to see." Accordingly, Feldkamp says, MarshallFurniture.com is now replete with cutsheets and other resources that were never there before. "I think the new focus is being more resourceful and more forward thinking," Wille observes. Although the core "personality" of Mangione's company remains intact, customers who want access to quick-hit information won't be disappointed. 
Leaning into the leadership team's bold vision, Marshall Furniture is not only redoubling its efforts in its strength areas — namely, higher education, the rapidly growing judicial market and the still-recovering corporate market — but also pursuing opportunities in developing verticals like broadcast production, command and control, and house of worship. Blaha affirms that having readily available documentation, which shows product lines specific to particular applications, is a big part of Marshall Furniture's market positioning. "We're a solution-based company," Wille states, counterposing the company's new focus, centered on the psychology of projects and verticals, to its legacy approach of "you pick your design, you pick your style, and we build to suit." 
Premium Quality, Budgetary Flexibility
Marshall Furniture has long maintained a reputation for premium-quality technology furniture, a recognition that sometimes carries with it the impression of a high price tag. In actuality, though, the company has offered its Quick Ship line of pre-engineered solutions for about 15 years. According to Blaha, that line, which suits customers looking for offerings not quite as fancy and not quite as expensive, has grown exponentially over the last decade as integrators have increasingly become familiar with the economy product line. 
Quick Ship's lack of customization options, however, spurred Marshall Furniture's leadership team to ideate a midline tier, which they will roll out in early 2023. Described as a hybrid of the company's premium and economy offerings, it will deliver premium-grade customization options at a lower price point. "This midline is going to give us the ability to customize that sizing that we're used to seeing in the custom line," Wille announces, citing height adjustability as just one example. Without divulging the secrets behind the as-yet-unnamed series, Wille points to revolutionary manufacturing and engineering adjustments that will enable Marshall Furniture to maintain the same high-quality manufacturing capabilities and customization allowances for which its premium line is known. "They rose to the occasion," Feldkamp says proudly of his colleagues, declaring that the entire team has embraced the challenge of establishing a good/better/best tiering system. 
Powered by Ingenuity
Marshall Furniture is a company built to last…built to thrive. Speaking of the soon-to-be-unveiled midline offering, Blaha explains, "The same ingenuity that is allowing for this process was also something we relied on during the pandemic. Because of the way our company operates, if an issue does come up, we're able to pivot and come up with a different solution." And Wille underscores that point, affirming, "We've always been able to pivot. We've always been flexible. And we've always been able to transition on every level." 
In a sense, then, the difficulties of the COVID-19 years were a blessing in disguise for the technology furniture provider. Those years presented a crucible of sorts, forcing Marshall Furniture, Feldkamp says, to reflect, consider its brand identity and assess how to make things even better. The company has emerged stronger, more robust and better positioned to be a recognized category leader. 
The AV industry has yet to see Marshall Furniture fully take wing — but the time is soon at hand. "We're nesting," Wille says with a smile. "We're watching it all happen right now, and we're pretty excited about how it's all going to come out." 
If you enjoyed this article and want to receive more valuable industry content like this, click here to sign up for our digital newsletters!