Honeywell Receives WELL Enterprise Designation
The designation offers Honeywell the opportunity to deliver and guide clients to identify and implement WELL strategies at scale.
Leave a Comment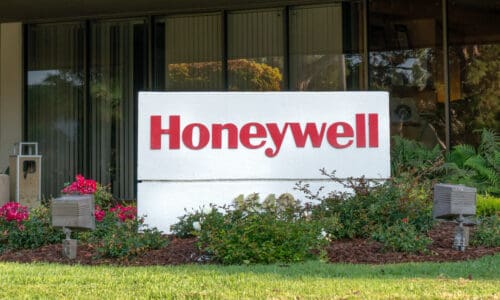 Honeywell building technologies announced it is working with the International WELL Building Institute (IWB) to deliver a suite of WELL solutions at the enterprise scale through its newly awarded WELL Enterprise designation.
As a WELL EP, Honeywell will offer its expertise in WELL to help transform buildings to help improve quality of life, along with tailored solutions to support the growing demand for enhanced well-being for employees, customers and communities.
Through the WELL EP program, Honeywell will guide clients to identify and implement WELL strategies at scale, helping companies meet its larger business objectives in areas such as environmental, social and governance reporting, human and social capital management, and workplace strategy and policy.
Created for organizations with demonstrated expertise in the WELL Building Standards and related offerings, WELL EPs serve an important role in helping clients scale their efforts to promote health and well-being efficiently and effectively.
Related: Study Finds Majority of U.S. Workers Don't Feel Safe in Their Buildings Yet
Honeywell will incorporate WELL into its Healthy Buildings offerings, inclusive of technologies like indoor air quality solutions and safety and security systems, and deploy WELL Accredited Professionals (WELL APs) as in-house experts to provide strategic guidance and streamlined support that create stronger organizations and people-first places. As an IWBI member supporting the development of the upcoming WELL Performance Rating, Honeywell will incorporate technological solutions into its new WELL EP services.
"As an industry leader that has long been on the cutting edge of promoting sustainability through building technologies, Honeywell can now integrate advanced WELL strategies and solutions into its services and help customers improve and enhance people's performance and well-being at scale," said Rachel Hodgdon, president and CEO of IWBI in a statement. "This new designation of WELL EP allows IWBI to work with Honeywell more closely and more efficiently to deliver the many benefits of WELL strategies across real estate portfolios and entire organizations."
Launched in July 2021, the WELL EP program was created in collaboration with more than a dozen organizations worldwide, including consulting firms, real estate companies and design and architectural practices.
"We are proud to receive designation as a WELL EP. Helping to create healthier and safer building environments takes a collective effort and commitment, and we're excited to continue our work with the IWBI team," said Doug Wright, president and chief executive officer, Honeywell Building Technologies, in a statement "The importance of healthy buildings will continue to grow as more companies return to offices and occupants will have higher expectations for the environments in which they spend time."
If you enjoyed this article and want to receive more valuable industry content like this, click here to sign up for our digital newsletters!