Smart Fire Sprinkler Monitoring Solution from Johnson Controls is a Connected Device
Johnson Controls says sprinkler monitoring solution alerts building managers to a potential issue before it becomes a costly problem.
Leave a Comment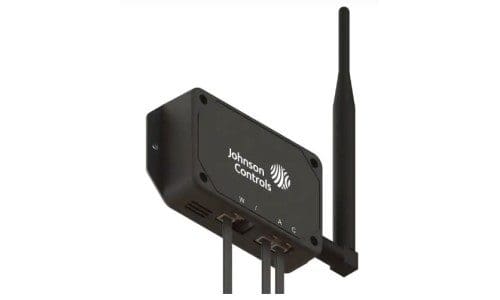 Johnson Controls launches its Smart Connected Fire Sprinkler Monitoring solution, which the company says is an industry-first that delivers real-time insights into fire sprinkler system health to enable swift preventative action.
The solution empowers building managers to transform their maintenance strategies from reactive to proactive, helping to prevent costly and dangerous equipment failures before they occur, according to the company.
Leveraging monitoring, sensor and data transfer technology, the Smart Connected Fire Sprinkler Monitoring solution continuously gathers information, such as pressure, temperature and water presence, to measure the overall health of the sprinkler system.
This information is then relayed to the customer dashboard via the Cloud.
When collected data indicates a potential adverse system condition, such as freezing pipes, pressure imbalances or pipe leaks, a proactive notification is automatically sent to the building manager who can then quickly address the issue.
"As we head into the colder winter months, fire sprinkler systems are left more vulnerable to issues like frozen pipes or leaks," says Scott Lapcewich, vice president of service operations, fire protection solutions at Johnson Controls.
Related: Wicker Man Rollercoaster Uses REAL Fire (and ProLights AlphaPIX) to Thrill Riders
"Couple that with many buildings left minimally occupied and perhaps minimally monitored, systems are even more susceptible to damage. Our customers deserve access to intelligent, round-the-clock monitoring to not only avoid system downtime, but also ensure their systems are ready to deliver optimal fire and life safety. We're proud to deliver the first-to-market solution that helps protect our customers' people and property."
The Smart Connected Fire Sprinkler Monitoring solution is part of the company's OpenBlue suite of digital solutions, which are tailored, data-powered technologies that combine with data to provide actionable insights that allow buildings to become more intelligent spaces and empower facility managers to optimize their facilities' operations and safety, according to the company.
This post premiered on our sister site, Security Sales & Integration.