3 Questions with Michael Peveler of AtlasIED
Michael Peveler, VP of sales at AtlasIED, discusses the company's racks and cabinet solutions, as well as an exciting new promotion for the end of 2020.
Sponsored Content
Leave a Comment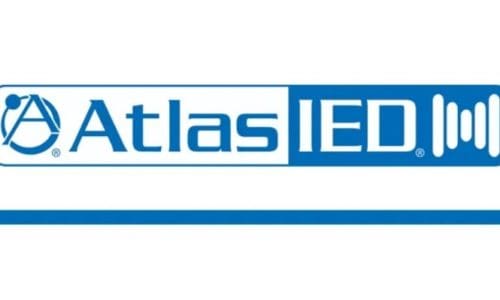 Can you tell us about the racks that are available through AtlasIED?
Absolutely, AtlasIED has a full range of racks and cabinets. All the way from lower-cost, simple, basic rack and cabinet solutions, up to seismic rated solutions, and then up to our top-level today, the Texas Tough solution. Really a fantastic range of cabinets.
Solutions are really simple to order, all you need is a single part number. You have the option of a digital crown on top to identify the installing integrator. So really simple all the way up to really sophisticated options, and then kind of every shape and size of cabinet you need. Floor mounted of course, ceiling, wall-mounted racks, cabinet and credenza racks and cabinets – every option you could want.
Lastly, I think it's important to point out that all of our racks are made here in the United States using American steel with American labor. So any time you purchase an AtlasIED rack or cabinet, you're absolutely supporting the American economy. We can't tell you how much we appreciate that support.
Why should someone consider AtlasIED racks for their AV or security installations?
I think the biggest reason that somebody would order a rack from us is because you're already ordering all of the other gear from us. AtlasIED has become a solutions provider, so we've got more and more gear going in that head-in. Why not include the cabinet or the rack while you're placing the order?
It's simple. It's one PO, one point of purchase, one team to work with. We've really tried to make it super simple. We build a great product, it's designed to fit your solution, there are options for every installation, so it just makes sense to include that as part of your AtlasIED order anyway.
In addition, we've got this great promotion going on and you're not going to want to miss that.
Between now and the end of the year it's free freight on all of our floor racks and all of the associated accessories. So everything from fans to rack power to power strips – it's all included.
There are some terms and conditions, but it's free freight on all floor racks and rack accessories. It's a great way to try to wrap up what's been one of the weirdest years we've ever been through with free freight.
The rack promotion runs November 1 through December 31, 2020. We have bolstered our inventory anticipating the increased interest, so we are prepared for a run on racks! If you want to learn more, reach out to myself, somebody on my team, or any of our manufacture rep partners.
If you go to our website and go to the "Contact Us" page, you'll have an option to see a map of all of the contacts across the entire county. Reach out to us with any of your
questions, get a copy of the promotion, get a copy of the terms and conditions so you understand what you need to do to take advantage of this. You don't want to miss out.
What else should people know about AtlasIED?
I want to simply say that I've been honored to be here for the last two years as part of the company. I've been so incredibly impressed by the evolution, change, and growth that I've seen in the organization. 2020 has been a really tough year for a lot of companies, certainly for our employees and their families.
But we've been really fortunate with leadership and at this point it looks like we're going to be able to say that we've successfully grown.
We've only been able to do that because of the quality of the people that work for the company and the quality of the partners that we have in the field.
So if you're one of our partners that are out there driving business, all we can say is thank you. We know that we're nothing without you guys, and it doesn't go unnoticed.
If you're an integrator out in the field thinking maybe you should check this promotion out, we hope you will. There are amazing things happening here at AtlasIED.
There are fantastic things coming. The future is incredibly bright, and personally I hope that you will choose to be part of the ride going forward.