Lowell Manufacturing Introduces USM Series Rackmount Shelf with Multiple Tie-Down Slots
Lowell Manufacturing's USM Series shelves with unique hole and slot arrangement accommodate a variety of mounting patterns for small devices.
Leave a Comment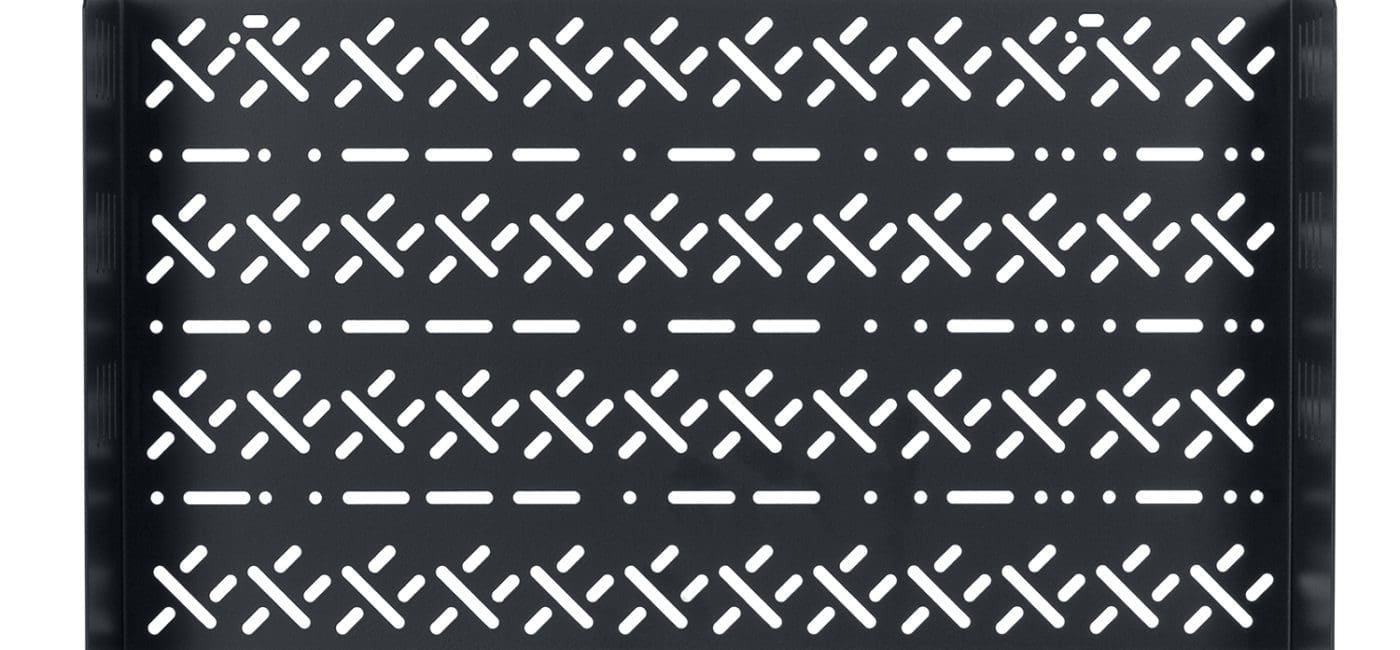 Lowell Manufacturing Company has introduced a line of rackmount shelves with "an intricate hole and slot pattern in the base that accommodates a variety of device mounting patterns, enabling small devices to be mounted securely, while contributing to enhanced ventilation."
The USM Series shelves "are ideally suited to standalone sequencers, remote power control modules, switching gear and similar devices," according to the Lowell Manufacturing press release.
The 16-gauge steel shelves with black finish also have side slots for cable management.
Measuring 19" x 10" x 1U or 2U, USM Series shelves have a load capacity of 25 lbs. and are available individually or in multi-pack cartons.
More Lowell Manufacturing Innovations
Before rolling out the USM Series, Lowell Manufacturing introduced the ACR-1507 line of 19-inch rack accessories that are engineered to provide easier access to network connections from the front of the rack via pass-through connectivity ports.
The St. Louis, Mo.-based manufacturer of rack components, distributed audio components, power management devices and rack accessories that include thermal management, points out that its new products feature RJ-45 or USB A/B ports.
According to Lowell Manufacturing, the inclusion of these front-mounted ports enables professional integrators to quickly connect laptops to audio, security and main networks without having to maneuver behind racks. The products also include white areas above the units' ports to help integrators to quickly identify the purpose of the respective ports.
In addition, Lowell Manufacturing notes the products also offer five charging ports that include USB-C PD and USB 3.0, and banks of NEMA 5-15R power outlets with surge suppression that protect connected equipment from surges and spikes up to 40,000 amps
Lowell Manufacturing's Lowell ACR-1507 series of products offer a choice of products that include:
ACR-1507-SSI-FC: This product places the charging ports in front of the unit to provide the option of charging personal devices while working at the front of the rack
ACR-1505-SSI-RC:  Lowell Manufacturing locates the charging ports in the rear of the unit. The panels also include a bank of NEMA 5-15R power outlets that provides built-in surge suppression to connected components with the ability to protect connected components from power surges and spikes up to 40,000 amps
If you enjoyed this article and want to receive more valuable industry content like this, click here to sign up for our digital newsletters!