AmpliVox Rack Cabinets Store Components with Style and Security
New AmpliVox rack cabinets 'combine great functionality with appealing style for business, educational, hospitality, house of worship and more.
Leave a Comment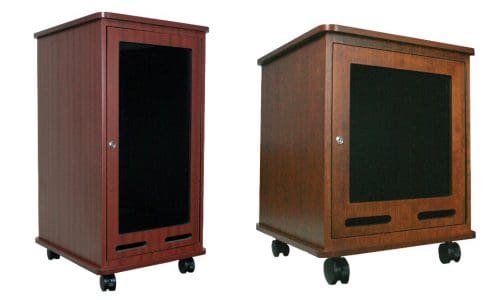 AmpliVox Sound Systems now offers what the company calls "attractive rack cabinets that combine classic, elegant styling with convenience, mobility and security."
The new cabinets—available in 12U, 21U and 30U—and laminate or wood veneer finishes, allow computer and control systems to be stored anywhere.
AmpliVox's new rack cabinets "are designed and engineered with safety, security and elegance in mind," according to the company press release. The 19-inch standard rack rails allow up to 12U or 21U components (17 inches deep) to be stacked inside, concealed within a traditionally finished cabinet in a choice of colors.
The cabinet includes key-locked front and rear doors for easy access, with a black-tinted acrylic panel in the front door as well as unobtrusive ventilation openings. The cabinet also contains a quiet UL-listed fan to cool components.
Inside, units plug into a six-outlet power strip with surge suppressor, connected to a 10-foot external power cord. The entire cabinet can be moved easily on sturdy 3-inch rolling casters, the front two of which can be locked in place.
The rack cabinets are built to furniture quality standards and available in six different finishes to match any décor. They also coordinate with many of the lecterns in AmpliVox's extensive line of multimedia furniture products. 
"These rack cabinets enhance any room with their elegant design," said AmpliVox CEO Don Roth in the press release. "They combine great functionality with appealing style for business, educational, hospitality, house of worship and other professional settings."
 As technology progresses and equipment becomes more sophisticated, professional installers and integrators are realizing that the use of equipment enclosures, both wall and floor, are a sensible approach to not only organizing and managing their equipment investments, but also to provide an enhanced level of security and protection.
A wall mounted cabinet is often a perfect solution for smaller installations such as convenience stores and mini marts, as well as fast food restaurants and small retail chain stores.
Larger facilities such as big box stores and sports bars will most likely require one or more floor cabinets, while the largest installations such stadiums and casinos could require a bank of cabinets and other supporting equipment.
Learn more about AmpliVox here.