Smart-Things to Showcase Elegant iPad Docking-Charging Stations at InfoComm
Smart-Things booth #C4126 at InfoComm 2018 features sDock wall mount systems, including the sDock Fix and new sDock Nano for conference rooms/huddle areas.
Press Release
Leave a Comment
Smart-things will be showing the world's most elegant line of docking and charging stations for iPads and other mobile devices at Infocomm this year. (booth C4126) smart-things will exhibit their complete line of sDock wall mount systems, including the award winning sDock Fix and the new sDock Nano.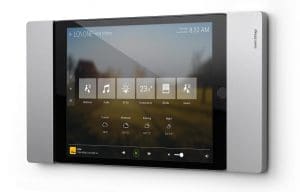 The initial sDock series featured a sleek, easy to install docking – charging system designed for applications where the iPad would be removed from time to time. When the iPad is removed a photo of the user's choice appears in its place. The sDock is pivot-able, features "superior cable management" and is lockable.
This innovative design was followed by the sDock Fix, winner of the prestigious German Design Award. The sDock Fix continues to reflect the Apple design aesthetic, but is suited to applications where the iPad is permanently affixed to the wall.
The sDock series is in use globally in a variety of commercial – industrial, residential, hospitality, medical, mobile and maritime environments. One large corporate user has over 300 sDocks outside all of their conference rooms globally running meeting room software.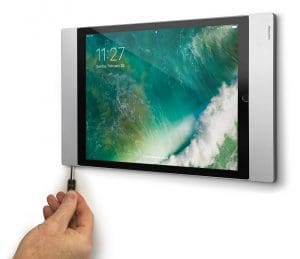 Glenn Polly of Videosonic described the sDock series as "the most attractive and easy to install docking – charging system on the market;" explaining that we "installed it in minutes, not hours and the client loved it!"
The all new sDock Nano addresses the need to permanently dock phones of all types when they are dedicated to running specific applications. The Nano's design continues the company's tradition of design elegance and optimal functionality.
Smart-things was founded 5 years by accomplished industrial designer Thomas Detemple and is partnered with TQ Systems, a leader in embedded electronics. smart-things engages in custom design projects upon request and offers consulting services.
For further information contact:
Thomas Detemple, CEO of smart-things at thomas.detemple@smart-things.com
Or visit the smart-things website.
For North American inquiries:
Michael Donohue at md@mdonohue.net 310-384-3537