BigFoot Java Sees Dramatic Jump in Customer Engagement Thanks to Digital Displays
Weatherproof Peerless-AV digital menu boards with EcoDigital Media fuel the chain's expansion with dynamic content across 34+ locations.
Leave a Comment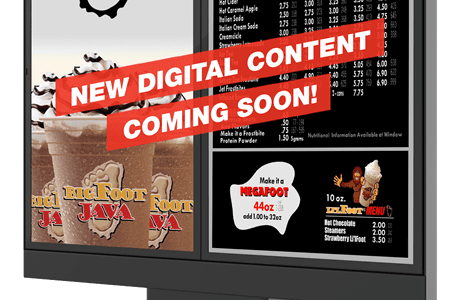 EcoDigital Media (EDM), a national leader in digital signage and communications, and Peerless-AV recently partnered with BigFoot Java (BFJ) to fuel the chain's expansion.
BFJ is located in Pacific, Wash., and currently has 34+ locations, with continued expansion in the near future. The partnership will enable BFJ to "further streamline and energize customer service with fresh, inviting digital menus," according to a recent Peerless-AV announcement.
EDM and Peerless-AV's digital displays "provide nimble adaptability for BFJ's customer-driven strategies at the store, group, regional and corporate level," the announcement says.
"Utilizing Peerless-AV's Xtreme outdoor digital menu boards and EDM's turnkey installation services and engaging menu content design, BFJ is pleased to be able to offer its customers with an updated drive thru coffee experience," according to the announcement.
The partnership of EcoDigital Media and Peerless-AV will aid to improve the coffee shop's operation by enabling its menu and company content to be updated at any time.
"A visual is processed thousands of times faster by the brain than text, triggers more profound emotional and sensory responses, and is remembered far better," said EDM CEO Kimberly Brecko.
"Digital displays can promote new products, featured menu items, encourage additional purchases and help customers make decisions more quickly.  We are proud to partner with BigFoot Java to move their customer engagement strategy to the next level," she said.
Why BigFoot Java Upgraded Its Menus
"We have not updated BigFoot Java's static menus in several years, and in order to better meet the needs of our customers and our business, we are excited about the new digital menu boards made possible by EDM and Peerless-AV," said BigFoot Java owner Jennifer Whitmore.
"Converting to digital menus will allow us to be more creative with how we present our tasty new offerings, while also positioning us for growth and continued expansion," she said.
"To many, a daily cup of coffee at the drive-thru is a special ritual and we know that the patrons at BigFoot Java feel that way," said Peerless-AV VP of sales Brian McClimans. "Peerless-AV is proud to be able to partner with EcoDigital Media in aiding businesses with updates to their digital signage.
"What's best is the end result: helping restaurants and coffee shop's meet their business goals and to help better serve the BigFoot Java community," he said.
If you enjoyed this article and want to receive more valuable industry content like this, click here to sign up for our digital newsletters!