Best Higher Education Project: The Forum – Berkeley Executive Education at UC Berkeley
McCann Systems brings immersive experience to the University of California-Berkley campus and it's catching on with students and staff.
Leave a Comment
Photos & Slideshow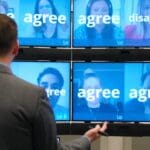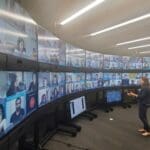 ---
University of California Executive Education at the Haas School installed several forum classrooms featuring the Proscenium solution from McCann Systems.
Familiar instructor and student connections have been reestablished using McCann Systems' Proscenium connected studio environment in four areas at the Haas School at UC Berkeley, and the higher education institution is experiencing stellar engagement results.
McCann Systems worked with Julie Shackleton, VP of digital initiatives for Berkeley Executive Education to help the school to design the system and have it up and running by the fall semester.
Stationing staff members safely near campus and complying with local guidelines, McCann Systems had the system built and was testing by July. These virtual classrooms can host completely virtually or in a hybrid classroom environment for up to 84 off-campus participants.
The project was brought about from the success experienced with Harvard Business School's HBX and HBX 2.0 project, built by McCann Systems.
Joseph Fusaro, VP and senior sales executive with McCann Systems, helped bring Proscenium as a solution to UC Berkeley Executive Education.
See Next: Best Corporate Campus Project – Creating an LED Experience at Financial Services Campus
"When Julie called looking for an online collaboration solution, the real challenge was replicating the in-room experience for both faculty and students," said Fusaro. "Placing the professor back into the classroom and in front of the students allows that instructor to be the focus of the room while still maintaining an equitable, in-room experience for remote students."
The Proscenium systems themselves are comprised of hardware and software solutions that can accommodate large sessions of students. Two of the larger Proscenium installations allow 84 students to interact with each other and the instructor successfully again.
The other rooms are purpose-built for the existing architecture of Chou Hall and the class size, fewer screens for hosting 48 and 60 students.
It's very much an immersive, intimate experience for both the faculty and the participants. There are perspective cameras, which allow for eye-to-eye contact. There are several different views that you can choose to look at the room from.
Everybody likes to look at the room view, which has the wall of participants. It's got nothing to do with paying attention in class, but everyone likes to see everybody else and see who's sitting beside them in the room. There's a room view and a teacher view. You can decide, "I want to see the slides and maximize those."
The Installation
A pair of 55-inch Sharp and NEC displays can show students two-up for an equitable head size experience, or can be matrixed in a variety of ways. Perspective audio from Extron soundbars mounted directly below the featured active speaker, make a conversation with social cues possible from anywhere in the world.
The perspective cameras from Logitech attached to the system reciprocate that interaction on the students' side, providing the body language of the instructor, and in-room cameras from Vaddio let the users look around the space.
A 75″ touch display from Avocor and 43″ confidence monitors help the instructor further the learning experience, show data from the session, and adjust as necessary. While semi-permanent, the Proscenium units at UC Berkeley are built on rolling Peerless structures and mounts that could allow reinstallation in any room, along with the QA cart and control equipment from Crestron.
The systems feature two-way engagement from Barco's weConnect platform, an interactive, flexible tool for featuring the university's main asset- the instructor.
Customer Reaction
The virtual classroom has already debuted as part of an Executive Education bootcamp for new managers, and will be used to teach core courses to MBA students in both the full-time and Evening & Weekend programs at the Haas School this fall.
"The ball came our way and we grabbed it with both hands," said Shackleton, former legal and policy manager for HBX, now HBS Online.
"Zoom is an excellent tool and that's a learning tool that we still use, but it works for certain pedagogies and the virtual classrooms work for others," she says. "They both have their strengths. The virtual classroom, however, is designed to mimic the in-person classroom experience.
"It's as though every learner is in the front seat of the room, because there's directional audio and video. Every face is visible," he said.
Faculty are fully supported from a technical perspective. Zoom has tools, but they are layered on top, whereas here it's front and center. When you click the hand-raise button, it comes up in front of your face. And the ability to have polls, both open-answer and multiple-choice, allows for deeper dives in discussions, allows for a lot of contributions at once.
There's an Ask a Question feature, too, so the faculty member won't be disturbed, but knows that the questions are there for when they're ready. And it has nine different whiteboards that can be used for collaboration and can be saved.
Berkeley Virtual Classrooms Equipment Highlights:
Audix
Avocor
B&H
Barco
VC – 300″
Biamp
Chief
Cisco
Crestron
Crystal Image
ETS
Extron
Hall Research
Huddle Cam
Intel
Logitech
Magewell
Marshall
Middle Atlantic
NEC
On Stage Products
Peerless
Star Tech
Teamviewer
Vaddio
If you enjoyed this article and want to receive more valuable industry content like this, click here to sign up for our digital newsletters!