Our Deep Dive on Remote Work Technology Trends
We took a deep dive into the current state of remote work, surveying both integrators & end users to learn where technology fits in.
Leave a Comment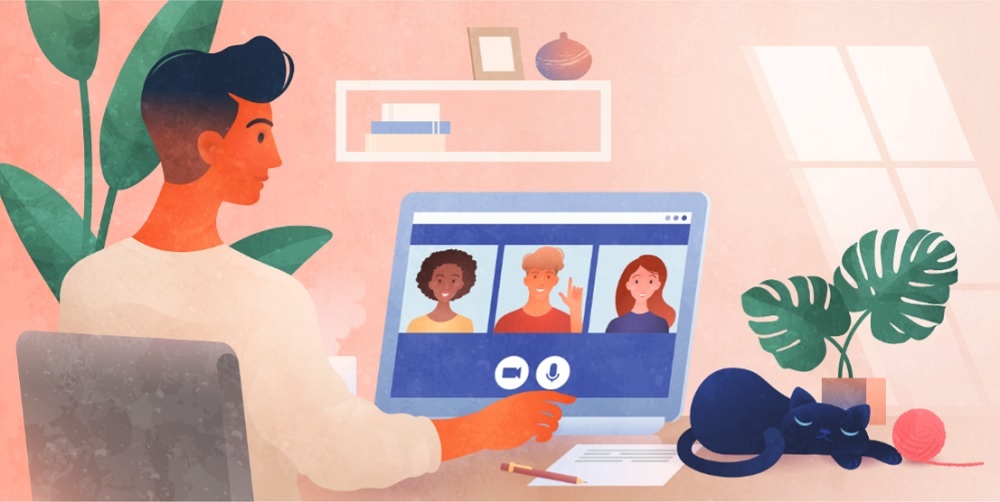 Remote work has been at the forefront of business news for the past several months, and the discussion around it will not be slowing down anytime soon.
The COVID-19 pandemic forced the largest migration of employees into working from home that we've ever seen. Many companies across the United States have continued to have a majority of their staff working from home full time through 2020.
Many more plan to continue into 2021. Even those companies that have begun reintroducing employees to the workplace are doing so with hybrid or staggered schedules, meaning the majority of employees continue to work from home part-time.
We find ourselves at a tipping point in the American working model.
One camp believes that once a vaccine is available and COVID-19 is behind us, things will by and large return to normal five-day work weeks with some remote work available sporadically when necessary.
Another camp believes that this move to remote work has shown organizations they can remain productive while decreasing overhead in terms of real estate and utilities in the office.
They believe the world will trend toward remote, with a proliferation of full-time remote workers, and a hybrid schedule of some days in office and others at home becoming the norm.
We wanted to find out what our audience and their customers thought about remote work technology trends and opportunities for integrators.
We conducted two surveys as a result. In the first survey, CI sister site My TechDecisions asked its IT technology manager audience how their organizations have responded to COVID-19 as well as their plans for the future.
In the second survey, CI asked its integrator audience about their experiences with customers moving to remote work environments throughout COVID-19.
The results give us some serious insight into the integration market, from installers to customers.
Part 1: The Customer Perspective
When we surveyed the TechDecisions audience, we made sure to specifically only allow for employees in the IT department to answer.
We're learning through CI and TD that the IT department is a piece of the decisions making group, if not the key decision-maker, in the majority of technology implementations. The IT department is the gateway between the office and employees when it comes to remote work.
We focused on three major topics in our survey:
First, we asked about how remote work has changed due to COVID-19, and how our respondents expect it to change after COVID-19.
Then, we asked about how respondents' organizations are changing based on remote workers.
Finally, we asked what types of technology organizations are outfitting their remote workers with.
When it comes to COVID-19, the answers were generally what we expected.
90% of respondents saw a rise in remote workers as a result of COVID-19. Half of our respondents had less than 10% of their workforce working remotely part-time or full-time prior to COVID-19.
That number fell to 4.5% during COVID-19, while 63.6% of our respondents said that more than 75% of their workforce worked remotely during COVID-19.
Our respondents also suggested that their organizations would see a rise in both part-time and full-time remote workers even after COVID-19.
When dealing with remote workers, 79.1% of our respondents' organizations consider themselves responsible for outfitting remote employees with office equipment.
This equipment most often included laptops, desktop displays, headphones/headsets, and cables.
Our respondents also plan to make big changes once they return to the office.
59.1% of respondents say their organizations have discussed adhering to social distancing best practices full time when in-office.
Almost 60 percent (58.2%) of respondents say that their organizations have discussed changing to a hybrid or staggered schedule where employees only come in on certain days and work from home on others.
Other organizations have discussed moving to a smaller workplace, moving away from open office plans, creating less meeting spaces, and creating more individual offices.
What we learn from this survey is that IT departments are working for organizations that are experiencing serious change as a result of COVID-19, and that change will continue even after COVID-19.
Remote work technology is expected to be much more prevalent after COVID-19 than it was prior to COVID-19.
Finally, these organizations consider themselves responsible for providing basic technology to remote workers in the home.
Part 2: The Integrator Perspective
Surveying the IT department that most often serve as customers of integration firms gave us some great insight into the current state of remote work.
In order to get a better view of the full picture of remote work, we also surveyed our integrator audience to learn about their experiences.
According to our respondents, the percentage of projects that had some sort of remote work technology expanded greatly from 2019 to 2020.
67.2% of our respondents say that they have provided technology for customer employees to use in their own homes.
This makes sense, as 76.6% of our respondents say that they have seen a rise in remote work equipment being requested by the customer due to COVID-19.
The equipment being provided to these customers' employees is similar to those that organizations feel responsible to provide according to our end user survey.
Laptops, headphones/headsets, and cables once again are at the top of the list.
Integrators are also installing desktop displays, microphones, and in-home videoconferencing and collaboration systems.
Within the office, integrators are installing new systems as a result of the rise in remote work as well.
By far, new videoconferencing systems are most often installed.
New collaboration platforms, new communications platforms, networking equipment, and cloud-based applications are also being installed fairly often.
Surprisingly, while our integrator respondents have expressed that they've seen a rise in remote work and requests for remote work technology, only 29.7% of our respondents say they offer any sort of work from home package they can sell to customers to outfit their employees working remotely.
Only 26.6% of respondents say that the rise in remote work has allowed them to implement managed services offerings.
As with our IT technology manager audience, our integration audience has seen a similar rise in remote work as a result of COVID-19. They have been installing conferencing and communications systems, as well as networking equipment as a result.
They have also helped to provide customer employees equipment to use while working at home. However, this equipment most often comes as a request rather than as a package offered by the integrator.
Opportunities for Integrators
Taking these two surveys into account we start to see a picture forming of how remote work has changed, and how it will continue to change after COVID-19.
Based on the answers from our integrators and end users, the world will not go back to exactly the way it was once COVID-19 is finally behind is.
For the most part, organizations will walk away with more part-time and full-time remote workers.
Those part time remote workers will be on a hybrid schedule, working from home certain days each week and heading to the office on others.
These workers will be outfitted with basic office equipment at home, and integrators may very well be the ones providing that equipment.
Integrators would do well with offering a remote work package to sell to customers.
These remote work technology packages should include laptops, desktop displays, audio equipment, and the cabling necessary to connect them all.
End user organizations feel responsible for providing this basic equipment to their employees, and as integrators are installing systems in the office to facilitate remote work there is an opportunity to expand the project to employee homes.
Brief training manuals can teach these employees how to set the equipment up. The layman employee doesn't always understand which chords go where, as obvious as it may seem to integration professionals.
Providing that training and taking the hassle of answering unnecessary service tickets out of a customer's hands will go a long way.
In addition, not enough integrators are taking the opportunity to offer managed services as part of remote work projects.
When providing remote work technology, why not also offer a service contract to manage and service these systems remotely?
Integrators can manage in-office equipment to ensure control and automation is working properly so that users don't need to touch equipment and potentially spread disease.
They can also work as a service desk for remote employees that need help setting up their new equipment and then installing and running new conferencing, collaboration, and communication platforms.
Meanwhile, inside of the office will become a hub for collaboration. In this hybrid environment, employees would be going into the office to work together while staying at home to work on their own.
Videoconferencing, presentation, collaboration, and communication systems will become more important than ever to ensure that the hybrid approach works. That means integrators will be necessary for that approach.
Certainly, the world is a different place due to COVID-19. Now that so many have experienced working from home, the toothpaste can't be put back into the tube.
However, the technology inherent in work from home strategies is directly in line with what integrators do best – conferencing, collaboration, communication, and networking.
Integrators that do their best to adapt to the changing workplace will find great success in the state of remote work technology.