PPDS Launches New Corporate Configurator Tool
PPDS has launched a new online configuring tool designed to enable end users and integrators to research and select AV products.
Leave a Comment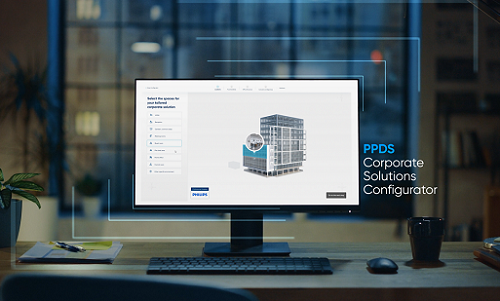 Provider of Philips digital signage, LED and pro TV products PPDS has launched a new online configuring tool designed to enable end users and integrators in North America to research and select audiovisual products for upcoming installations.
Announced at InfoComm 2021, the PPDS Corporate Configurator is designed to make the AV selection process easier, saving time and money for both integrators and end users. The solution is already available in the EMEA markets, and is now being rolled out to North American markets.
However, the tool is specifically designed for corporate end users, including executives and IT managers, to create a custom AV solution that meets their needs and budget, the company says.
According to PPDS, the tool guides end customers through a series of seamless click-and-continue options to find a solution that meets their exact visual needs and requirements for their corporate environment and across offices.
The company markets the Corporate Configurator as a tool that goes beyond selecting hardware based on the vertical and dives deeper into an organization's needs.
According to the company, the tool includes solutions for improving productivity, enhancing collaboration, and multi-site support, including at home.
The expanded rollout of the tool represents part of the company's new strategy for 2021 to become a one-stop-shop for the AV channel.
In a statement, Bruce Wyrwitzke, director of digital signage at PPDS, said the Corporate Configurator has been a success in EMEA. By bringing it to North America, the company is aiming to help better support its partners with a tool that gives customers a new level of control.
"The process couldn't be more simple, with an intuitive step-by-step process, offering a total solutions package that covers the whole visual demand of a corporate environment in just a few clicks. We've listened to the market, and we've responded," he said.
If you enjoyed this article and want to receive more valuable industry content like this, click here to sign up for our digital newsletters!