Epson Unveils BrightLink Academy E-Courses for Educators
Epson's BrightLink Academy, powered by Eduscape, allows educators to integrate technology into K12 pedagogy and improve learning outcomes.
Leave a Comment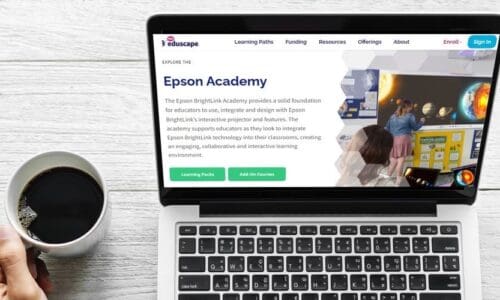 Epson, renowned projector brand, recently introduced BrightLink Academy. According to the announcement, BrightLink Academy caters to teachers and instructional coaches where they learn how to create engaging learning experiences for students of all grade levels. At the same time, they can also maximize their proficiency while teaching with the Epson BrightLink interactive displays.
The company reveals that Educscape powers the new e-learning courses. Moreover, it plans to showcase these courses and other projector solutions for education at TCEA 2022 at booth #1427. Per a statement, TCEA takes place on Feb. 8-10, in Dallas, Texas.
Features of BrightLink Academy
"Epson is dedicated to supporting teachers in the classroom – providing technology and tools that increase engagement and improve learning outcomes," said Remi Del Mar, senior product manager, Epson America, Inc.
Del Mar adds that the new e-learning courses demonstrate different applications possible with the projector solutions. He also emphasizes that the solutions allow teachers to utilize the interactive displays to the fullest potential. By doing so, Del Mar says they can better enhance student learning in the classroom.
Also Read: Epson BrightLink and PowerLite Laser Displays Create Immersive Learning
Epson highlights the versatility of using projection in an educational setting. The company adds that it supports teachers and classroom engagement through BrightLink Academy. Per Epson, it helps teachers and administrators learn at their own pace in one centralized location.
In addition, BrightLink Academy will provide professional development resources. Thus, it will help schools integrate BrightLink into existing curriculum and create interactive learning experiences. Moreover, new e-learning courses will be launched periodically and include various topics. Some of the topics are:
Designing engaging activities and lessons with BrightLink
Google workspace for education and BrightLink
Virtual field trips with Minecraft and BrightLink
Utilizing BrightLink in the early childhood classroom
Meeting needs of diverse learning with BrightLink
Spark learning with document cameras and BrightLink
BrightLink Displays
BrightLink displays are also designed for laser-focused learning. They thus transform classrooms into immersive, collaborative environments. In doing so, they enhance productivity, creativity and ensure participation engagement.
Select BrightLink models deliver big, bright images up to 120-inches. They come equipped with 3-chip 3LCD technology. This technology brings in bold, brilliant color even in ambient light settings. The large displays also make ensure that the content to be clearly visible. This then helps students stay engaged, leading to better learning outcomes. Additionally, these flexible laser displays enhance ordinary walls and dry erase boards. This further eliminates the need for dedicated electronic boards or space-consuming flat panels.
TCEA Showcase
In addition to BrightLink Academy, Epson will showcase a host of display solutions for classrooms and around school campuses at TCEA 2022.
"At TCEA we are showing the many ways projection can be used within an educational environment – from gamification with Epson Pro Series, to immersive learning with Epson PowerLite models and hybrid tools, such as the award-winning BrightLink GoBoard. We look forward to providing show attendees with first-hand experiences of our latest applications for today's classroom and the Eduscape e-learning courses that further complement our current offerings," adds Del Mar.
Eduscape develops and delivers professional learning solutions to advance education for all learners and help school leaders rethink learning. The company comprises almost entirely of former educators. These educators have delivered professional learning solutions to more than 800,000 educators across 48 states and 13 countries.