Extron AV Switching and Control Elevates Classroom Experience at Phoenix College
Phoenix College outfitted its Maricopa IT Institute with over 150 items of Extron switching and control equipment for an enhanced learning experience.
Leave a Comment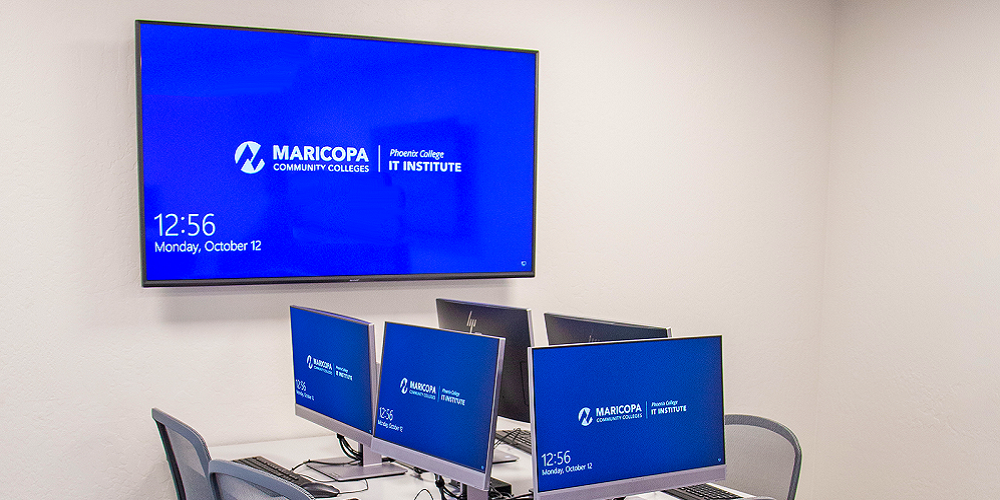 Photos & Slideshow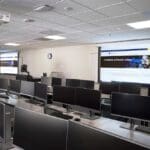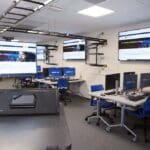 ---
Phoenix College, located in Maricopa County, has 17,000 students enrolled in over 150 associate degree and certificate programs. The college says it emphasizes workforce development and promotes a symbiotic relationship with industries in the Phoenix metropolitan area and surrounding Maricopa County. In September 2020, the Maricopa IT Institute (ITI) opened to further that mission. The ITI was created in response to feedback from local business leaders expressing an acute need for qualified IT professionals. Meanwhile, Extron states that its switching and control equipment constitutes a lot of the AV tech that students encounter in their studies.
The ITI offers instruction in cloud computing, cybersecurity, desktop support, Linux administration, mobile app development, networking, programming, systems analysis, virtualization, web development, and windows server administration. In addition, ITI graduates pass rigorous tests required to earn CompTIA A+ certification. This certification is considered the gold standard credential for IT skills competency.
Per a statement, the college thus used over 150 items of Extron equipment in Phoenix College ITI's AV systems.
Forming the Installation Team
An existing district building underwent an extensive remodel to create the ITI's new home. The building is packed with IT, AV and network technology that supports classroom lesson delivery. It also serves as a real-life center where students can dive into computers, networks and AV systems.
Additionally, the A+ Classroom, two lecture rooms, Industry Collaboration Suites, and a Techpreneurship Suite occupy the ground floor. The second floor houses the Networking Classroom, Mac Lab, Windows Lab and the Cybersecurity Classroom.
Chuck Fortino, AV project manager for Phoenix College, and Henry Denman, Audio-Visual coordinator, oversaw design and installation of Extron equipment in the classroom AV and IT systems. They also had assistance from Jason Powell, Scott Eroe, Dylan Witzleb and Daniel Douros, Phoenix College technical support specialists. Further, they received installation assistance from Phoenix area pro technology integrator, Aspen Technologies.
Setting up the Classrooms
According to a statement, the team used similar AV components and connections in each room for simplicity of design and maintenance.
Some rooms have projectors while others have multiple flat panel displays. However, all classrooms have an instructor podium that supplies AV program content from a PC, document camera, or external sources. This includes wireless sharing from BYOD devices over WiFi. Additionally, an Extron IN1804 or IN1806 Presentation Switcher in the podium selects among the sources.
The content is then fed to the podium touchscreen display via HDMI and to the room displays over shielded twisted pair cable using Extron DTP transmitters and receivers. Each podium also contains a TLP Pro 725M 7″ touchpanel. This works with an IPCP Pro control processor to control various functions. These comprise system power, source selection, volume, and the projection screen in rooms equipped with a video projector.
The classrooms have FF 220T wide dispersion ceiling-mounted speakers that provide consistent sound levels across the listening area. This ensures clear audio delivery. XPA 1002 amplifiers also drive the speakers. Most of the rooms contain two speakers for stereo sound. Furthermore, the Network and A+ rooms contain three speakers per stereo channel to accommodate the size and layout of these spaces.
Moreover, OCS 100C occupancy sensors linked to the control processors automatically turn off all classroom technology when the rooms are empty. This is a nod to energy savings in Phoenix's desert locale. The AV-IT support department also uses Extron GlobalViewer Enterprise to monitor and control the AV systems remotely from the main campus about three miles away. According to the department's Henry Denman, this allows them to monitor the systems from a central location for maintenance purposes. It also helps them control remotely to provide rapid support to the faculty.
Designing the Cybersecurity Classroom
According to a statement, cybersecurity professionals are in high demand. This demand is due to proliferation of hacks and ransomware incidents plaguing enterprises worldwide. To meet this demand, Phoenix College states it designed its cybersecurity classroom. Thus, the classroom is the most complex classroom in the building. It includes its own isolated LAN where students gain experience by unraveling IT mayhem planted by their instructors.
Also Read: Nureva, Extron and TU Delft Team Up on Audio System Integration
In the classroom, there are four student pods, each with five PCs. 50-inch flat panel displays at each pod receive content via XTP receivers connected to an XTP II CrossPoint 1600 Matrix Switcher. The five PCs thus supply content to the Matrix Switcher via an IN1806 Presentation Switcher at each pod.
Each pod also has a TLP Pro 525T five-inch touchpanel. Here, students select which PC supplies AV content. In this way, students can collaborate within their own pod using their own display. The instructor can also take control using the touchpanel in the instructor podium to send content from one particular pod to all other pods or push content from any of the podium sources to all pods.
Recognition for the System
The ITI opened in the middle of the COVID-19 pandemic. Phoenix College says it adapted by conducting 90% of classes online. The ITI offered a single in-person class during the fall 2020 semester. Chuck Fortino, ITI project manager, expresses confidence that the ITI will live up to its full potential as in-person classes resume.
He notes, "I'm sure I reflect the feelings of the entire ITI project team when I say that it's a privilege to be a part of an organization that has the potential to change the trajectory of our students' lives. I hope that the Maricopa IT Institute at Phoenix College will have a lasting impact on our students and our community. Toward that end, we are always looking for ways to improve and upgrade the AV systems that we install."
Click on "View Slideshow" on upper-right corner to view the Extron system installation at Phoenix College.
All photos courtesy of Maricopa County Community College District.
If you enjoyed this article and want to receive more valuable industry content like this, click here to sign up for our digital newsletters!