Live Events Techs Are Looking For Work
AV integrators could be competing for talent with the devastated live events industry as economies begin to reopen.
Leave a Comment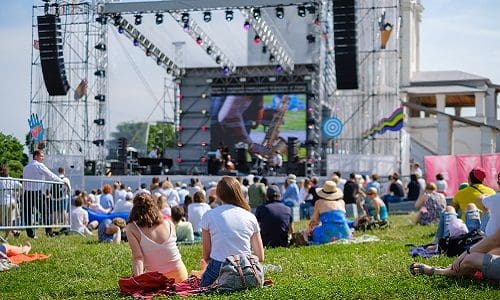 One of the industries hit hardest by the pandemic-induced economic downturn has been live events, and many of the audiovisual technicians that serve that industry are still out of work.
Concerts and live events have been held to a minimum, or socially distanced settings with a limited capacity in venues like drive-in movie theatres.
There is hope that we get back to outdoor venues operating in some capacity later this year, with indoor concert halls to follow. However, venues packed with people shoulder-to-shoulder seems to be far off.
Whenever concerts as we know them to be return, the live events industry may be facing a shortage of workers, according to a new report in the Wall Street Journal.
The newspaper quoted CEO of lighting company Bandit Lites, who has advocated for help for the live events industry. With little to no income coming in, many AV technicians who work in live events took have taken other jobs to make ends meet.
Read Next: How AV Integrators Are Helping Live Events Organizers Reimagine Shows
"No one saw a year without work," said Michael Strickland, chief executive of the lighting company Bandit Lites. "As it continued, you lost people along the way mentally, physically, spiritually, economically."

The concern among event organizers is that those workers might not come back, having moved on to other jobs that might be more stable, more lucrative or offer perks like insurance or retirement options. Also lost is a generation of apprentices, the younger workers who would have been learning the craft, eager to graduate from the warehouse gig to the local show and on to the national tour.

Mr. Strickland, who has emerged as a liaison between the concert industry and policy makers about support for workers and venues, estimates that one-third of pre-pandemic workers won't be returning to the live-events business.

"People are saying 'I have health insurance, retirement,'" says Mr. Strickland, who adds that their thinking is: "Maybe I'm making less money, but these companies are not going anywhere."

The challenges show how hard it may be to smoothly revive corners of the economy battered by the pandemic, as companies wrestle with issues including labor availability, supply-chain problems and shifting reopen policies across the country.

Concert executives are hopeful for a restart in outdoor amphitheaters later this summer and then inside clubs and theaters this fall. Issues around a worker shortage could quickly compound next year, when promoters and agents say more acts will be on the road than ever before, competing for everyone's favorite guitar tech, production manager or backup dancers.
As the commercial AV industry ramps back up, they could be competing with live events companies for workers who are hesitant to go back to an industry that was devastated by the pandemic with little assurances that concerts will be able to resume this year.
Likewise, the live events industry could poach commercial AV technicians who are similarly out of work due to the pandemic.
Either way, there is a wealth of AV talent in the labor market right now, so scaling back up to meet customer demand for new projects should be no issue as the economy continues to recover this year.