High Tech Labs from McCann Systems Makes Simulation Center Something Special
High tech labs at Hartford Hospital now have touch-enabled displays, video conferencing, bidirectional audio and more thanks to McCann Systems.
Leave a Comment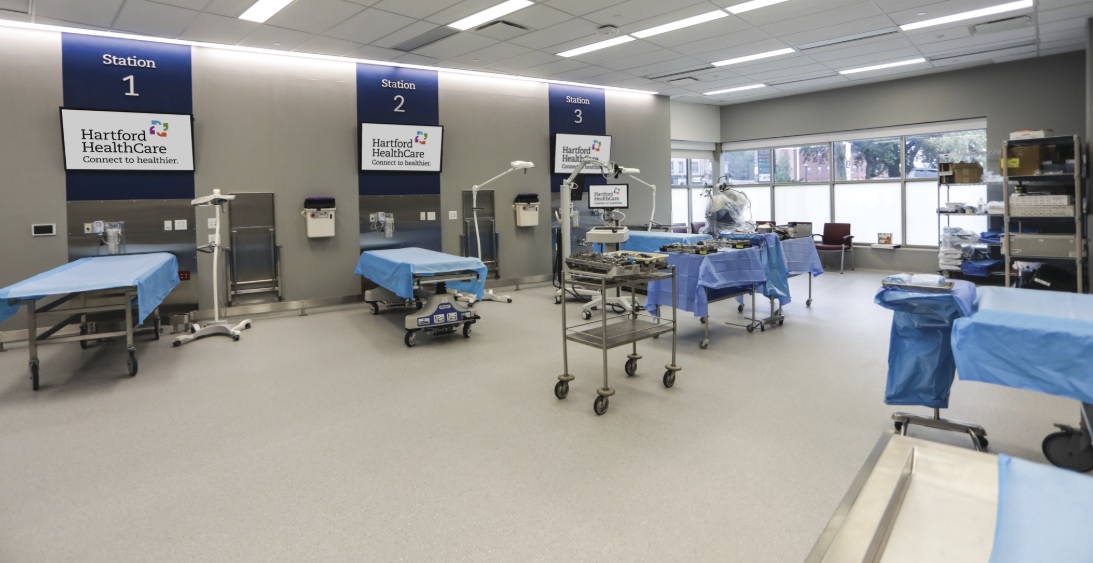 Hartford Hospital is known as the home to Connecticut's first simulation center, which has grown into the Center for Education, Simulation and Innovation (CESI) high tech labs, the centerpiece of Hartford Hospital's pioneering vision to revamp the medical educational system.
AV technologies refresh the Center's original space built in 1999, while also creating a flexible and future-proof technology environment in the newly expanded 10,000-square-foot CESI.
The new regional training facility is equipped with lecture and debriefing rooms as well as five simulated clinical environments, each with its own control room.
McCann Systems worked with Hartford Hospital on several deployments prior to the CESI, for which video services manager Gary Blumberg served as the project's point of contact.
When the opportunity for expansion arose, McCann Systems was eager to offer a solution that leaned on its technical expertise and familiarity with the client, notes director of marketing JoAnn Arcenal.
High Tech Labs Facilitate Greater Engagement
Throughout the high tech labs, meeting and divisible classrooms are furnished with HD displays and audio equipment for detailed videoconferencing capabilities.
Interactive technologies engage educators and learners in the CESI classrooms, as content is easily fed to large-scale touch-enabled displays while HD cameras provide videoconferencing, Arcenal explains.
Ceiling speakers and microphones deliver hands-free conversation for a natural flow of ideas, with lectern microphones available when requested. All sources are fed to the head end and then routed to each classroom.
Rooms can be easily preconfigured for flexibility and convenience for staff. Operations are effortless via wall-mounted touchpanels, conveniently located by the lectern of each classroom. In the simulation labs, participants train in settings modeled to simulate true life environments.
"Equipped with sophisticated audiovisual elements, educators and students focus on their practice rather than the functions and operations of the simulation lab," says Arcenal.
Touch-enabled displays, PTZ (pan/tilt/zoom) and fish-eye cameras allow for presentations, lab monitoring and simulated situations.
The speakers and microphones provide bidirectional audio from the high tech labs to the observation classrooms, as observing doctors and learners immerse themselves in the situation with their colleagues and communicate with them when necessary, Arcenal says.
Each space offers an individual control panel for basic room functions, while some are connected to the facility control room for additional support.
Operators easily connect with participants via push-to-talk microphones or headsets coupled with each space's video feed.
"The entire system is designed for easy integration and expansion in the new space as well as future additions," says Arcenal.
Proper Planning Helps Tackle Logistical Impediments
As a working facility, the massive expansion of Hartford Hospital was meticulously planned to maintain all CESI business and training functions despite the massive overhaul.
Over the course of several months, McCann Systems tackled two major logistics challenges: first upgrading the original facility's infrastructure and then integrating the robust AV systems into the new space, alongside several other building trades, all while ensuring the vital medical training schedule proceed uninterrupted.
Thanks to impeccable project management, both the upgrade and the integration were accomplished seamlessly, leaving one final trial: marrying the two separate systems into one.
Several nights and weekends were dedicated to site studies for thorough engineering research, implementation, and testing.
Careful planning helped McCann Systems successfully outfit the state-of-the-art facility with modern collaborative technologies as well as a scalable infrastructure, Arcenal emphasizes.
Technology Achieves for Stimulation of Simulation
Simulation has obvious benefits in all areas of health care. It is also being used in implementing and testing clinical protocols and in educational research. At CESI, technology furthers the boundaries simulation can push.
"Simulation is an innovative and forward-looking method for observing group dynamics and building a more effective team. A wider breadth of medical crisis scenarios can be recreated using a high-fidelity simulation manikin in a safe, flexible, and realistic teaching environment when compared to textbooks, lectures and computer-based learning," Arcenal explains.
"Until now, teamwork and crisis management have been difficult concepts to teach or to evaluate. Optimal patient outcomes depend on a team's knowledge, efficiency, and ability to work together," she continues.
"Through simulation the Health Care Team can learn the physiologic components of crisis management, equipment knowledge, technical skills, and the leadership and teamwork needed to successfully deliver exceptional health care."
Equipment Highlights
Sharp Interactive Touch Monitors
Crestron Ceiling Speakers, Controls, Touchscreens
Shure, Clock Audio Microphones
Biamp, QSC Audio Infrastructure
Vaddio, Axis Cameras
Sony Projector
Da-Lite Projection Screen
Middle Atlantic Racks
VFI Lecterns