Home Instead Franchise Relies on Yamaha UC Solutions to Transition to Online Training
Home Instead meets regulations with virtual training and certification classes thanks to Yamaha Unified Communications YVC-1000 setup.
Leave a Comment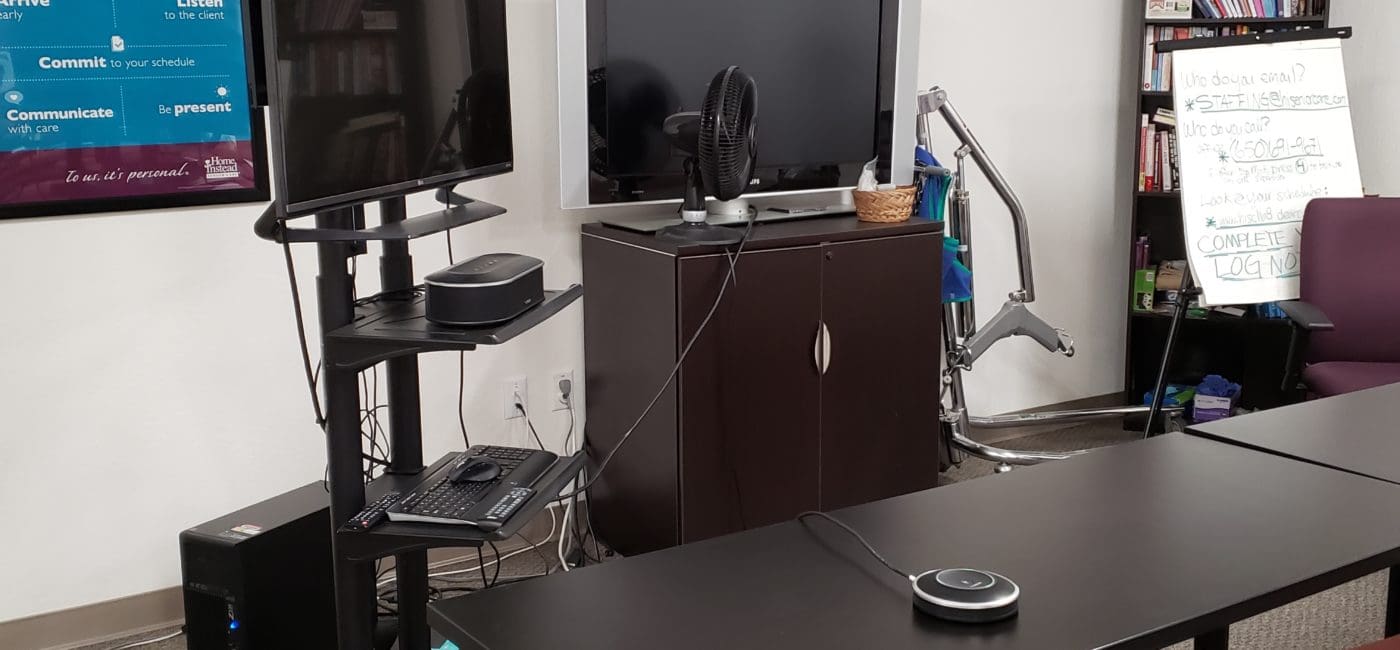 There's no place like home, which is why Home Instead, an international home care agency, helps seniors and those who are critically ill remain in the comfort of their own homes.
Home Instead services include Alzheimer's, dementia, personal, respite, hospice and 24-hour care as well as meals, transportation, and housekeeping. The agency relies on caregivers who are naturally compassionate and nurturing but rigorously trained to carry out these services.
Finding the right person for the job involves a thorough onboarding process where the agency spends hours getting to know the candidate's personality. In addition, caregivers must undergo 15 hours of initial training and then six to eight hours of training annually.
When the 2020 pandemic hit, the agency's services became even more essential. Ultimately, Michelle Rogers — a franchise owner of the Home Instead office servicing the Cupertino to Belmont, Calif. area — realized conducting face-to-face group training sessions was no longer feasible.
She needed to quickly pivot in order to prevent ongoing disruption to client services. At the time, she was already using videoconferencing to onboard new employees.
Rogers' team added Yamaha UC YVC-200 personal speakerphones to their laptops to deliver the superior audio quality that's critical to the intake process and impossible to achieve with a laptop alone.
"Unlike a phone call, interviewing an applicant over video allows me to accurately assess a potential caregiver's personality. It's really important for me to get a feel for their capabilities and strengths since this job can be very demanding," said Rogers.
"Facing this new challenge, I realized I needed to leverage a similar virtual process to replicate training sessions normally held at our facility," she said.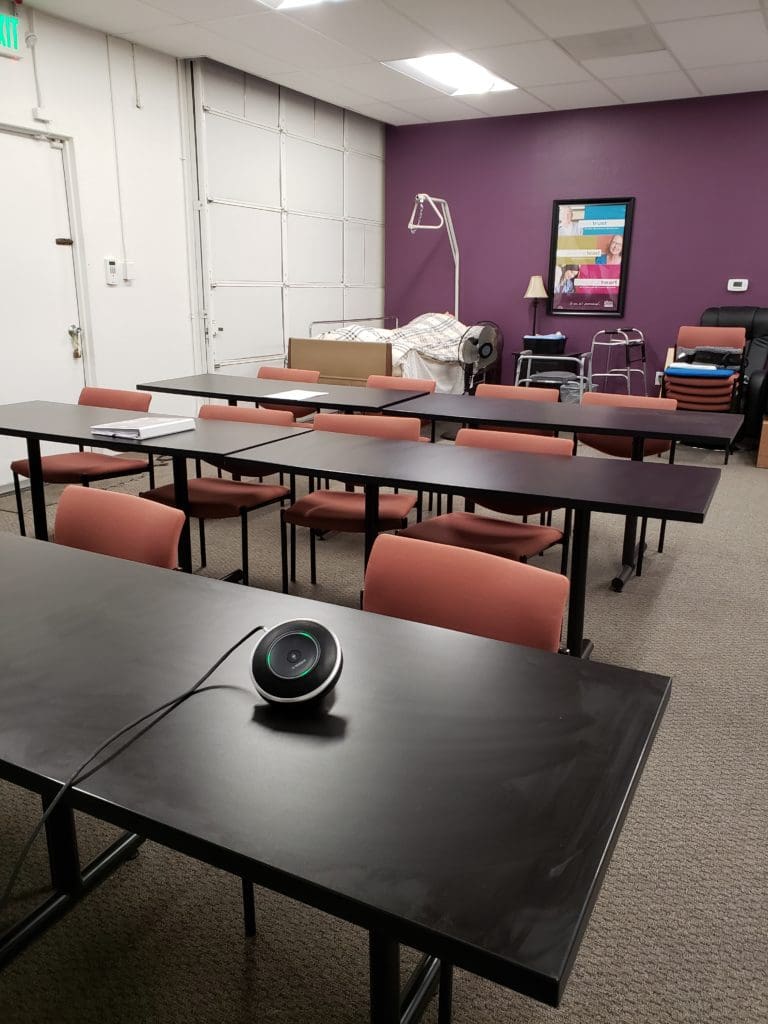 Inside the Home Instead Installation
The initial concern was finding a solution that not only was as easy to use as a laptop and sound as good as the YVC-200, but also could reliably cover the size of the large training room.
The space includes a studio apartment with a hospital bed with a 150-pound dummy, a corner shower unit, and a wheelchair — all spaces where Home Instead trainers demonstrate how to properly lift, transfer, and assist clients.
It typically accommodates up to 20 people during a session and up to 40 people for quarterly meetings.
Home Instead, like many agencies in the health service field, relies upon Microsoft Teams. The videoconferencing platform supports compliance with HIPAA, HITECH, and other regulations.
To ensure that all demonstrations and presentations were clear, Rogers worked with Yamaha Unified Communications to determine what audio solution would be best for the space, interoperable with Teams, and intuitive to use.
It was essential that the UC solution be flexible enough to be moved around the space as necessary to safeguard minute details could be heard, such as tips to easily and safely transfer a person from a bed to a wheelchair.
Considering the nature of the room and wide variety of presentations that would be happening, Yamaha determined the YVC-1000 speakerphone was the right fit. The setup, mounted on a mobile stand, also included an AVer PTZ camera connected to an LG commercial display and laptop.
Yamaha's YVC-1000 is specifically designed as a scalable solution to fit environments where medium to large video conferences are conducted. App-free and USB or Bluetooth-enabled, the speakerphone is compatible with leading UC platforms including Zoom, Microsoft Teams, BlueJeans, Skype, and more.
Why Home Instead Chose Yamaha
What makes its design and capability unique is its separate speaker and microphones units. The speaker can sit close to the display while the microphones can be deployed around the room where needed.
Up to five distinct microphones can be daisy-chained together, depending on the size and audio demands of the room, covering up to 40 people at a time.
"No matter what our layout might look like for a particular training session, it's easy as just moving the microphones around to where we need them," said Rogers.
The YVC-1000's auto-tuning features are a critical part of guaranteeing a great far-end experience. It automatically measures and analyzes the room environment, adjusting acoustic settings to the optimal level without any additional input or programming necessary.
Yamaha's adaptive echo cancellation (AEC) and human voice activity detection (HVAD) minimize background noise, which Rogers was especially concerned about because her office backs up to a popular electronics store.
"It sometimes can get really loud in here as big rigs drive in and out to unload on the backside of our building," said Rogers. "Despite all that noise and the size of the room, everyone can still clearly hear on the call."
In June, Rogers hosted her first virtual caregiver meeting. She offered four sessions to accommodate different schedules, which were all met with great success.
"We have to consider the fact that our caregivers may have never done video conferencing until now, so we needed our training to be really clear so they wouldn't miss a word of the valuable information," said Rogers.
"Since then, we've offered five PPE trainings with roughly 88 caregivers in attendance," she said. "We also offered a five-module two-hour-long Alzheimer's class. In both sessions, it was a full class. In addition, the state of California requires sexual harassment training for 100% of our employees.
"Our virtual setup allowed us to stay on top of those license requirements and ensure we continue to meet Home Instead's high standards," she said.
The virtual platform has worked so well it has made Rogers think about ongoing opportunities where it can also be used. She has already partnered with another Home Instead franchise to provide joint virtual trainings.
"As we come out of the pandemic, I think there will be even more opportunity to collaborate," said Rogers. "With an expanded regional model, we can streamline training, while making sure caregivers receive the same instruction as well as reduce the resources and costs to host multiple individual sessions at each location.
"It may even mean downsizing to a smaller brick-and-mortar space than we've required in the past," she said.