MedtoMarket Shatters Stereotypes of Medical Facilities Through Flexibility and Enhanced Security
Medical training facility MedToMarket expects to become community resources for doctors, medical device entrepreneurs & even Ferrari enthusiasts.
Leave a Comment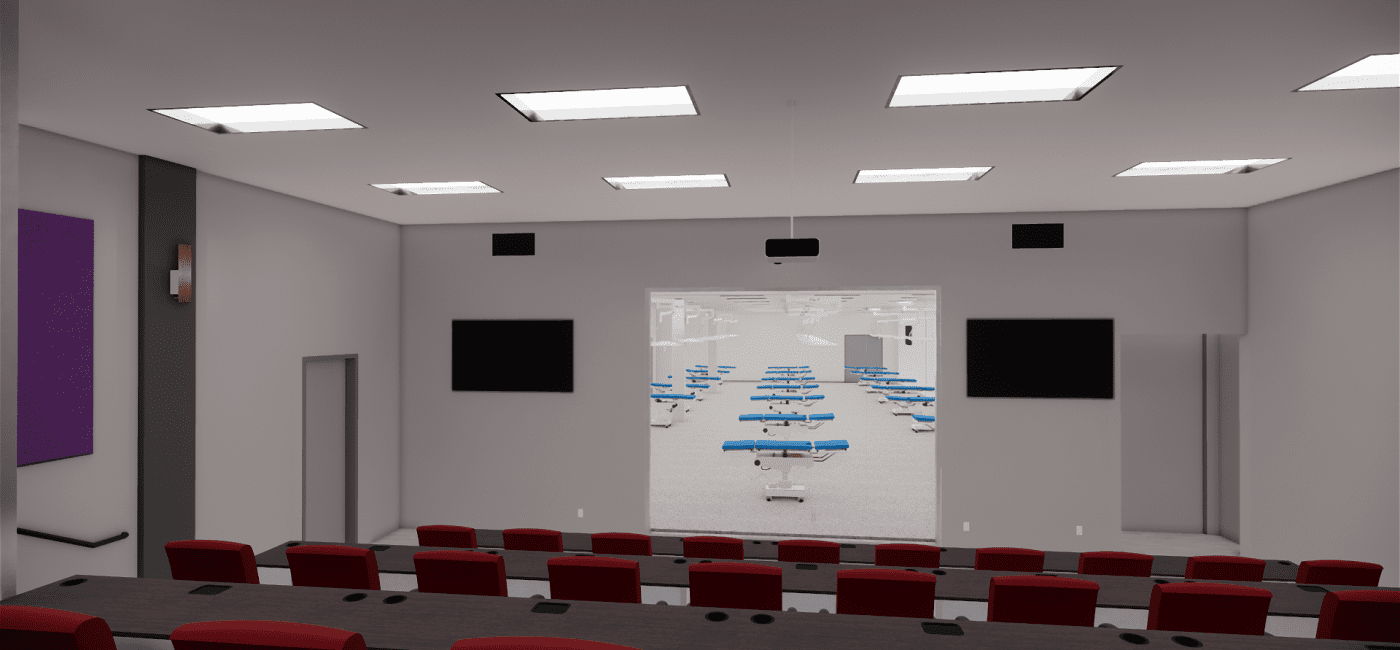 We all have an idea in our heads when it comes to visiting a medical facility—and many of those who have used technology in an unfamiliar space have experienced the pain and suffering that comes with trying to figure out which button to press to launch their presentations or start their work.
MedtoMarket's goal—in the oft-repeated words of co-founder Dr. Aaron Ali—is to create a "seamless" environment that makes the 32,000-square-foot medical training facility and all of the spaces within it the envy of everyone within the community, even those who prefer driving Ferraris to slicing cadavers.
They'll create this environment, says Ali, using a blend of flexibility and security that will make it easy for "98 percent of my clients" to get down to business in 60 seconds or less but also provide them with the security they might crave when it comes to the intellectual property they'll be sharing within the walls of MedtoMarket's many spaces.
"About 95 percent of what's in this building is not bolted down," says Ali in a walk-through video with Crestron staffers of the facility, slated to open in May 2019. "It's all about flexibility, all about versatility."
Behind MedToMarket's Flexibility
Ali has heard the complaints about tech being tough to access in some spaces and did everything he could in planning MedtoMarket's design and layout to mitigate that concern. That's evident in many of the spaces, including a large lecture hall that can be divided in half without having the sound bleed.
About 80 percent of MedtoMarket's clients come from out of town, says Ali, so they've built lockers to allow presenters to change into scrubs when they arrive and shower after they work out. There's even a bar, an honor-based area for non-alcoholic drinks and a mail area that triggered alerts to the recipient.
"We've created an ecosystem," says Ali. "We may have a Murphy bed put in somewhere. It's not just co-working or training areas or skills labs. We've tried to take the traditional medical facility and flip it on top of its head.
"We're looking to disrupt what's been done in these traditional, bureaucratic and opaque spaces for years," he says.
The spaces are large enough to allow demonstrators to pull an operating table into the main theater so the audience can see procedures more closely. The room also has 85-inch displays on each side of the demonstrator and a pull-down screen. There are nine 85-inch displays inside the training bays.
"The whole idea…is to make sure it's engaging," says Ali.
There's a 14-foot garage door at the side of the training space that allows an ambulance to enter for demonstrations and 12-foot high lights and a garage epoxy floor means MedtoMarket can use that area of the building for community events, off-campus showrooms for trade shows and even a meeting of the Ferrari Fan Club.
"The technology in here is not just for medical," says Ali. "It needs to be extremely versatile so it can be used in all sorts of ways." Having a Ferrari Fan Club meeting in the building "would be pretty bad-ass," he says.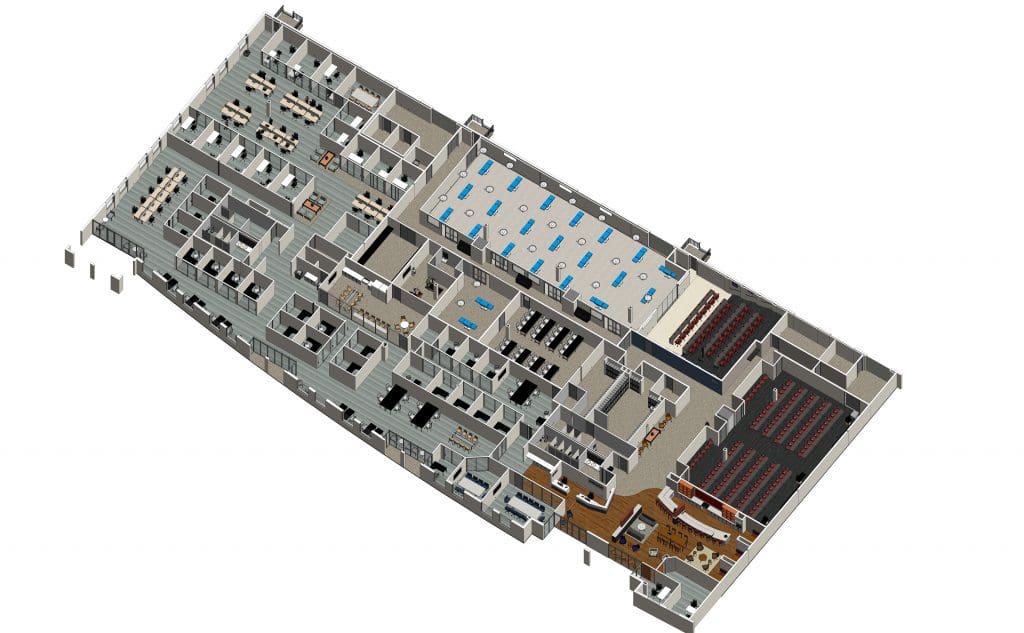 Inside the MedtoMarket Ecosystem
On the more practical side, the facility is equipped with 18 operating rooms in the event of a mass casualty that would trigger an overflow in area hospitals.
Ali is proud to call MedtoMarket the "first medical co-working space in the U.S."
"Think of it as the WeWork of medicine," he says. "Anybody can build you an office with glass fronts and wood paneling. When you throw in what we can provide from the resource side, the community that's wrapped around it and our ability to host all sorts of events, that's a real advantage for us.
"Our clients are doing some of the most crucial things you can do, helping you out through surgery. We want everything to be seamless for them. The last thing you want on their minds is how to get AV to work. You want them to be able to focus on what they do best," says Ali.
The MedtoMarket facility will have "miles of data wire," he says, and "we need every bit of it."
"A lot of people who are going to be using this space don't always know what they're going to need until they get here," says Ali. "We're trying to make sure we provide everything they need and make it all very seamless."
To add even more personalization and local feel to the building, MedtoMarket staff built some of the furniture in the space. Ali is excited that a local institute will rent nine offices in the building, giving them access to tech, cadavers and other services they wouldn't otherwise be able to afford on their own.
They'll be separate from the main area of the building to give them and other clients within the building  privacy from one another as needed but the ability to collaborate if they want.
"Having a place like this and the physicians around them gives them a huge opportunity to be successful," says Ali. "If they just took office space downtown or moved into some industrial flex space on their own, they'd never make it."
Keeping Medical Innovations Secure
While Ali and his fellow co-founders certainly want MedtoMarket to become a community resource for medical innovation, he knows it's equally important to protect the privacy of those who come into the building and the innovations they're debuting in the space at times too.
To that end, visitors can only access certain areas of the building if they have the right access codes on their cell phones, says Ali. In addition, some classrooms have no windows to give a level of privacy for companies or military trainers who are looking to protect intellectual property or training secrets.
"Anybody can build two rooms next to each other," says Ali. "The ability to connect them gives you that extra level of flexibility and security."