AV News to Know April 17, 2020: New Products, Cool Projects and People in New Places
In this week's edition: Matrox gives 90-day trial on Maevex 6020, French Lick Casino bets on Visionary Solutions and IMCCA offers pandemic support.
Leave a Comment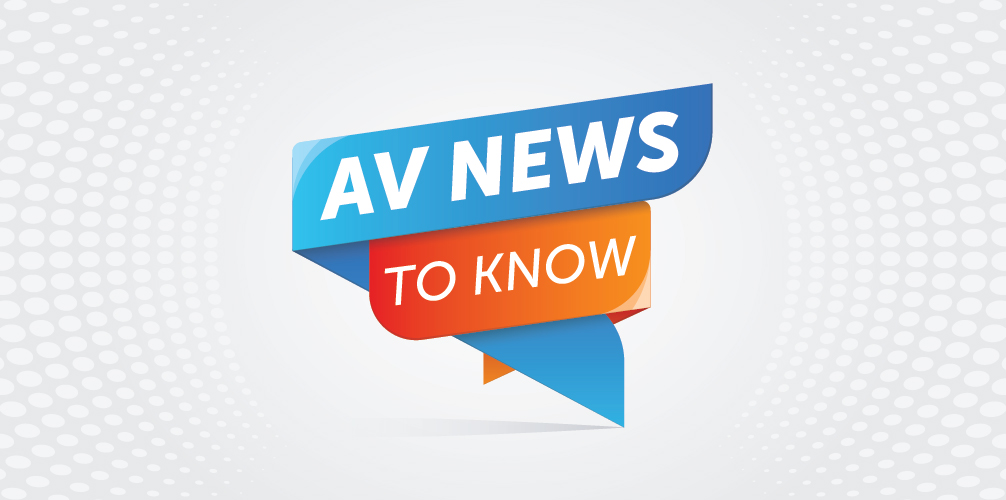 Here's a closer look at some of the AV news, products and projects you might have missed this week. We call it AV News to Know:
New AV Products
Mimo Monitors Introduces First Outdoor Display
Mimo Monitors recently launched its first outdoor display. Available with or without an Android player, this display is specifically designed for outdoor performance, rain or shine.
Some product features/benefits and highlights:
Works at an extended temperature range of -20 to 122 degrees Fahrenheit.
P65 rated, allowing for harsh use in nearly every condition and protecting from elements such as sand, dust, insects and more.
1,500 nits of light for use in sunlight or ambient lighting.
Adaptable light sensor adjusts displays brightness to accommodate cloudy days and at night to optimize power consumption.
Options for uses ranging from poolside cafes to museums, gas stations, quick service restaurant order, outdoor kiosks, amusement parks and more.
Matrox Introduces Maevex 6020 90-Day Trial
In an effort to assist businesses in their transition to remote working platforms and ensure business continuity, Matrox is offering a complimentary 90-day trial of the Maevex 6020 remote recorder alongside Panopto's own free 90-day access program.
Fully integrated and certified with the Panopto video platform, Maevex 6020 provides organizations with an appliance to webcast and record video from any location.
AtlasIED Introduces UL Listed Speakers for Fire Signaling and Alarms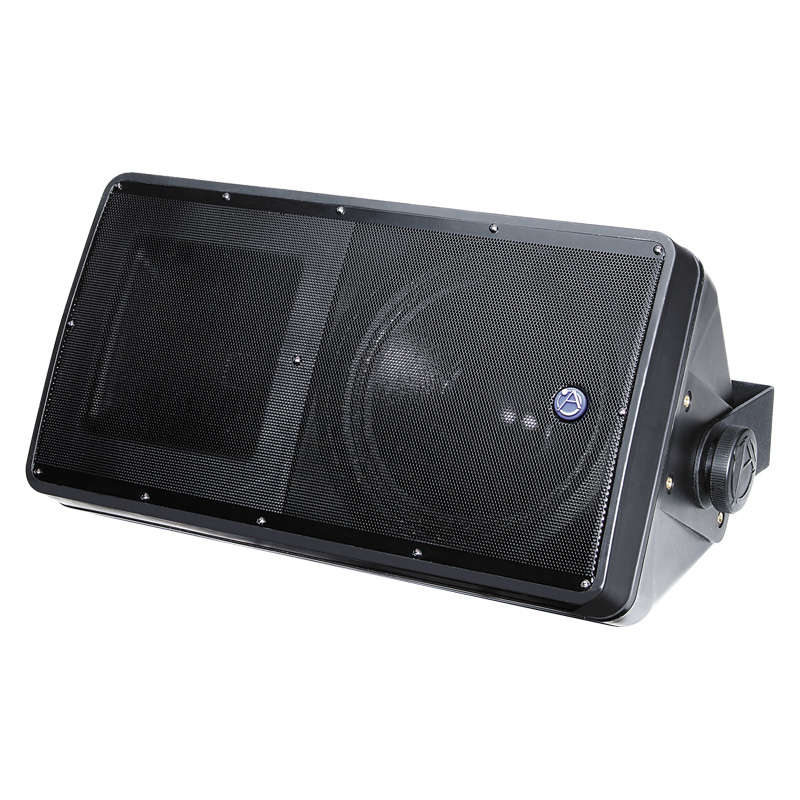 AtlasIED this week introduced four new UL 1480-certified speakers. The certification permits these speakers to be used in code-required fire alarm systems (NFPA 72) for fire alarm and signaling.
The certification streamlines for security, AV, and IT contractors the process of bidding on jobs that require speakers used for fire alarm signaling purposes. The certification exempts contractors from having to file for a code variance when installing speakers to be used as part of a fire alarm system.
By procuring any of the UL 1480 certified speakers in AtlasIED's TUC line dealers can adhere to code requirements for fire signaling while maintaining highly intelligible, quality audio.
Digital Watchdog Launches DW University Online Learning Portal
Digital Watchdog this week announced the availability of the DW University online learning portal. The new website includes product and sales training content presented in learning modules that users can complete at their discretion.
Registration is free, as are training classes. Certification courses require an annual subscription. However, through April 30, the certification subscription is half-price with the promo code discount50.
DW University Online features include:
Free registration
Learn at your pace: your place is saved in the module being studied.
Free product and sales trainings.
Web-based product certification courses.
Annual subscription of $129 covers all certification courses.
SPECIAL OFFER: 50% off the annual certification course subscription through April 30, 2020. Use the promo code discount50 when purchasing your first certification course to receive the discount.
Kramer Introduces VS-411X HDMI Auto Switcher
Kramer Electronics VS−411X is a 4×1 auto switcher for 4K HDR, HDMI video signals. Offering both priority and last−connected switching options, the VS-411X automatically switches based on active video signal detection.
Digital audio signals are simultaneously passed through and de–embedded and converted to an analog signal that is sent to the stereo unbalanced analog audio output. This enables playback of the audio on locally connected speakers, in parallel to playing it on the speakers of the connected AV device (such as a TV's built-in speakers).
Intelligent EDID handling and processing is incorporated into the VS-411X.
The VS-411X automatically plays the selected source signal on the connected display according to user–configured preferences. When the user manually switches, the auto switching is overridden. The VS-411X also includes multi-channel audio switching with up to 32 channels of digital stereo uncompressed signals for supporting studio–grade surround sound.
SnapAV Introduces Newly Redesigned HDMI Cables
Binary, SnapAV's exclusive media distribution brand, has released its all-new line of redesigned HMDI cables, designed to deliver up to 4K@60Hz and HDR with reinforced strength at the cable head and power independent of a USB source.
Binary offers four versions of its HDMI cable. The B4 cable supports 4K at 10.2 Gbps and 30Hz in 0.3m to 7.5m lengths. The B6 is Premium Certified and supports Ultra HD 4K at 18Gbps and 60Hz in 0.3m to 7.5m lengths.
The B6 Active supports 4K Ultra HD with HDR at 18Gbps and 60Hz in 10 to 20m lengths, and 10.2Gbps and 30Hz in 25 and 30m lengths. The B8 Active uses fiber optics to support 4K Ultra HD with HDR at 18Gbps and 60Hz, along with full delivery of HDMI 2.0b, at 20-50m lengths.
In addition to these features, Binary B6A and B8 fiber optic active HDMI cables no longer require external USB power. These cables pull all the power they need through the source, delivering 4K Ultra HD with HDR content at 18Gbps over long distances.
JVC Streaming Cameras Provide Virtual Connections

JVC Professional Video, a division of JVCKENWOOD USA Corporation, has been serving the remote production world since long before it became a standard.
Included among the company's latest offerings is the GY-HM250 Series camera that stream directly to popular platforms, like Facebook, YouTube, Twitch and other CDNs.
JVC's ongoing collaboration with the Facebook Live technology team enables users to log in to their FB account directly from the camera and publish live streams with the push of a button.
The PTZ Series provides fully robotic, remote operation, enabling users to control the camera from a distant location while streaming a broadcast, class session or church service.
The KY-PZ100 supports Zixi and SMPTE 2022 QoS. The latest firmware adds the RTMPS protocol for live streaming to Facebook.
JVC's GY-HC500 Series includes the company's most advanced streaming solutions available. The 500 Series camcorders offer users advanced error correction (QoS) technologies – Zixi and SRT, which allow broadcasters to deliver high-quality streams under the most challenging conditions.
For broadcasters, educators and houses of worship looking to keep a unified brand identity, the on-board graphics overlay option is available.
XTEN-AV Introduces Floor Plan Feature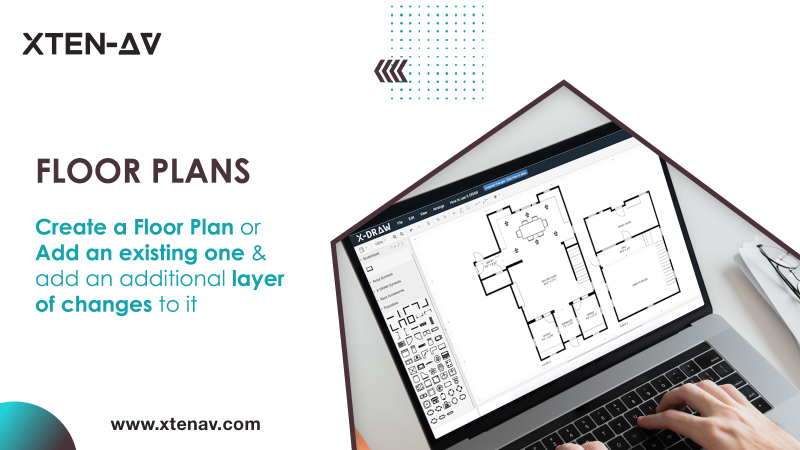 XTEN-AV this week announced the launch of the Floor Plan feature on its platform!
The Floor Plan feature allows users to:
Create a floor plan on the platform
Add an existing floor plan & add an additional layer of changes to it
Customize your floor plans with icons, comments, etc., using the editor
Save the floor plan with a project or a design that corresponds to it
and much more.
Audio Visual Projects
HBF and HNI Manufacturing PPE, Masks, Gowns for Pandemic Support
As HBF and other HNI Corporation companies navigate the uncertainty of the coronavirus outbreak across the U.S. and around the world, the brands' top priority is the health of members, partners and the communities they serve.
To support these populations and the local health care providers on the front lines, they are producing and donating personal protective equipment (PPE) to first responders, health care systems, and hospitals.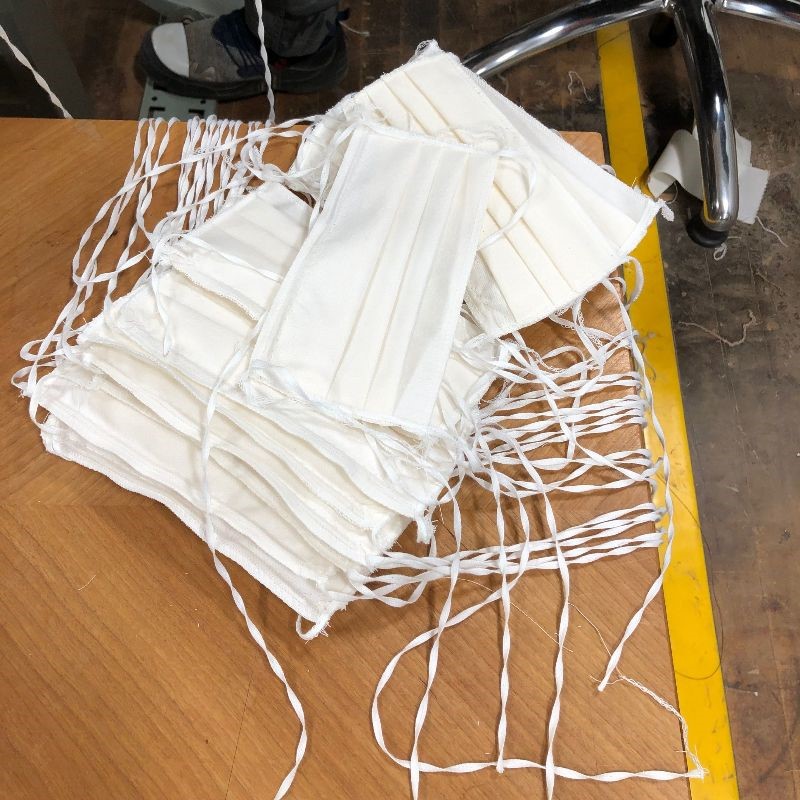 HNI is utilizing its factories in Iowa, New York, as well as its HBF Hickory, North Carolina facility to meet local needs, including:
Manufacture of washable masks to support the rapid increase in demand for cloth face coverings recommended by the Centers for Disease Control and Prevention (CDC), and to save critical surgical masks and N-95 respirators for healthcare workers and other medical first responders
Manufacture of washable mask covers, which fit over and extend the useful life of scarce N95 respirators
Manufacture of protective gowns (both washable and disposable), for use in hospitals that are facing unprecedented levels of protective gown usage and limited ability to acquire more
"Doing our part to help others has long been at the heart of the company's culture," said HBF president Dan Chong in the company announcement. "We have been a member of the Hickory community for 40 years, and we are dedicated to supporting our local healthcare workers and heroes by converting our factories to produce personal protective equipment.
"As our team members selflessly came together in this effort, the strength of HBF and HBF Textiles' values is more apparent than ever," he said.
HNI follows the guidelines of the World Health Organization (WHO) and the Centers for Disease Control and Prevention (CDC), to ensure the safest possible working environment for members as they produce these materials.
HNI companies will continue to deliver these products and services in a manner consistent with the promotion of health and well-being of all.
French Lick Casino Bets on Visionary Solutions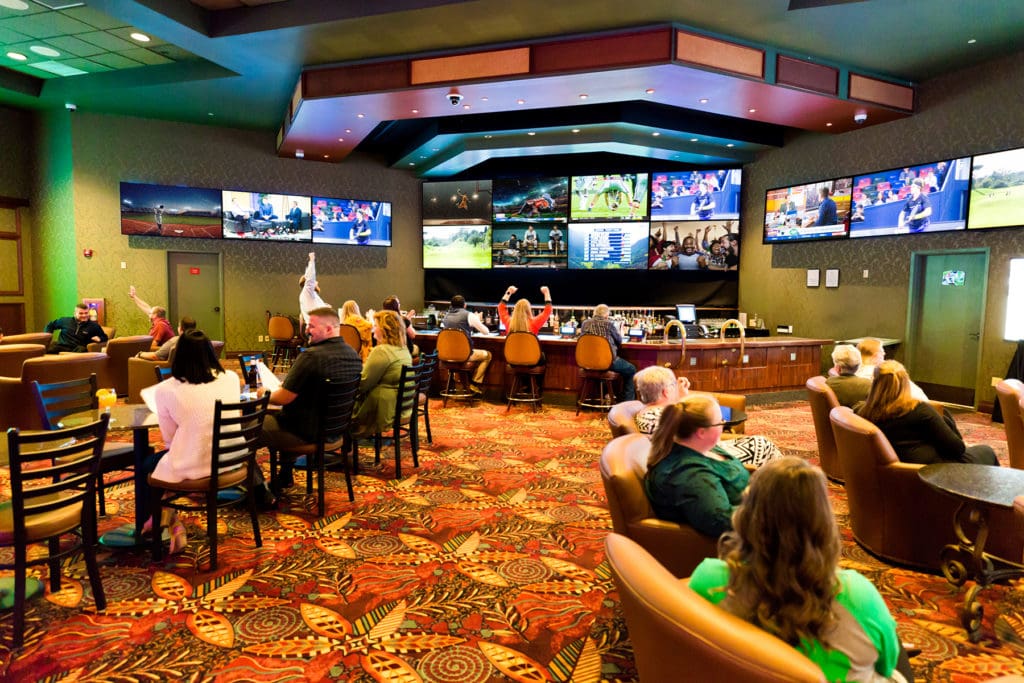 French Lick became nationally recognized as the hometown of legendary basketball superstar Larry Bird.
Casinos have long been an attraction in this central Indiana town of about 1,800 residents. In the early 20th century, celebrities such as heavyweight boxing champion Joe Louis, composer Irving Berlin, and notorious gangster Al Capone came to play at French Lick.
While you won't see Al Capone at today's French Lick Resort Casino, you can enjoy the casino's 24-hour action, with 1,000 slot machines, 37 live-dealer table games, and a brand new 3,000-square-foot sportsbook.
Designing and installing an AV network for the new sportsbook was no small task, so the casino brought in long-time partner Force Technology Solutions. Force Tech delivered a solution based on a Visionary Solutions video network with Dante audio.
For the new sportsbook, the French Lick Resort Casino needs to quickly, efficiently, and cost-effectively distribute multiple channels of sports programming to multiple destination display types and sizes. Low latency was extremely crucial for this project.
"People placing bets need to be able to get up-to-date stats at a moment's notice," said Force Technology Solutions sales engineer Brady Davis.
Force Tech had around 30 Visionary Solutions Duet encoders to handle the sports content feeds, said Davis. They used a total of 40 Duet decoders to drive all the displays, along with an Analog Way Aquilon processor that drives two large LED video walls.
The Dante audio from the Duet decoders ties into a QSC Q-SYS Core 510i processor so audio can be separately routed from video. Although current sports content is primarily broadcast in 720P/1080i, Force Tech maintained a 4K workflow throughout the system to take advantage of future broadcast formats.
A Crestron PRO3 control system and multiple touch screens around the facility provide user control for the system.
People and Places
Daktronics Hires Matt Evers for AV Systems Sales Role
Daktronics this week announced the hiring of Matt Evers as AV systems sales representative.
The move expands the company's focus on the AV integrator market for LED video display applications and plays a major role in the realigning of current staff to support an emerging group of partners for this market.
Evers will introduce Daktronics' narrow pixel pitch (NPP) product line to AV integrators and military niche projects in the Midwest and Great Lakes regions of the United States.
His responsibilities include product education, sales and installation tips, architect education and project collaboration with AV integrators.
Inside the IMCCA Pandemic Support Page
The IMCCA has been producing and posting instructional webcasts, five-minute updates from members, links to other resources and more on its Pandemic Support page.
The association recently completed its latest webcast called "UC and Collaboration Supports The New Normal." It's a discussion with a technologist in Australia, an integrator in the U.K., a social worker in New Jersey, a university technology manager in California and a distributor in New Jersey.
The group talks about supporting tens of thousands of users working with the NHS; providing tele-therapy to toddlers with language delays; dozens of people meeting in hundreds of online religious and social events; nearly 60,000 educators and students at one institution successfully delivering classwork; and much more.
SurgeX To Host Tech Tuesdays Online Education

SurgeX recently announced Tech Tuesdays, with the availability of its AVIXA and CEDIA courses online. Through May, dealers and integrators can work on CTS and CEU credit.
SurgeX courses will be offered online on Tuesdays, from April 21 to May 26. Integrators can take SurgeX's AVIXA course, "Building a Strong AC Power Foundation for your AV System," at 11 a.m. ET each week for CTS credit.
Residential dealers can join the CEDIA course on Tuesdays at 2 p.m. ET for CEU credits, learning "How power can derail your system and impede performance."
Register here for the AVIXA course, and register here for the CEDIA course.
TAG Video Systems and VidOvation Annnounce Technology Partnership
TAG Video Systems and VidOvation have announced a technology partnership aimed at bringing solutions and support to clients navigating the transformation to IP workflows.
"The acceleration to 100% COTS/Cloud IP workflows has significantly increased the demand for TAG's Video Solutions," said TAG zer0 friction officer Kevin Joyce in the announcement from Tel Aviv, Israel.
"With the launch of our Zer0 Friction strategy, we need partners that understand and support IP workflows more than ever," he said.
"Jim Jachetta and his team of IP workflow experts at VidOvation are the perfect partners at the perfect time," said Joyce. "Together, we will provide our clients with the foundation and support they need to transition to IP, which is the ideal infrastructure for a remote work environment."
According to Jachetta, executive VP of engineering and CTO at VidOvation, integrating TAG Video Systems' IP monitoring, probing, and Multiviewer technology into customers' workflows and ecosystems gives them "the ability to monitor and troubleshoot complex IP production, contribution, OTT, and distribution workflows at any point in their systems.
"TAG solutions will also give our customers the capabilities they need to probe and diagnose the implementation of at-home remote production, transport over managed and unmanaged networks such as the public Internet and cellular for contribution, and then achieve the same visibility for OTT, CDN, and distribution," said Jachetta.
If you enjoyed this article and want to receive more valuable industry content like this, click here to sign up for our digital newsletters!