PPDS Delivers In-Room Entertainment at SkiStar Lodge
PPDS installed 286 Philips MediaSuite TVs with built-in Chromecast at SkiStar Lodge, one of Sweden's most popular ski resort hotels.
Leave a Comment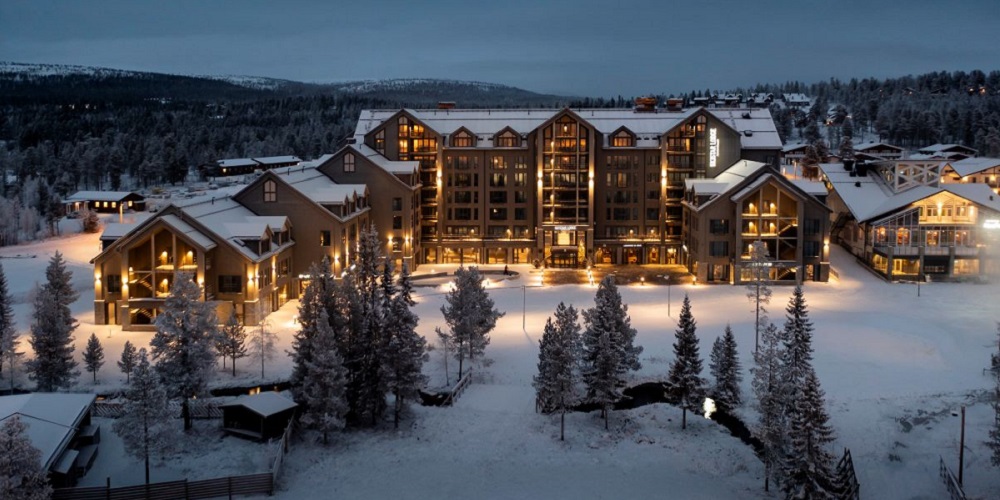 PPDS, the exclusive global provider of Philips professional displays, announced the installation of 286 Philips MediaSuite TVs with built-in Chromecast and Netflix, inside the new SkiStar Lodge Hundfjället. Per a statement, the venue is one of Sweden's most popular and picturesque ski resort hotels. Here, it provides guests with complete and unrivalled control of their in-room digital entertainment experience.
The SkiStar Lodge resides in the village of Salen, and is surrounded by stunning snow-capped mountains. The resort — operated by SkiStar, the biggest ski resort operator in Scandinavia — is a leading destination for families, skiers and snowboarders from around the world. In fact, it has more than 45 kilometers of slopes to suit all levels, from beginners to professionals.
Just 10 minutes from the Scandinavian Mountains Airport, the SkiStar Lodge emphasizes comfort and relaxation. With this in mind, it features two restaurants, a large lounge bar with fireplace seating, sauna, gymnasium and conferencing facilities. All venues emit a warm, cozy, rustic, yet airy atmosphere, according to a statement.
With meticulous attention to detail across the entire lodge and its facilities, SkiStar Lodge Hundfjället wanted to complete its offering of excellence. This came right down to their guest rooms, with the role of the TV playing a crucial role in its ambitions.
Housing 153 rooms and apartments (over 780 beds), the SkiStar Lodge turned to Nonius and PPDS to create and deliver a tailored, all inclusive 'state-of-the-art' AV solution to accommodate all current (and future) viewing needs and preferences — such as streaming — for the ultimate home-away-from-home experience.
The Installation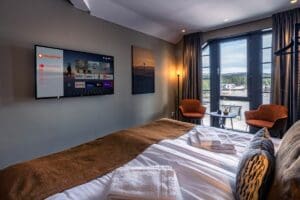 In total, PPDS selected and installed 286 of 4K Philips MediaSuite TVs throughout the SkiStar Lodge's suite of apartments. Per the company, Philips MediaSuite TVs remain the only dedicated hospitality TV solution to feature built-in Chromecast. As a result, it emerged as a key factor in the decision making. Providing significant cost savings to the hotel, Chromecast allows guests to seamlessly and effortlessly cast their favorite content from their preferred streaming services, directly onto the TV. They can do so from their own personal device, whatever their mobile operating system.
Philips MediaSuite TVs also come with Netflix, securely linking directly to a guest's account. Moreover, they offer an extensive range of games and apps available via the Google Play store.
A Personal Touch
Using the Nonius HUB connected to PPDS' exclusive display-management platform and the resort's Effectsoft property-management system, each guest receives a welcome with a personalized message in their native language as soon as they turn on their TV.
With security of paramount importance, a secure WiFi connection is made between each guest's personal device and the TV via an intuitive QR code. Upon checkout, the guest's account credentials automatically clears from the room. This helps ensure absolute data privacy, PPDS says.
Filip Hector, managing director, Nonius Nordics comments, "I'm pleased to start our partnership with SkiStar on this amazing property in Sälen, SkiStar Lodge Hundfjället, providing them with a seamless casting experience and next-generation 4K TV sets from the leading brand Philips, adding information and streaming apps to please the guests at the hotel."
Nils Brovold, Nordic sales manager at PPDS, adds, "For hotels, meeting the needs of your guests — from the reception, through the facilities, in the dining areas and in their rooms — is paramount for delivering a memorable experience; and achieving positive reviews, recommendations and return business. A growing part of that is the in-room TV experience and providing the ability for guests to cast content from their own device, whether Apple, Android, or any other, is key. That's something Philips MediaSuite offers above and beyond, with built-in Chromecast.
Brovold adds, "SkiStar wanted a solution that truly raises the bar for in-room entertainment and, after seeing and experiencing the benefits for both the guests and for the hotel itself, Philips MediaSuite was the standout choice to meet and fulfil their high ambitions. We're proud to have supported SkiStar on this exciting project."
Benefits at a Glance
Versatile connectivity: PPDS' in-house management platform enables an effortless connection with the Nonius HUB and SkiStar Lodge PMS for quick deployment and easy upgrades of new features as they are needed.
Built-in Chromecast: Guests can stream their personal content to the big screen without extra hardware or software configurations, ensuring easy content streaming, device security, and cost-effective maintenance.
Dynamic information: Guests can be greeted with custom messaging in their native language, and can use the displays to view lodge facility information.
Netflix: Integrated Netflix enables secure, intuitive, wireless access to guests' own accounts, allowing them to pick up their favorite movies and programs, exactly where they left them.
Inherently secure: Guest log-in credentials are automatically cleared upon check out.
If you enjoyed this article and want to receive more valuable industry content like this, click here to sign up for our digital newsletters!