PPDS Delivers Media Suite for PMS Integration & Introduces Three New Solution Partners
Hoteliers and installers have more choices bringing secure personalized content to hotel guests in Philips MediaSuite TV-installed rooms.
Leave a Comment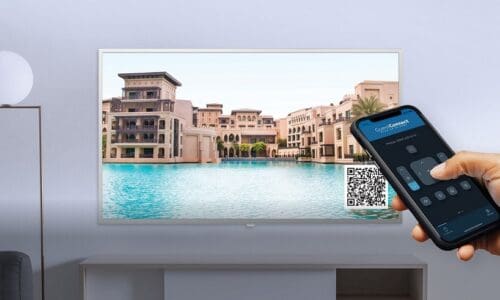 PPDS announced three new partnerships with leading hospitality industry Property Management System (PMS) integrators – Nonius, Nevotek and Imagine Soft – opening up over one hundred additional PMS possibilities, all helping hoteliers maximize the full potential of their in-room TVs for advanced and tailored guest experiences.
Part of PPDS' new 'total solutions' strategy is to bring unrivalled and unrestricted choice to the hospitality market, these new collaborations add extensive experience-enhancing control, management, communication and entertainment capabilities to Philips MediaSuite TVs, running on a bespoke interface that conforms to the customer's exact needs and requirements.
The addition of Nonius, Nevotek, and Imagine Soft, sees PPDS exceed any other display manufacturer for choice, with the pair joining Impala and TigerTMS on its ever-growing list of partners and bringing the choice of PMS options to an ever-growing list of around 200.
The new partnerships with Nonius (with 120+ million users worldwide and in 330,000 hotel rooms), Nevotek (with more than 3,000 hotels worldwide) and Imagine Soft (with 3,500 hotels worldwide and in 500,000 hotel rooms), allows hoteliers to unlock the full potential of their TVs through a variety of different means, including helping to drive communications with guests, enhance satisfaction – including world-class entertainment – and driving new revenue streams.
Read: Philips Professional Display Solutions Rebranding as PPDS Reflects 'Total Solutions' Strategy
"The hotel TV no longer has to be just a screen in the room, with a single purpose. Like a phone, or a PC, TVs at home and in hotels have evolved beyond their original function, becoming an invaluable communication tool and a vital source for both entertainment and information," said Jeroen Verhaeghe, International Business Manager Professional TV, PPDS.
"Coupled with the capabilities and continued innovation of MediaSuite, and working with leading PMS integrators, we're opening the doors for hoteliers to manage the experience they want for their guests – from the moment they walk into a room to the moment they check out," he said.
PPDS TVs Offer More Choices
The new platforms provide a variety of personalized services for guests, such as welcome messaging, bill viewing, native language selection, personalized offers, and mobile check-in and out services, not typically available on standard interface solutions.
With no additional and costly hardware requirements for Philips MediaSuites needed, each of the partners' platforms link seamlessly and securely with the TVs' existing OS, allowing guests to benefit from PPDS' existing market-leading and often world-first features and functionalities.
These include the recently launched embedded Netflix solution – allowing guests to securely access their own Netflix account directly on the hotel TV – and the Chromecast built-in™ functionality, allowing guests to seamlessly stream content (including apps) on the display directly from their device with just the touch of a button.
The platforms also allow hoteliers to offer tailored TV portals (TV channels, movies, sports), and seamlessly integrate other third-party solutions of their choosing, such as Apple TV, Sky, BT, VoD, as well as other live content feeds, such as news and weather, local attractions and transport information.
"Every hotel proprietor, whether running a small property with a handful of rooms, or one with several thousand rooms across multiple locations around the world, will have their own views and preferences on how best to service their guests and how to provide the best possible experience during their stay. At PPDS, we don't believe in a one size fits all or dictating and restricting choices for our partners. With these partnerships, our TVs are helping hoteliers to act upon and achieve their ambitions to best serve their customers, " Verhaeghe said.
"With these new PMS possibilities from Nonius, Nevotek and Imagine Soft – as with Impala and TigerTMS – we're breaking the industry-mould, giving our customers more choice and greater control of what works best for them," he said.