Integrator Advanced Lifts AV at Air Jordan Store to GOAT Status
Interactive tech experience installed in Toronto's Air Jordan store by integrator Advanced is worthy of 'greatest of all time' namesake, Michael Jordan.
Leave a Comment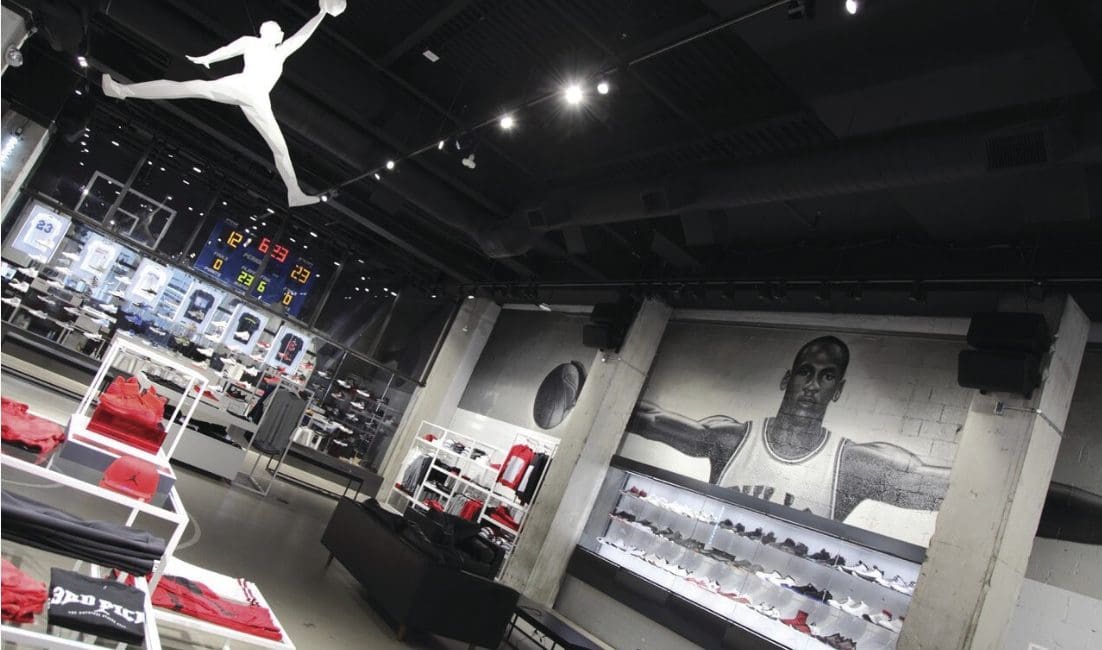 Sorry, Millennials. Michael Jordan is the greatest basketball player of all time (GOAT), and his Nike brand's Air Jordan stores deserve a fittingly awe-inspiring AV experience. That's what integrator Advanced accomplished at Toronto's Air Jordan store.
Well, it's really more than simply "a store."
Brick-and-mortar retail has changed significantly, with stores stepping up the challenge of luring shoppers away from their devices and inside their doors. Interactive audio and video can play a big role in that. As such, the Air Jordan store on Toronto's Yonge Street is more of a grand experience.
Creating that "experience" was the goal when designing the three-level retail space equipped with an underground kids-only concourse, an industrial-designed retail level, and an upper athletic training facility, according to integrator Advanced.
Nike turned to the Toronto-based AV integration firm and digital signage specialist along with an experiential design firm to build and install an AV system including multi-room audio, displays, projectors, and control automation.
Launching an Audio Experience
The early conversations regarding the project were all geared to the user experience, as Air Jordan decision-makers understood that AV can significantly contribute to the look and feel that a store conveys in any given area.
With audio, video, displays, and more, Advanced was able to create nuanced and carefully distinguished spaces on each floor that transform this traditional brick-and-mortar store into an engaging customer experience.
During the building process, the store's biggest AV priority was music. Air Jordan wanted to incorporate a multi-room audio system that would be flexible depending on the space, yet extremely easy-to-use for the store's staff, according to integrator Advanced.
The integration firm designed the system around a Crestron multi-room audio controller, powered by 22 QSC AD-S12 and 18 QSC AD-S12-SW-B wall mounted speakers hung with custom-built mounts in the building's columns, and 11 QSC AD-6PT ceiling speakers.
For control of the system, Advanced installed an Apple iPad Mini equipped with Spotify and a custom-designed graphical user interface so staffers can easily change the song or volume.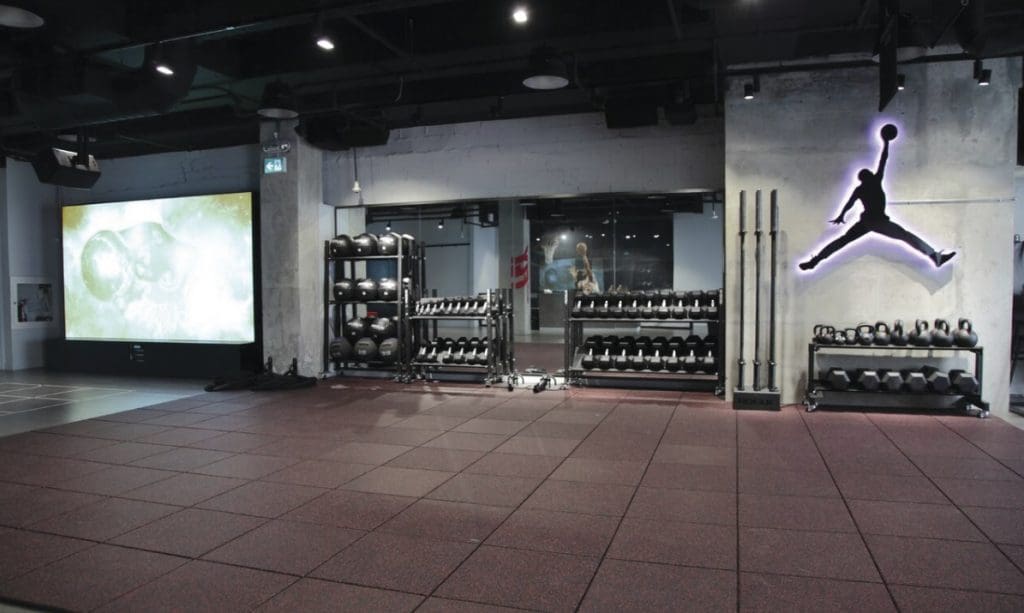 Launching a Video Experience
Advanced was also tasked with building a visual projector-based system to contribute to the aesthetic of the main level retail space.
In collaboration with an experiential design firm, Advanced turned four of the space's 8-foot tall windows into digital canvases by installing perforated projection film screens that allow natural light to come through on each, with four custom-mounted Panasonic 8500 Lumens 1-Chip DLP projectors in portrait format.
Starting at sunset, the store now exhibits a display of motion projection images and video on the windows facing Yonge Street.
On the third floor, Air Jordan built out "Center 23," a full-service training facility complete with a gym, locker room, and two Jordan Standard games —interactive display-based grid tests that measure each player's agility level compared to Michael Jordan's. Advanced outfitted the game with cutting-edge audio, video and control.
Installation Game Plan
For the audio system, integrator Advanced added in some unique zones that are accessible to staffers if needed. For parties and events, Advanced integrated a DJ input behind one of the main level's columns.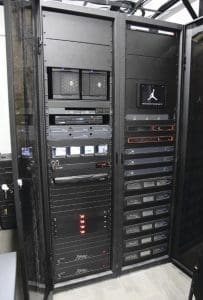 They also built two separate zones for the Jordan Standard games located on third floor.
For the visual-based projector system, Advanced did pixel-mapping to separate the images to each window, and integrated a dedicated BrightSign player to send content to each projector.
The integration firm also included a 17-inch KVM monitor in the equipment rack so users can actually see what the content will look like before it's sent out.
The projectors and the BrightSign media players are integrated directly into the store-wide Crestron control system so that, if need be, staffers can very easily turn it on or off and change the content.
On the third floor, in order to distinguish the two game grids' audio from the rest of the training facility area, Advanced integrated a pair of QSC speakers that send audio directly into the ear of the participant.
The design offers drop-down speakers at the corner of the grid that are targeted to the center, which removes the entire floor's background music as if the user were wearing noise-cancelling headphones.
Related: Advanced Captivates Car Buyers with Video Wall
Visitors can hear the Jordan Standard, and only the Jordan Standard, when they are engaging with it, and that audio does not disturb the rest of the floor, the company explains.
The result, understandably, is "a lot of buzz," according to integrator Advanced. The firm's goal was to provide technology solutions that turn customers' heads. By that standard, it was a slam dunk.
Equipment Highlights
Crestron Multiroom Audio Controller
QSC Loudspeakers
Apple iPad Mini Equipped with Spotify
BrightSign Digital Signage Players
Panasonic Projectors
If you enjoyed this article and want to receive more valuable industry content like this, click here to sign up for our digital newsletters!