Horizon AVL Designs Premier Collegiate Esports Venue at Kean University
Kean University Esports Arena worked with Horizon/AVL esports Integration to build an engaging community space for its esports program.
Leave a Comment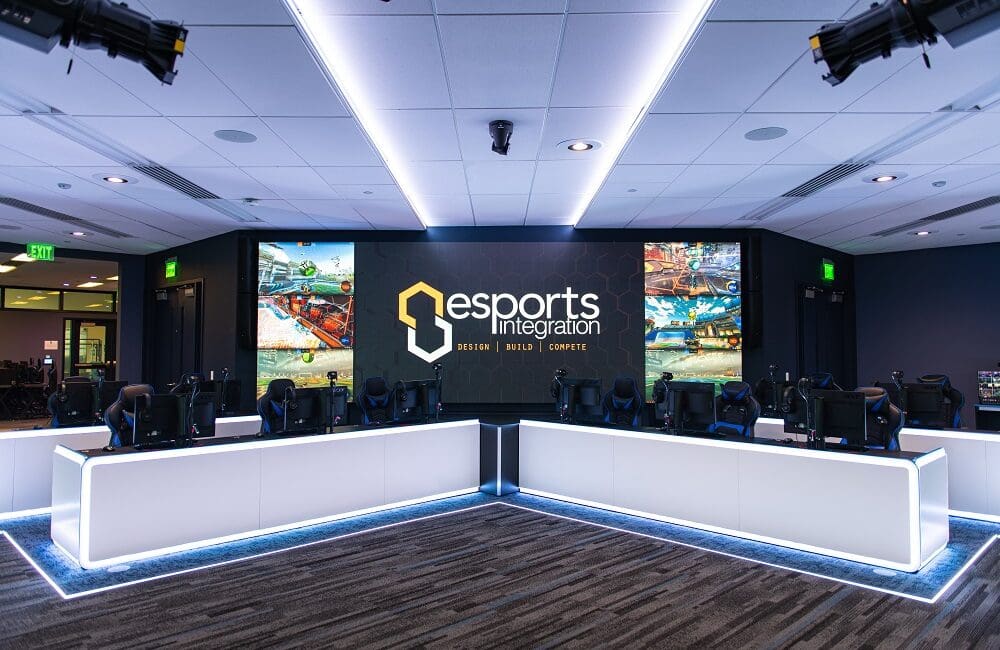 Photos & Slideshow
---
The Kean University Esports Arena is a premier collegiate esports venue featuring spaces for competition with spectator seating, broadcast, general gaming and consoles. In designing the space, Horizon AVL/Esports Integration says the campus community, curriculum implementation and requirements of competition were all taken into consideration for the layout, equipment and overall theming of the project. 
The competition space features a large LED wall that can be used to create broadcast backgrounds or create matrix views of the gamers and their gameplay. By integrating LED light strips in the floors, ceiling and custom-built desks, the competition is taken to a new level by offering maximum regardless of who is competing. In addition to the visuals of the space, careful consideration went into the room audio to create a complete experience for all spectators. 
Scope of the Project
Equipped with 24 Acer Orion gaming stations, the general gaming space is able to handle everything the university requires from a hardware standpoint. Whether having practices and clubs, academic classes, or after-hours gaming sessions, this space has the university covered for years to come. 
Broadcast is an integral part of the gaming world so Kean University's esports arena needed to be equipped with all tools necessary to both teach and produce a high-level broadcast. By utilizing multiple PTZ cameras, 12 POV cameras in the competition space and feeds from each competition PC, the university will be able to create effective broadcast content. 
To further create a community feel, a console space was developed for students to play their favorite console games together. From Super Smash to Madden, this space will be greatly utilized for years to come, says Horizon AVL. 
Initiating the Project
Kean University was initially looking to host an esports event to get a sense of how esports would be received on campus. With this in mind, the university reached out to Horizon AVL/Esports Integration. After some initial conversation about the Platform1 services, the university realized that the demand would be overwhelming for an esports program on campus. From here, the project moved over to IT and facilities to create a space centered around esports. By guiding them through this objective, Horizon AVL says it worked with them to design and build a space wrapped around the community and curriculum. 
Kean University wanted the esports program to drive them into the future in both athletics and academics. The solution was to deliver on the Platform1 services which is a one-stop solution for all services needed for academic esports. This includes facility design and planning, marketing and branding, curriculum integration, equipment specification, league and team development, and roadmap planning. 
The Installation Process
Through the process Horizon AVL was able to design and build an arena based on the needs of the community, curriculum and competition. The company accomplished this through cultivating a deep understanding of the curriculum, goals and outcomes from the university.
The conversations led to decisions for the custom set design and direction for equipment. Horizon AVL also worked with the university to develop the esports logo and different marketing opportunities to keep a consistency throughout the program. 
The biggest benefit of using Platform1 services is the consistency through every element and decision of the space which leads to a successful program, the company remarks. 
Overcoming Challenges
The esports installation process started with the design service agreement. Throughout this process, Horizon AVL created a 3D design of the space based on the CAD files and existing room structures. It then worked with the university's architect to deliver all necessary drawing sets required for the project (electrical, line schematics, elevations and plan view to name a few). With this in place, the company was able to develop the bill of materials needed to accomplish the design. However, due to COVID-19 delays, this process took several months to complete.  
Once everything was finalized with the design, the project then moved into the build phase. Here, the team worked with the architects and other trades to build out the esports arena. Due to product delays, this installation process required about nine months to complete, but Horizon AVL says it worked through those delays and provide a turnkey esports arena from design through installation. 
Kean University offers the following feedback for the project: Working with Horizon AVL/Esports Integration was a wonderful experience. They really understand what is needed to bring a collegiate esports space to life. By collaborating with IT, athletics and academics, Horizon AVL/Esports Integration was able to design our space in a way that filled all of our needs. Now that the installation is complete, all we keep saying is, "Wow!" Our students and administration are elated to have such an amazing space in which to grow our esports program for years to come.
Kean University Esports Arena Equipment List
Platform1
PTZ cameras
LED wall 
To view additional photos of Horizon/AVL's installation at Kean University's Esports Arena, click view slideshow in the upper right-hand corner.
If you enjoyed this article and want to receive more valuable industry content like this, click here to sign up for our digital newsletters!