IMS Technology Services Transforms UDel's Whitney Athletic Center With An ESPN-Worthy Press Box
IMS helps turn the Whitney Athletic Center into a top-notch facility for the University of Delaware student athletes and fans.
Leave a Comment
Photos & Slideshow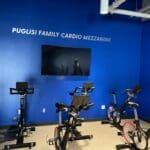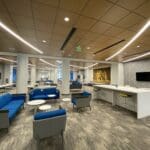 ---
The Whitney Athletic Center at the University of Delaware (UDel) consists of 90,000 sq. ft. of new space to serve all student athletes and includes an academic center, weight room, athletic training and sports medicine facilities, multi-purpose space and an auditorium. The Athletic Center also incorporates a press box structure that provides premium club seating and amenities as well as press, facilities and game day operation booths. The West Stadium was replaced with premium and club seat options and concessions as part of the project.
IMS Technology Services, the Garnet Valley, Pa.-headquartered integration firm was selected to provide AV integration services in the Whitney Athletic Center, including the lobby, waiting areas, offices, medical and treatment rooms, concourses, concession areas, lounges, conference rooms, the club and bar area, the president's suite, nutrition and sports medicine rooms, press corridor, press/media suites, coaching offices, radio rooms and rack rooms. 
A Broadcast Ready Setup
The project began in 2018 and was completed in November 2021. Each area that required AV integration was carefully designed and engineered to fulfill the specific needs of the space.
IMS, having deep experience and in-house knowledge about the design and installation of professional broadcast systems built a broadcast cabling infrastructure in the Bob Carpenter Center Stadium that would meet or exceed the expectations and standards of national and international media outlets, such as ESPN.  
IMS designed and installed a complex network of single mode fiber, CAT6 data, video, and audio cabling to ensure that media crews have tie-ins for camera positions all around the field. Wiring was run from all possible camera positions and feeds to the press box and to the broadcast truck pedestal to provide a broadcast-ready setup for media outlets. 
IMS' Installation at the Whitney

Athletic

Center 
The project was moving very fast until COVID-19 restrictions across the globe created unprecedented supply chain issues. The supply chain issues caused many delays in the milestones due to the difficulties in securing the materials needed by many trades. 
IMS, having an event staging division, which came to a grinding halt in 2020 due to event restrictions related to COVID-19, was able to transition many of its staging employees to its system integration team, providing additional manpower needed to complete the project before the start of the football season.  
The IMS teams put in hours during weekends to get ahead of several snowstorms during the winter months and the UDel design team stayed flexible when equipment changes needed to be made based on supply chain and product availability.
IMS experienced a very successful collaboration with the teams at HOK Architects/EDiS Construction, in partnership with Barton Mallow and the UDel design and construction personnel. Under the leadership of Tom Hudson, UDel Construction Manager, the project partners created a top-notch facility for University of Delaware student athletes and fans. 
A Fan Favorite Athletic Center
"Despite the slowdowns caused by the pandemic, IMS was still able to complete the entirety of their work in time for the opening of the University of Delaware football season. IMS' excellent product has been well received by fans, athletes and administrators of the University of Delaware," says Kyle Martin, UDIT-UMS manager of performances and events. He continues, "Setting off on a huge stadium renovation project is a daunting prospect, but the knowledge that IMS was available to ensure excellence in AV integration helped to relieve much of the stress. Working with their technicians and engineers was an easy, rewarding experience and the end product was excellent." 
Equipment Highlights 
Audinate Dante Doman Controller
Barco Clickshare CS-100
Clear-com headsets, system interface
Contemporary Research 4k HDTV tuner
Crestron control system
Epson Laser Projector
Listen Technologies
Panasonic LED TVs 
Click "View Slideshow" in the upper right hand corner to view additional photos of IMS installation at the Whitney Athletics Center. Photos and video courtesy of the University of Delaware.
If you enjoyed this article and want to receive more valuable industry content like this, click here to sign up for our digital newsletters!