NHL Puck Goes High-Tech for 2021 Season in the Name of Analytics
New National Hockey League puck will feature embedded battery, circuit board and six tubes that emit infrared light at 60 pulses per second.
Leave a Comment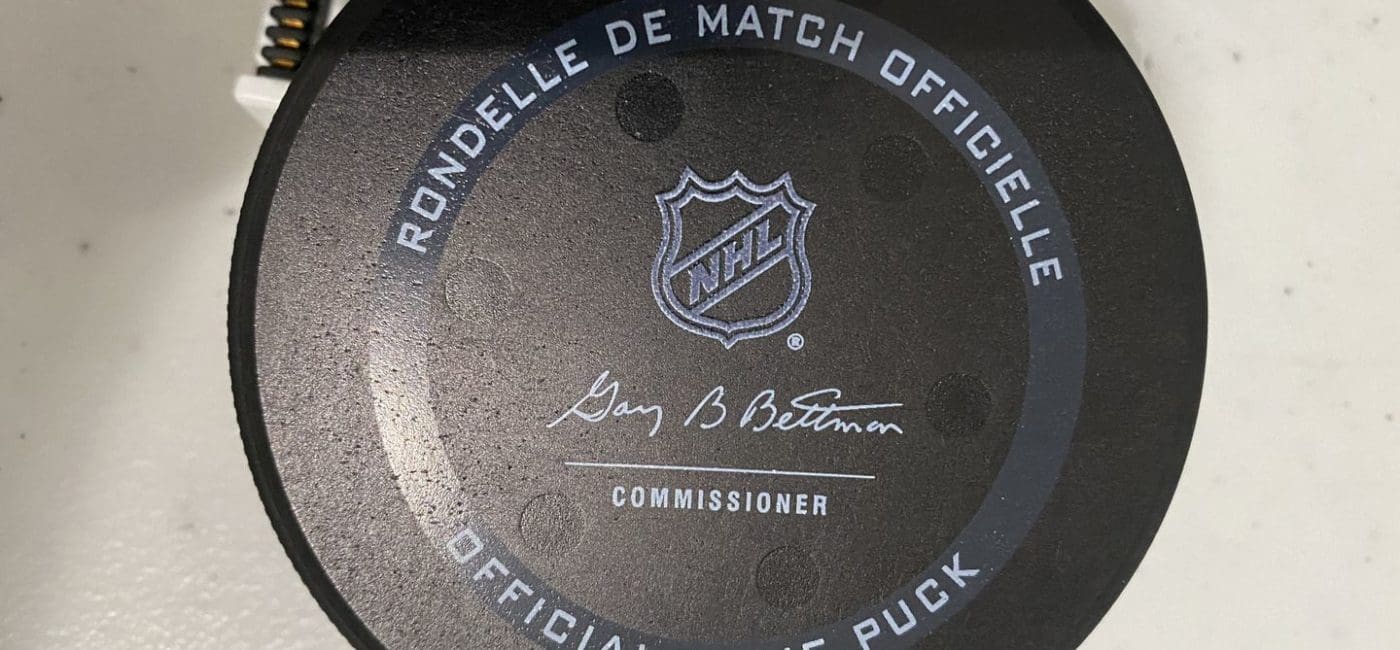 Analytics are everywhere these days, with everyone craving as much information as they can get to help them make better decisions, whether it's in the board room or the local sports arena.
The National Hockey League will soon unveil a high-tech puck that will help them understand more of what's happening on the ice, whether it's during practice or during a game.
Here's more about the NHL's newest superstar from a recent Boston Globe report:
The hockey puck as it's been known forever, that humble 6-ounce chunk of hard rubber patented decades ago by Bruins general manager/coach Art Ross, has left the building.

There's a new kid in NHL rinks, and this is fitted with a tiny embedded battery, a circuit board roughly the size of a half-dollar, and 6-inch-long tubes that emit infrared light at 60 pulses per second — fast, yet still two beats behind Connor McDavid on a breakaway.

"Crazy, isn't it?" said the NHL's Dave Lehanski, an executive vice president who has helped steer the puck's development the last 7-8 years. "It almost has a life of its own."

The space-age pucks, which cost the NHL some $40 each to produce, will make their debut next week in the NHL's 31 arenas, all part of the league unveiling its long-anticipated Puck and Player Tracking technology for use in broadcasts and, undoubtedly, the tidal wave of legalized betting about to wash over all pro sports.

Rest assured, the new puck will look and sound the same as the old model — 6 ounces, 3 inches wide, 1 inch thick. Based on exhaustive testing, noted Lehanski, players have reported it feels the same on their sticks, fires just like the old version, and bangs off pipes and boards with honest-to-Boom Boom Geoffrion auditory authenticity.

"We tried to leave no stone unturned," said Lehanski. "A big part of the testing was just getting players to play with it. How does it feel on your stick? How does it sound when you shoot it? So it was hours and hours and hours of testing . . . and when the players told us they couldn't tell a difference, we knew we were in a good spot."
Related: Fuse Technical Group Helped the NBA Restart its Season in Orlando
The key tech element of the new puck is its battery-powered infrared light, the beam essential to a triangulation system that also incorporates 16-18 cameras mounted inside every arena. Every NHLer also will be outfitted with an infrared tag — approximately the size and shape of a pack of gum — slipped into the backs of their sweaters.

All the light beams and all the associated PPT technology, other than cameras mounted in the ceiling and elsewhere in the arena, will not be visible. Every move of puck and players will be tracked, recorded, and all of the info streamed into a giant data punch bowl.

The new pucks are manufactured in three stages across three sites. Soucy Baron, a rubber manufacturer outside of Montreal, produces the raw form puck, Ross's knurled edge and all.

Raleigh-based SMT, Inc., loads up each puck with battery, circuit board, and light tubes. Inglasco, Inc., in Sherbrooke, Quebec, then uses a silkscreening process to affix logos.

The paint applied by Inglasco turns purple when the pucks are chilled to proper temperature for game play. If purple fades to a gray tone, it is pulled from play. During games, pucks are stored in a tiny freeze box at rinkside, alongside the official scorer's position.

According to Lehanski, pucks that land in the stands can be taken home for souvenirs. So at least that bit of hockey nostalgia has not been lost to the onward march of technology.

Once a puck is out of play, the arena tech crew will deactivate it from the PPT system and a new puck, with a unique embedded code, will be activated. The fan who goes home with the souvenir puck will just have chunk of rubber, its battery gone dead in 4-6 hours.

"Although," added Lehanski, "we'll have the data that tells us everything about that puck, what happened to it in every moment. Every goal. Every save. There is something interesting to that. So at the very least we want to think about how we can create some kind of public database for fans to go back and look at these pucks."
Information helps businesses of all types make better decisions, but I kind of bristle at the idea of more analytics in sports. I think there's something lost when decisions are based solely on a spreadsheet and not on what your eyes tell you.
The new NHL puck will certainly add new ways for teams to evaluate their players, tendencies and their opponents but I hope we don't see a flood of new hard-to-understand stats replace goals, assists and wins as the key elements of the game.