Ping HD Digital Menu Boards, Daktronics Video Boards Highlight Super Bowl LV Tech
Raymond James Stadium in Tampa Bay, Fla., will rely on 14 Daktronics video displays and 140 digital menu boards to deliver unique Super Bowl.
Leave a Comment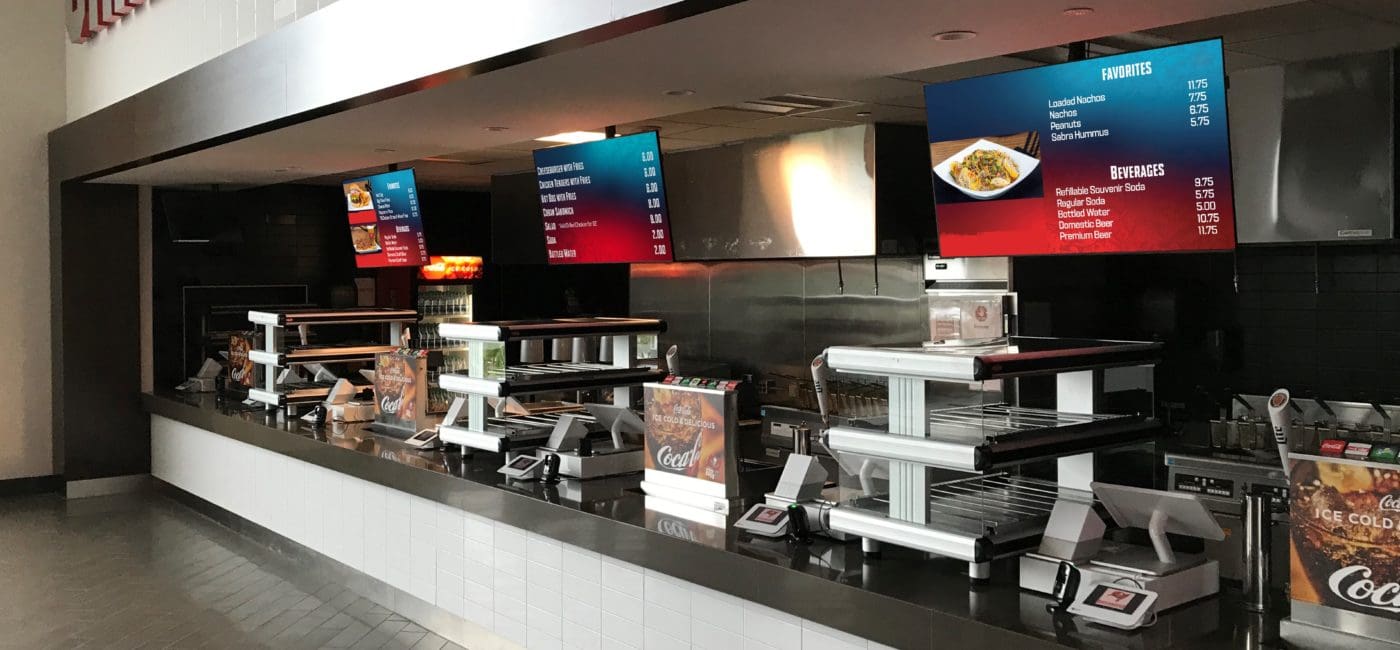 Super Bowl LV at Raymond James Stadium in Tampa, Fla., will undoubtedly look a little different this year, but it's not stopping the hosts from serving up their typical gameday menu, even the crowd will be significantly smaller than a typical gathering for the annual NFL championship game.
The 66,000-seat host stadium plans to welcome 22,000 fans as they witness the team that plays its home games in the shadow of the pirate ship, the Tampa Bay Buccaneers, face off with the Super Bowl LIV champions, the Kansas City Chiefs, who are going for back-to-back championships.
As the playing field gets its prime-time makeover ahead of kickoff Sunday night, other parts of Raymond James Stadium have begun preparations too. With fans paying upwards of $6,000 per ticket for the right to watch the Super Bowl in person, every aspect of the experience is expected to be world-class.
Since you can't do football without food, the onsite concessionaire at the stadium is doing their part to ensure fans enjoy the festivities while away from their seats.
Super Bowl Tech: Daktronics Displays at Atlanta's Mercedes-Benz Stadium Get Worldwide Audience
As patrons browse dining options throughout the concourse, they'll notice that each digital menu board has undergone a complete rebrand for the big game.
In 2019, the Buccaneers partnered with Ping HD to replace the static menu signage around Raymond James Stadium with 140 Samsung smart signage displays. Custom content was designed for each concession area to simplify item selection, support theme branding and speed the ordering process.
The Concessionaire needed a solution that gave them the ability to change their menus quickly. They chose EngagePHD digital signage software as the content management solution because it gives them the ability toupdate and manage all 140 screens from one cloud-based interface.
"The cloud-based solution made it easy for stadium staff to quickly change each digital signage display to match the look and feel of the game," said Joe Malouff, director of marketing at Ping HD.
To further simplify the process and implementation, each digital menu integrates Bypass Mobile, the point of sale system used at each register. Pricing, inventory and other product details are managed within the Bypass Mobile dashboard and then fed directly to each digital signage screen.
"Upgrading the menu boards has been a fantastic joint project," said Ping HD partner Greg Lewis. "Implementing an integrated state-of-the-art platform with the ByPass Mobile point of sale system and the Ping HD, EngagePHD CMS has helped drive operational efficiency, fan engagement and increased food and beverage revenue."
And, in case you think Ping HD has a rooting interest in Super Bowl LV because of its relationship with the Bucs, they also deployed 140 digital menu boards at Arrowhead Stadium, home of the Chiefs, before the 2020 season.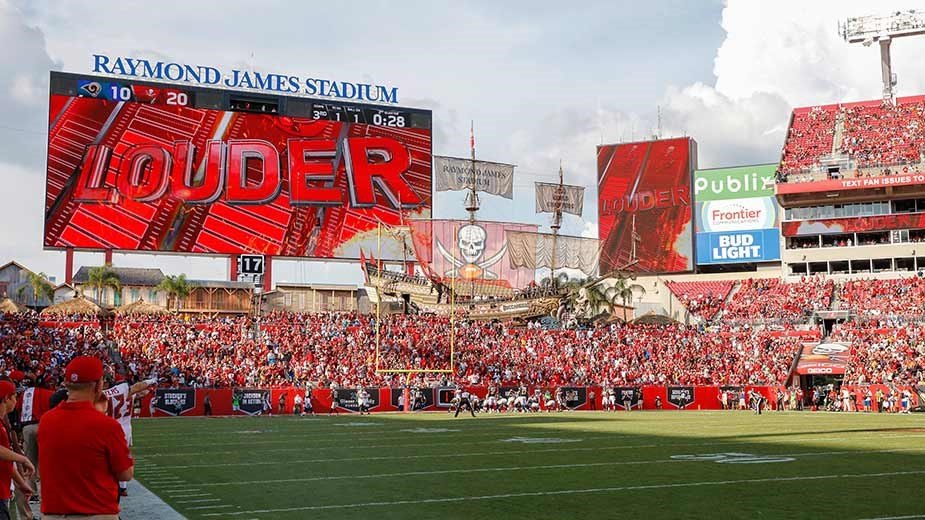 More Raymond James Stadium AV Tech
For the 17th consecutive year, the Super Bowl will be held at a venue featuring Daktronics products. The biggest football game of the year will feature 14 LED displays totaling nearly 40,000 square feet of digital signage.
"Our technology being used at the big game is exactly why we're in business, whether that game is professional football's championship game or a child's first little league game," said Daktronics VP of live events Jay Parker.
"This year, we're fortunate enough to be trusted with LED technology at football's big game for the 17th year in a row. It's also exciting that the game is at Raymond James Stadium," he said.
While viewers see the main event, the Daktronics service team is on site long before the game kicks off. Leading up to the day of the event, event technicians and control room specialists are at the stadium to run pre-event checks and ensure the system is prepared for kickoff.
Personnel will remain on site throughout Super Bowl Sunday to monitor the system and keep it operating as expected from an LED production standpoint.
"When our customers partner with Daktronics, they know they'll be getting the best service available in the industry, and this service will be on display Sunday in Tampa," said Daktronics VP of services Sarah Rose.
"We're proud to provide peace-of-mind for sporting events at all levels of competition with our services above and beyond the purchase of equipment and technology," she said.
The home of the Tampa Bay Buccaneers has long been using Daktronics technology, dating back to Raymond James Stadium opening in 1998. The original system lasted 18 years until it was replaced in 2016 with 14 LED displays, all featuring 15HD pixel layouts.
The stadium has used Daktronics technology to host two previous Super Bowls in 2001 and 2009. Raymond James Stadium features Daktronics Show Control, which combines display control software, video processing, data integration and playback hardware into one production solution.
If you enjoyed this article and want to receive more valuable industry content like this, click here to sign up for our digital newsletters!