Super Bowl Tech: Daktronics Displays at Atlanta's Mercedes-Benz Stadium Get Worldwide Audience on Sunday
Mercedes-Benz Stadium in Atlanta, home of Super Bowl LIII between Los Angeles Rams and New England Patriots, features 83,500 square feet of LED displays.
Leave a Comment
When the Los Angeles Rams and New England Patriots collide at Mercedes-Benz Stadium in Atlanta for Super Bowl LIII in a rematch of one of the all-time upsets in football history, Daktronics will have a critical hand in creating the atmosphere and Super Bowl Tech experience.
Super Bowl LIII marks the 15th consecutive NFL championship game in which Daktronics will have a presence, says Daktronics VP of live events Jay Parker.
The LED displays being used at Mercedes-Benz Stadium total the most square footage of any stadium in the world "to provide the best game-day experience possible for fans and viewers," he says.
"We're proud to be a part of helping enhance the biggest moments in sports as this game will feature the largest video scoreboard at the biggest football game of the year."
Big Game, Big Responsibility
Daktronics will have four display technicians and two control room technicians at Mercedes-Benz Stadium for Super Bowl LIII. That includes pre-event checks and game day support from the services division.
"We've become accustomed to supporting the most watched, highest profile sporting events year after year," said Daktronics VP of services Sarah Rose.
"With people on site, it really is a benefit to our customers that many people might not think about when purchasing a display. We're always available to ensure everything runs as expected, and this weekend we'll be at Mercedes-Benz Stadium to do just that."
Mercedes-Benz Stadium features 16 LED displays totaling 83,500 square feet, including the world's largest video scoreboard, the Halo Display. The Halo, measuring 58 feet high by 1,075 feet round, is large enough for a helicopter to fly through and the length of three football fields when rolled out to its full 62,000 square feet.
That makes it "far and away the biggest video board in the NFL," and the largest in-stadium screen anywhere in the world, according to Daktronics senior project manager Tyler Jones.
That title could be swiped by the Rams and Los Angeles Chargers when their new stadium opens in time for the 2020 season.
Halo Video Board Specs
The Mercedes-Benz Stadium halo board is more than five stories tall and can show as many eight different TV feeds inside the halo. This wasn't Daktronics' first foray into halo-style displays, with an oval-shaped display called Oculus outside the Barclays Center in Brooklyn, but this was by far the most complex installation of its kind.
The halo video board is mounted to the fixed part of the retractable, movable roof of Mercedes-Benz Stadium, meaning it won't shift when the Falcons decide to open or close the roof depending on weather conditions. Even so, all the boards in the halo are outdoor-rated.
The display has two different radii, says Jones, and all cabinets within the halo have a curve to them. In total, the halo video board has 616 pieces and Daktronics had less than a month to install them all, meaning some periods of non-stop action as the deadline neared.
"Internally, a lot of people figured, 'no way,'" says Jones. "It's kind of unbelievable. It's something that's never been done before. But we had to make it a reality. This Is definitely going to raise the bar."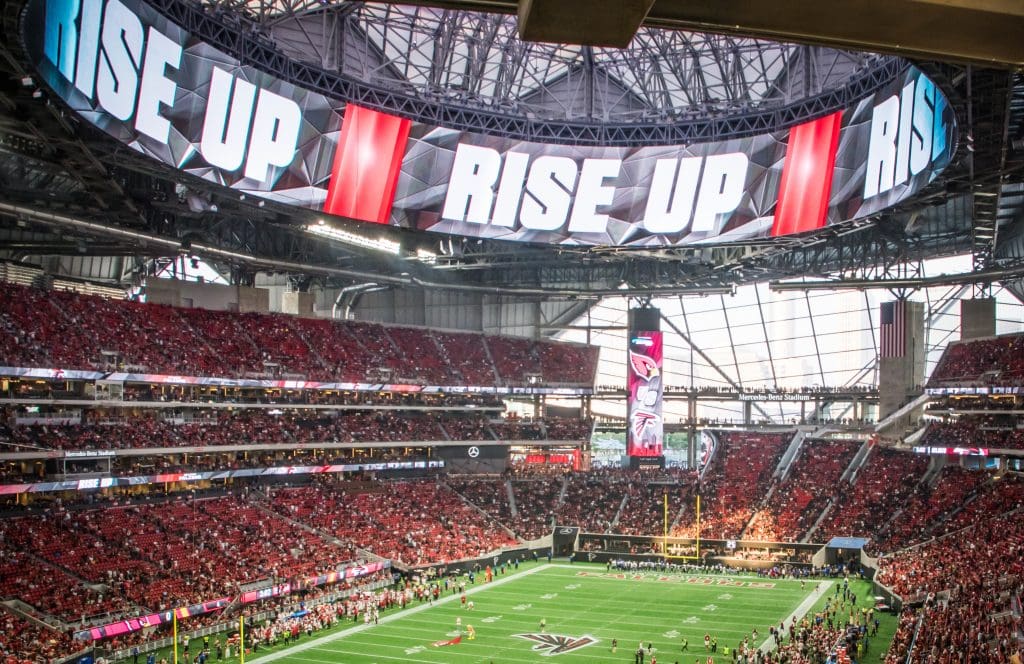 But, Wait! There's More Super Bowl Tech
The halo board isn't the only technological marvel inside Mercedes-Benz Stadium though. A massive mega column display, a curved triangle-shaped feather wall display, narrow pixel pitch displays in club areas and 3,100 linear feet of ribbon displays highlight the uniqueness of technology throughout the venue.
And CI's 2016 Integrator of the Year, Diversified, also played a major role in the creation of the most high-tech facility in sports, building an IP-based control room that is 4K-enabled, allows for high-frame rate video and a new graphics platform for that halo board.
"The way we're processing video here is completely unique," says Diversified president and COO Kevin Collins. "As we went through the design process, it became evident the halo board required unique products if it was going to get the results the Falcons wanted.
Project manager Mike Meglathery says Diversified was uniquely qualified to meet the Falcons' needs because "we're an engineering company first and foremost. The engineer in me said we had to go after this."
The undertaking was attractive to Diversified because it was large in scale and complex in nature, says Collins. The company is also drawn to projects that have short turnaround times, but this one only had certain periods when the schedule was compressed, he says.
"When we were engaged to do this project, the technology wasn't even invented to do what we wanted to do," says Meglathery. He worked with Diversified's manufacturer partners "to help them invent what we needed to do the job," he says.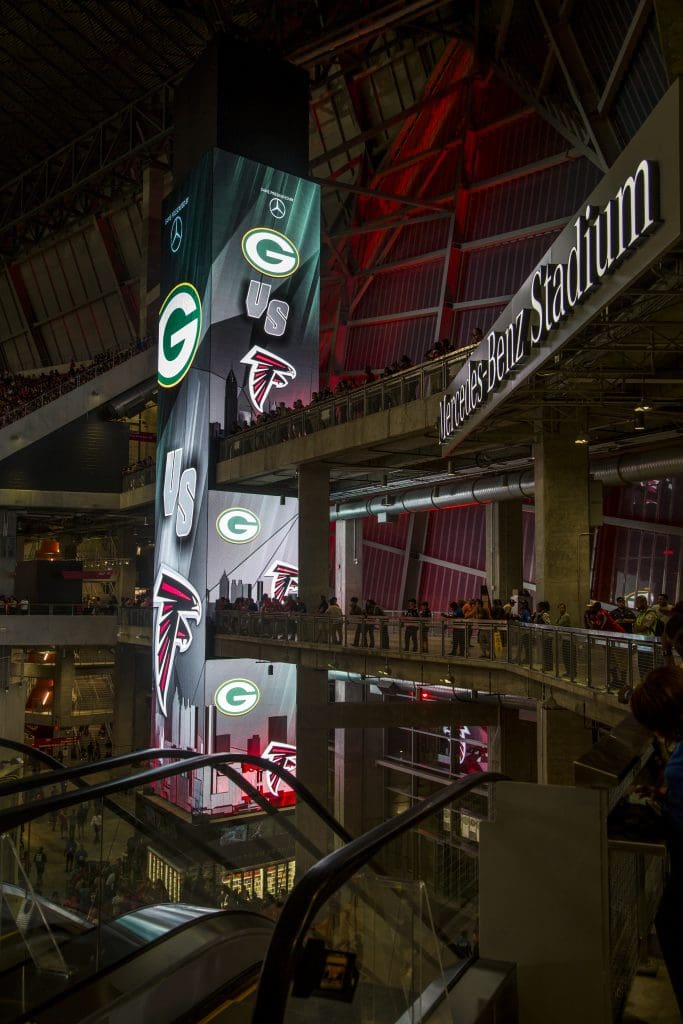 If you enjoyed this article and want to receive more valuable industry content like this, click here to sign up for our digital newsletters!