Teatrx Marries AV and IT for Collaboration at Choice Properties REIT
Teatrx designed seven multi-functioning meeting rooms for the ongoing collaboration of clients and employees at small office.
Leave a Comment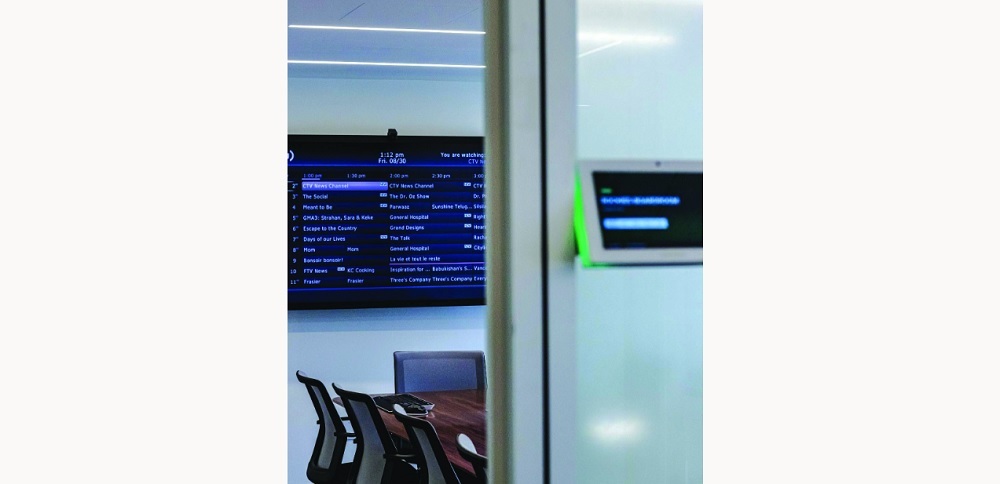 Choice Properties REIT is Canada's largest real estate investment trust company. The company engaged Teatrx to design seven multi-functioning meeting rooms for the ongoing collaboration of clients and employees.
Teatrx was contacted to create a proposal for design and integration for the project. They met with Choice Properties REIT to determine requirements and goals for the rooms.
Design focused on several goals as guiding criteria based on the needs of the client and how they would like things to work.
The meeting spaces needed their own dedicated computers running Windows 10, cable cubbies with retractable access to be stores when not in use, and the ability to wirelessly share content from a user screen to the meeting space display.
The solution was broken into 4 categories:
Huddle Spaces (3-5 people)
Mid-Size meeting space (6-8 people)
Executive Boardroom (10-14 people)
IT-AV Infrastructure
At the onset of the project, Teatrx learned that construction partners were unable to provide conduit and coring to three of the meeting rooms.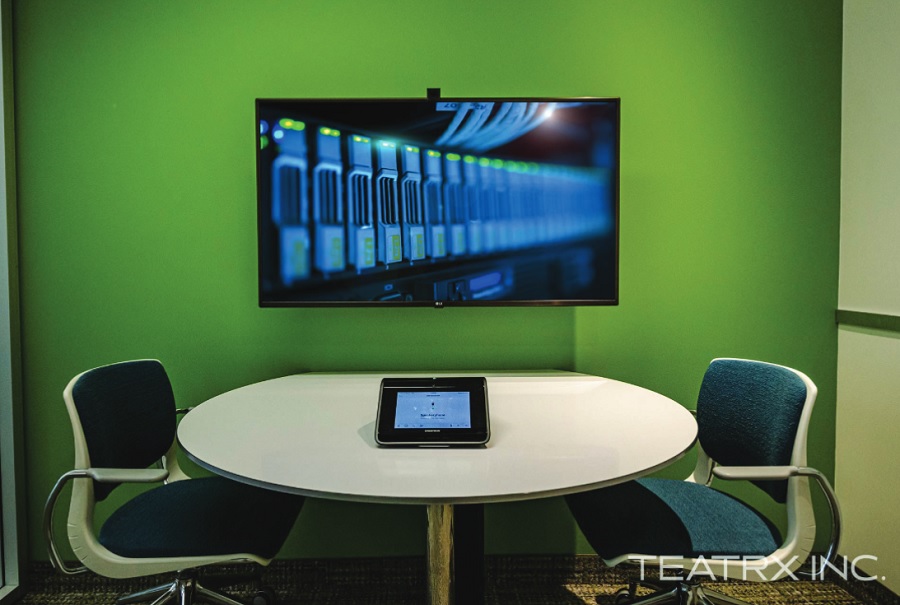 To address the high connectivity demands and multiple power circuits and cables required for these rooms they introduced Connectrac.
Working together with the projects interior designer, these in-carpet wireways integrated seamlessly in a cost effective manner while maintaining the design integrity of the new meeting space aesthetics.
Teatrx worked with contractors during the initial buildout so that wiring routes could hide all network and AV cables.
The electrical engineer was informed of all power and computer specifications required for circuit placements for cable access now and in the future.
All presentation displays were outfitted with Actiontec's ScreenBeam kits to wirelessly mirror content from a user's device without the need for any apps, dongles or buttons.
Tables were outfitted with Crestron cable cubbies to conceal all cables within. Features such as retractable HDMI and USB connections make it easier for employees to quickly get connected and start conferencing.
Crestron Mercury units were used to support any chosen video conferencing service as well as the Crestron touch panel for automating video, audio and USB switching.
The large boardroom required Crestron microphone pods to allow participants controls from around the table.
Crestron Room scheduling touch screens were tied into the IT exchange environment and Robin search engine software was used so that appropriate meeting spaces could be found from within work calendars.
Teatrx used one 4-post rack to house IT, AV, Internet, UPS and power conditioning for all equipment. They also calculated and planned for external 3rd party devices such as cable modems, cable boxes, network, fiber and building equipment that would need to be located and powered within the room.
A topology was started for the AV equipment in the rack and centralized a Crestron control processor, Crestron DM-MD 8X8 matrix switcher, Cable box, 48-port network switch and firewall dedicated for AV needs to control and manage the executive boardroom and six other meeting spaces via a managed services platform.
All the equipment was tied into Cisco Meraki network switch air-gapped from the corporate network which allows Teatrx to manage equipment, receive notifications and maximize system uptime.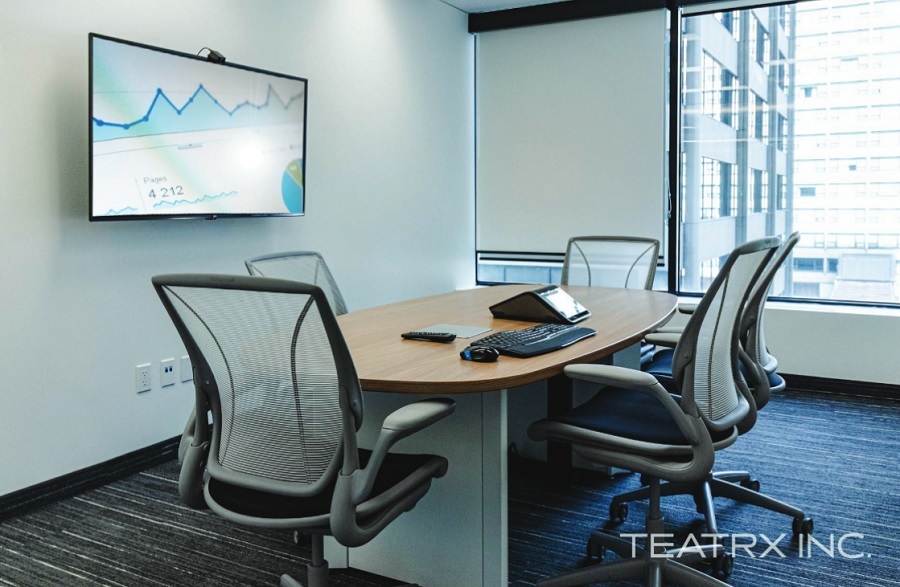 With managed services Teatrx is able to capture data if devices go offline, and can proactively remotely remediate if possible, or head to the location if needed.
This allows for real-time support to keep the meeting room equipment in working order with limited downtime.
Managed services include system maintenance as well as training and user adoption.
The three meeting space tables were connected to power, data and AV wiring. The project was completed within in a three month window.
Adoption was quick and swift, using two 45-minute training sessions to allow staff to ask questions and gain feedback. Quick reference guides were also created, offering visual training documentation for staff.
Staff are extremely appreciative that they can walk into their chosen meeting space without having to call someone back.
Their cell phones connect automatically to the Crestron Mercury hardware via the Bluetooth connection. They like the room booking panels and the experience of booking from the panel or from their computer within their Microsoft environment.
"Scott and his team have been, and continue to be an excellent service provider for Choice Properties REIT," says Krista Halvorsen, senior property manager for Choice Properties REIT.
"We hired Teatrx to design and integrate our Audio Visual and conference calling in 7 boardrooms. Teatrx provided training for all staff, together with cheat sheets we could use for easy reference. There were no surprises in the pricing or timing, and they continue to be an asset to us in addressing our business needs; assisting when needed, and monitoring our equipment through their managed services network.
"In addition to this, Teatrx assisted with our office move by seamlessly setting up all staff computers, networking, and telephones, working together with our head office IT group to ensure all systems are communicating and running smoothly. Unfortunately, we had a flood in our office and Teatrx went above and beyond to have us up and running as soon as possible. We highly recommend using Teatrx," she says.
Equipment List:
Crestron Mercury
Cisco Meraki Network Switch
Actiontec ScreenBeam
Crestron Hardware
If you enjoyed this article and want to receive more valuable industry content like this, click here to sign up for our digital newsletters!