D-Tools Updates Operational Efficiency on System Integrator 2018 R2
On display and available to order at ISE 2019, D-Tools SI 2018 R2 update adds valuable productivity enhancements for US and international integrators.
Leave a Comment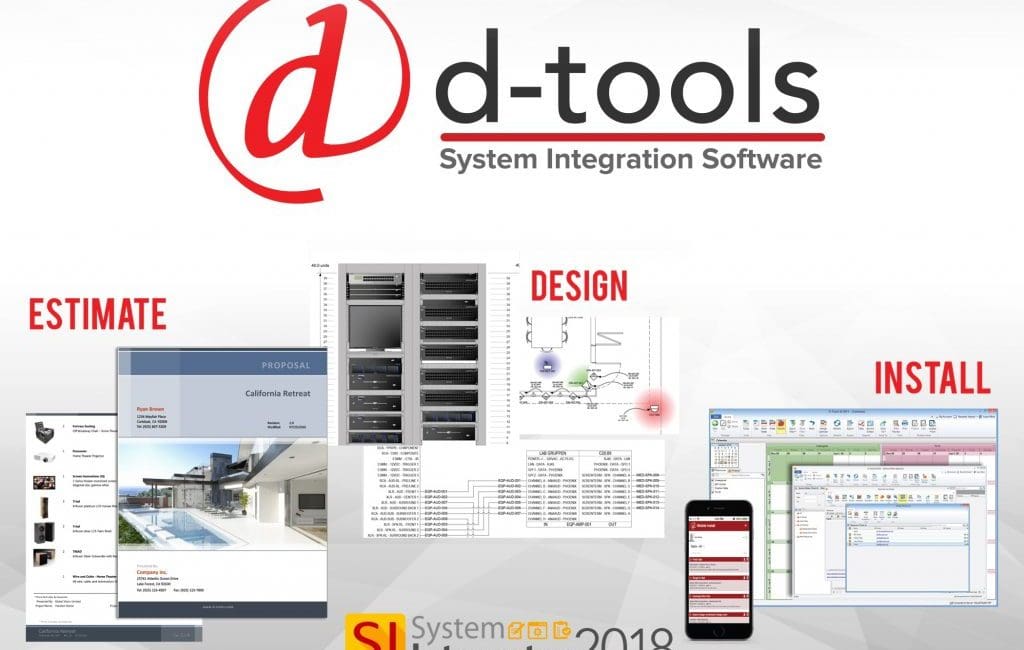 D-Tools, Inc. will demonstrate new enhancements and features to the company's award-winning on-premises System Integrator 2018 (SI 2018) solution at ISE 2019 in the RAI Amsterdam from Feb. 5 to 8 [Custom Home Europe stand 1-N80].
The company touts the System Integrator 2018 software package as "the most widely used and comprehensive estimation and budgeting, design, and project management software in the world."
"Specifically designed to fulfill the diverse needs of systems design and installation firms, SI 2018 ties project workflow into a singular, data-driven, connected process that improves operational efficiency for increased profitability," according to the D-Tools announcement.
Available for order Jan. 31, the latest release—SI 2018 R2—offers "valuable productivity and pricing enhancements including Workflow Rules, Calculated Items, and more, to help commercial AV and security companies worldwide streamline business processes," according to the D-Tools announcement.
Workflow Rules
SI 2018 R2's new Workflow rules "help business managers maintain control over company standards and processes," according to the D-Tools press release.
Workflows can be set up to trigger an action and/or send a notification based on user-set criteria for the following SI entities: Projects, Purchase Orders, Tasks, and Service Orders. Entities and/or their reports can be locked when a rule is triggered, requiring a user with permissions to unlock them before edits can be made.
Notifications
Notifications can be sent to SI users in-app, as well as emailed, to inform team members of project and sales activities such as when a project's margin falls below limit, when a project is approved, when revisions have been made, and more, to ensure everyone assigned to the project has the information they need to adapt as the parameters of a project change, and to stay on-task as required.
Calculated Product Costs and Labor Items
SI 2018 R2 users can calculate the Unit Cost and Unit Price values of products and labor items derived from formulas based on a variety of fields within SI.
With the unit cost and unit price of product and labor items, SI can automatically calculate overall project items such as shipping, per diems, allowances, and more. This feature helps managers ensure product and labor costs remain accurate and within budget.
Mobile Install Enhancements
Documents and site images added to Mobile Install can now be synced to SI, providing centralized storage of project files.
Click here to sign up for a free, personal online tour or download a free 30-day trial of D-Tools software.