Dante Domain Manager Integrates IT Into the AV Industry to Network and Secure Audio Systems
Dante Domain Manager provides the complete network management software for Dante systems using role-based security, user authentication and audit capabilities
Content from our Sponsor
Leave a Comment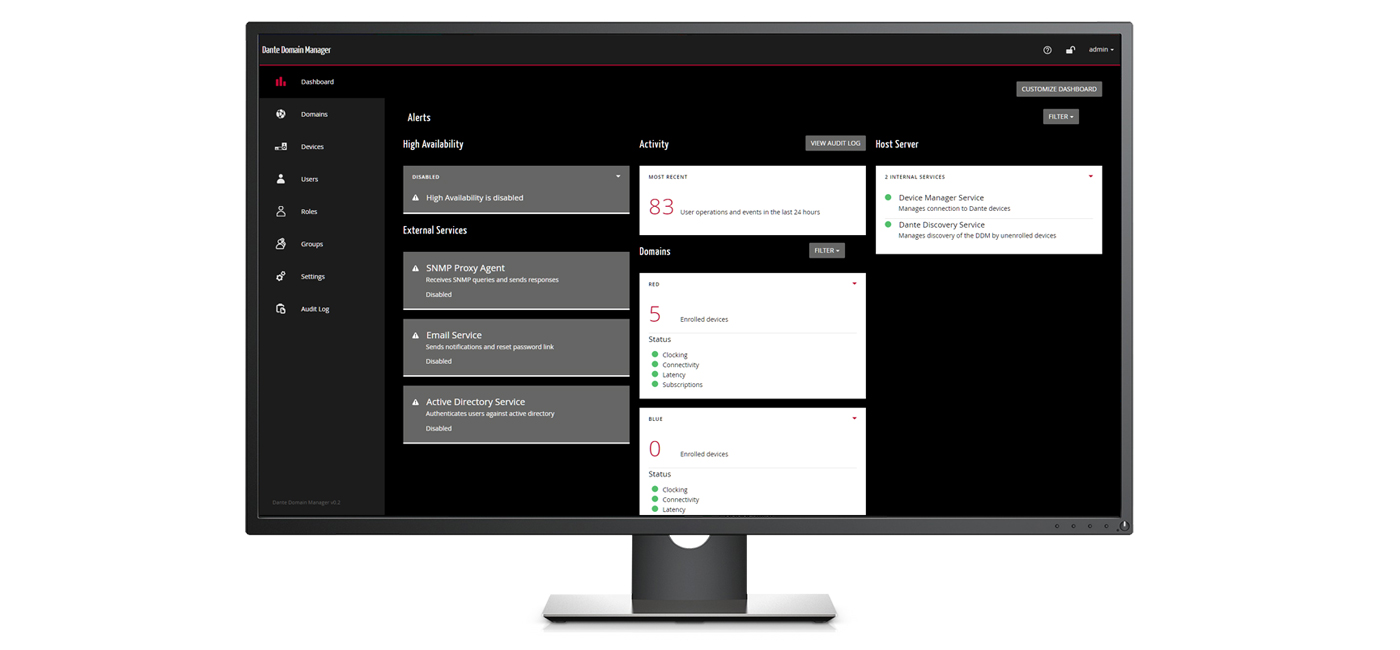 Dante Domain Manager is an enterprise-grade network management solution bringing IT best practices to the AV world and making audio networking more secure, scalable and manageable than ever before.
Dante Domain Manager has introduced the AV and IT world to ease and scalability for AV networks by creating a single network domain. More and more, AV and IT professionals are seeing a convergence in these industries. Audinate's Dante Domain Manager brings the best practices of the IT world to the AV world by integrating the network domain concept.
The network domain concept, first pioneered by the IT industry, allows AV and IT professionals to differentiate and manage multiple private networks within the same infrastructure and all controlled by the system integrator.
Dante Domain Manager allows AV and IT professionals to define specific AV device groupings by room, building and site, allowing for the creation of independent Dante Domains and enabling a single Dante Domain to encompass multiple IP subnets. This eliminates the need for complex workarounds and enables the creation of a truly enterprise-scaled AV system. Dante Domain Manager's innovative technology provides AV and IT professionals with a scalable and secure network solution. And it builds seamlessly upon existing and new installations of the thousands of Dante-enabled products on the market and currently in use.
For example, Dante Domain Manager stepped in to control and manage the Columbus Zoo and Aquarium in Ohio. Dante Domain Manager was deployed across its 580-acre campus, consisting of a zoo, aquarium, water park, golf course and dining halls.
Now, the zoo can easily control the more than 300 speakers, 50 amplifiers, 50 wireless microphones and 20 digital processors, which are all Dante-enabled and already installed on the zoo's campus, from one, central location. It helps the zoo to unify each individual system across the sprawling grounds and control audio streams, where they stream to and who has access to these streams. This allows the zoo to use audio as another method for creating an immersive experience for guests. For example, during the holiday season, the Zoo hosts its annual Wildlights extravaganza, decorating the zoo with millions of LED lights with two nightly lights shows, each using their own network. Also during the holiday season, the zoo hosts concerts that require separate audio networks. With multiple networks running simultaneously, Dante Domain Manager keeps everything centralized and protects the network from unwanted changes, ensuring all systems work as they are designed.
Specifically, Dante Domain Manager puts control in the hands of the system integrator, which helps deliver enterprise-level network management, security and control. Dante Domain Manager increases the security in AV systems by allowing only the system integrator to have full control. The system integrator is able to delegate roles and accessibility, ensuring only the right people can alter the system by using user authentication and role assignment.
Dante Domain Manager's ease, scalability and security has led many of the largest audio manufacturers throughout the signal chain to announce their products are able to support Dante Domain Manager, such as Yamaha, Symetrix and Glen Sound and many other businesses are integrating the system into their AV systems, such as the AT&T Performing Arts Center in Dallas.
Dante Domain Manager is available in three editions to meet any user's needs and budgets. The Silver edition is ideal for installations requiring user management, such as smaller houses of worship or schools. The Gold edition is suited to many mid-sized businesses and the Platinum edition covers the largest scale installations

If you enjoyed this article and want to receive more valuable industry content like this, click here to sign up for our digital newsletters!