AMX Recommends NETGEAR's AV Switches For AV-over-IP
NETGEAR's M4250 and M4300 series of AV switches are now the recommended choice for all global AMX AV-over-IP installations.
Leave a Comment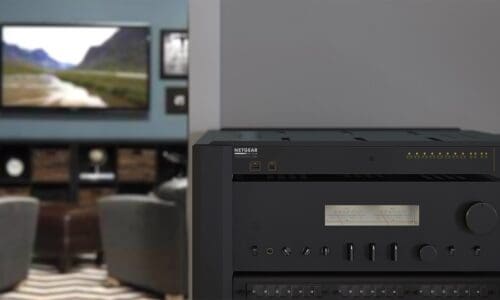 Via a new strategic partnership with AV-over-IP provider AMX by HARMAN, NETGEAR's AV switches are now the recommended choice for all global AMX AV-over-IP installations.
According to a press release, the AMX team conducted "comprehensive testing" and verified that the NETGEAR M4250 and M4300 series of switches provider the best experience for AMX's customers.
The relationship also includes AMX's development of an integration module for the industry proven M4300 switches to monitor network status via AMX's remote management suite and the NETGEAR M4300 API.
Building on the popularity of the M3400 series, the new M4250 series of switches was designed "from the ground up" with input from the AV community to ensure that the devices can send audio, video and control signals over an IP network, NETGEAR says.
Read Next: 9 Reasons We Recommend NETGEAR's M4250 1Gb Ethernet Switch
Models with PoE+ and Ultra 90 PoE++ allow powering of AV endpoints and are built with NETGEAR IGMP Plus™, Auto-LAG, and Auto-Trunk for automatic and dynamic configuration – even with multiple switches.
An AV interface helps integrators configure AV-over-IP systems, and the installer only needs to select the protocol or vendor and then select the applicable ports. The M4250 will automate the rest, according to NETGEAR.
"Our N-Series of networked AV products combined with the NETGEAR Pro AV switches provide a fantastic solution," noted Jamie Trader, Vice President, Video & Control at HARMAN International.  "In addition to the HARMAN Video & Control group, our Audio and Lighting groups will also benefit from the many features built into these switches – especially Power over Ethernet (PoE). No other switch manufacturer delivers the same performance and feature set."
"We are delighted that AMX recommends NETGEAR switches for SVSI deployments," remarked Laurent Masia, Director of Product Line Management for Managed Switches.  "Our collective efforts to achieve interoperability and technology integration will result in a superior experience for Harman's customers."
If you enjoyed this article and want to receive more valuable industry content like this, click here to sign up for our digital newsletters!