SDVoE Alliance Announces Update To AV Education, Training Platform
The SDVoE Alliance has updated to the SDVoE Academy with new features designed to make the platform easier to use.
Leave a Comment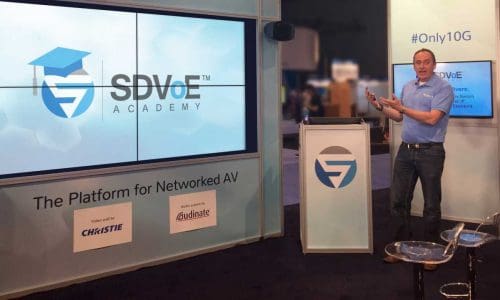 The SDVoE Alliance has updated to the SDVoE Academy education and training platform for AV professionals, with new features designed to facilitate learning and community engagement for systems designers, integrators and end users.
The organization earlier this year surveyed the SDVoE Academy users, listened to their feedback and completely redesigned the learning platform to make it easier to use and more customizable to individual learning styles, according to Matt Dodd, head of education for the Alliance and CEO of Clavia Group.
"We've even implemented a dashboard that lets users track their progress as they develop the skills they need to take advantage of the latest technologies for AV signal management and AV-over-IP," Dodd said in a statement.
According to the organization, the SDVoE Academy has attracted more than 5,000 students and served more than 25,000 lessons over more than 100 different courses in video technology, network basics, and system design across a variety of vertical markets. Two professional certifications programs, for SDVoE Design Partners and SDVoE Developers, have together graduated more than 1,600 students. The SDVoE Alliance is an official AVIXA Certified Technology Specialist Renewal Unit Provider.
SDVoE Academy is also the home of SDVoE LIVE!, which the organization calls the pro AV industry's only edutainment program.
According to SDVoE Alliance, these lively 30-minute interactive shows are educational and fun, featuring interviews with the industry's leading lights. In season one, a full slate of provocative topics was covered, from HDR and 8K to USB, cybersecurity, the digital canvas, esports, APIs and more. Season two kicks off on October 19 with a fresh line-up of guests and topics. In the meantime, all 16 episodes from season one are available on demand.
"I'm very proud that the pro AV industry has embraced SDVoE Academy as their trusted resource as we blend AV and IT technologies to take full advantage of off-the-shelf Ethernet switches to realize greater system flexibility and scalability over traditional approaches such as point-to-point extension and circuit-based AV matrix switching," said Justin Kennington, president of the SDVoE Alliance. "In this next phase, I'm particularly looking forward to building a strong community around the SDVoE Academy forum where SDVoE members, designers, developers and end users can mingle, share tips & tricks, answer questions, and solve problems together.