Some of The Best Commercial IoT Devices on the Market Today: 2019 IoT Awards Winners
Some of the best commercial IoT devices available today. 2019 IoT Awards winners make life better & jobs easier in commercial spaces.
Leave a Comment

IoT is a lot more pervasive in commercial technology than ever before, and therefore the market for commercial IoT devices has grown, too.
According to market researcher Gartner, 8.4 billion networked devices were in use last year; 31 percent more than last year. By 2020, estimates say it will already be 20.4 billion devices. The global market value of IoT products is projected to reach $7.1 trillion by 2020.
IoT is the network of physical devices, vehicles, home appliances and other items embedded with electronics, software, sensors, actuators and connectivity to enable these things to connect and exchange data.
This creates opportunities for more direct integration of the physical world into computer-based systems, resulting in efficiency improvements, economic benefits, and reduced human intervention.
To that end, Commercial Integrator, CE Pro, and Security Sales & Integration teamed up to create the 2019 IoT Integration Awards. Winners were originally announced during Total Tech Summit, which ran from November 4-6.
Here are the winners for all commercial IoT device categories:
AV and Collaboration / Communication
NEC Display Solutions of America – NEC ALP (Analytics Learning Platform) 
NEC ALP is a powerful business intelligence analytics platform that delivers real-time content and data measurement. It combines NEC's advanced video analytics with its digital signage expertise to make businesses smarter through big data, content matching, and delivering relevant, impactful content to customers. ALP Pro optimizes message delivery with automated content creation and recommendations for targeted customers using AI-based analytics, enabling businesses to customize their content based on age, gender, events, and weather. 
AV and Collaboration / Communication
Leyard and Planar, a Leyard Company – Planar® LookThru™ Transparent OLED Display 
The Planar® LookThru™ Transparent OLED Display makes it possible to create truly see-through installations with a virtually frameless glass design by utilizing cutting-edge Organic Light Emitting Diode (OLED) technology, eliminating the need for a backlight or enclosure. With 38 percent light transmissivity, the glass delivers all the benefits of interactive digital signage while allowing consumers to see the product or scenes behind the display. Available in 55-inch with full HD resolution, Planar LookThru is ideal for retail merchandising, corporate displays, museum exhibits, award or trophy cases in education or corporate settings, tradeshow exhibits and a wide range of architectural applications. 
Access Control
Altronix Corporation – Tango1B 
Revolutionizing the power of access control, Tango1B is a PoE driven Power Supply/Charger delivering 12 and 24VDC simultaneously for deploying access control. Powered by any 802.3bt PoE power source up to 90W, Tango1B harnesses the new IEEE standard. This industry game-changing solution eliminates the need for an electrician, dedicated conduit and wire runs – providing tremendous savings by using low-voltage installers and wiring methods. Tango1B also provides battery charging for Lithium Iron Phosphate batteries (LiFePO4) for added ROI. The unique stackable design of the Tango1B allows for the use of compatible Altronix sub-assemblies, utilizing a single footprint – saving valuable enclosure space.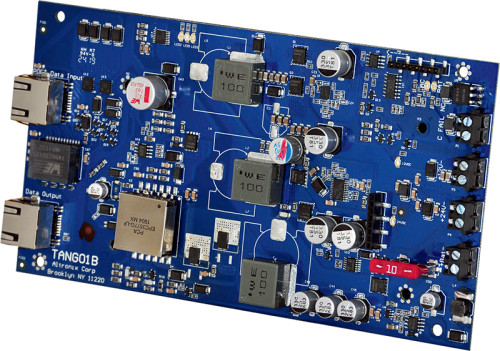 Intrusion / Fire
Singlewire Software – InformaCast Fusion 12.7.1 
InformaCast Fusion is a mass notification system from Singlewire Software that allows organizations to add value to existing devices by leveraging them for safety and communication. With the ability to reach mobile and on-premises devices and well as collaboration tools like Microsoft Teams, InformaCast Fusion offers the speed, reach and flexibility organizations need to utilize technology that's already in place to keep people safe and informed. Connect to IP phones, IP speakers, desktop computers, panic buttons, digital signage, mobile phones, door access control systems and more can all integrate with InformaCast to provide organizations with a powerful mass notification ecosystem. 

Miscellaneous
Identiv – Kraft Singles Reward Scratch Game 
Identiv has teamed up with Kraft Heinz, Walmart, TPG Rewards, and NXP Semiconductors to create the Kraft Singles Reward Scratch Game, powered by Identiv NFC tag and NXP chip technology. Available only at Walmart and embedded into Kraft Singles 24-count IRC labels, consumers are invited to use their mobile phone to tap the tag and "Find the Golden Single" in a scratch-and-win game that could earn them a $50 Walmart e-gift card. TPG Rewards manages the promotion, including game details, data analytics, gift card distribution, and tap counts. The label also features a $0.50 coupon and access to exclusive Kraft recipes. 
Smart Building Controls
Crestron Electronics Inc. – Crestron XiO Cloud™ 
XiO Cloud is Crestron's unifying cloud-based platform for remotely provisioning, monitoring, and managing Crestron devices across an enterprise or an entire client base. Crestron XiO Cloud enables organizations to simultaneously configure and deploy an unlimited number of Crestron products, thereby reducing installation time by up to 90%. 
Smart Building Controls
System Surveyor – Camera Advisor 
Camera Advisor by System Surveyor brings unprecedented visual collaboration to the field. Working with customers on location, system integrators can choose the right camera for specific video surveillance needs. On an iPad®  or Android-based tablet, integrators can quickly show customers different camera resolutions and quality. Integrated into the System Surveyor intelligent design platform, Camera Advisor further streamlines system design, installation, and maintenance. The easy-to-use platform gathers all system requirements and IoT assets in a single place. This enables extended teams to collaborate like never before to increase sales, complete projects faster, improve customer satisfaction levels, and enhance long-term service levels.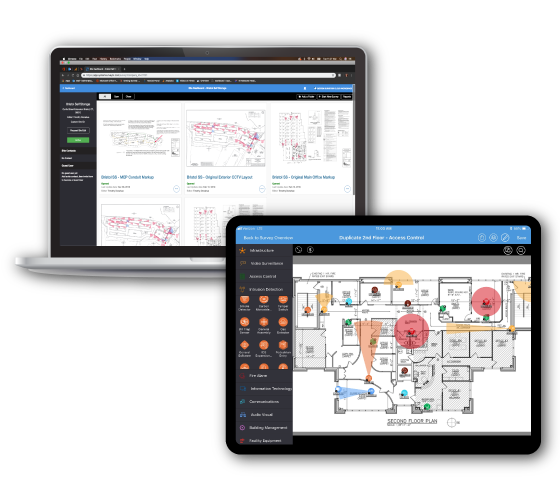 Smart Building Controls
Schneider Electric – EcoStruxure Building 
EcoStruxure Building is Schneider Electric's open, collaborative Internet of Things (IoT) platform for smart buildings that delivers significantly enhanced value across the building ecosystem. Its end-to-end IP architecture enables quick connectivity of IoT devices for faster commissioning and provides for edge control and collaboration between building systems and third-party systems and devices, used in education, commercial, healthcare, manufacturing, and many other critical environments. EcoStruxure Building's apps, analytics and services layer enables condition-based real-time decision-making, improving responsiveness and predicting service faults before they even occur.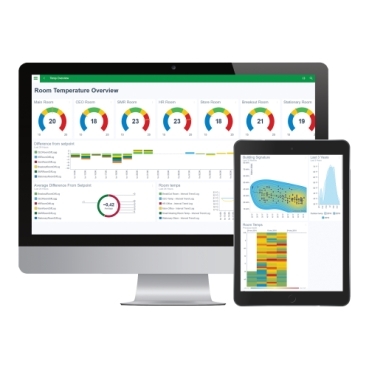 Video Surveillance
Arcules – Arcules Cloud-based Video Surveillance, Access Control and Analytics 
The Arcules Cloud-based Video Surveillance, Access Control and Analytics service combines untapped video and sensor data with the latest technologies in cloud and artificial intelligence to deliver actionable business and security intelligence for modern organizations. The cloud-based service is designed to ensure security, scalability, streamlined operations and system management — all from a single, easy-to-use interface. 
Video Surveillance
MOBOTIX – M73 
The MOBOTIX M73 is an entire video surveillance solution, housed within a single decentralized IoT device. Featuring three separate sensors, the M73 can be fully customized to any applications' needs with the ability to utilize optical, thermal, infrared, day / night, or audio functionalities simultaneously. Equipped with the new MOBOTIX 7 Universal Plug-In platform, the M73 benefits from a variety of AI-based applications which can be applied to the device depending upon deployment needs. Built for maximum robustness, physically and digitally, the M73 features both a weatherproof form factor and comes armed with MOBOTIX cybersecurity defenses.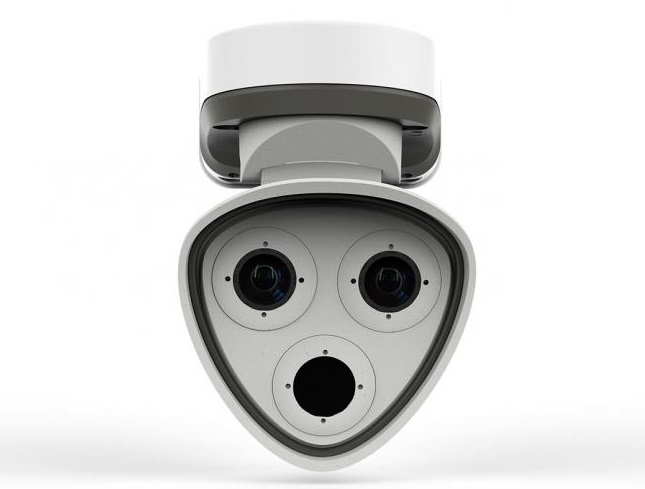 Here is a list of all other submissions into the 2019 IoT Integration Awards:
Audio / Video
MSE Audio – SoundTube Entertainment IPD-Hub2
Audio / Video
ViewSonic Corp. – X10-4K LED Projector
Control Interface
Crestron Electronics Inc. – TSR-310 Handheld Touch Screen Remote
Control Interface
RTI – T4x Handheld Controller
Control Interface
Home Automated Living, Inc. – HALnlp (Natural Language Processor)
Control Interface
Olibra LLC – BOND Bridge
Home Enhancement
MantelMount – MM860 Robotic Mount
Home Enhancement
FloLogic – FloLogic System with CONNECT
Home Enhancement
Johnson Controls – KONOzw
Home Enhancement
Nortek Security & Control – Numera Libris 2
Home Enhancement
Hunter Douglas – Duette LightLock Honeycomb Shades with PowerView Motorization
Home Enhancement
Olibra LLC – BOND Bridge
Lighting
Crestron Electronics Inc. – Crestron Home OS 3 App
Lighting
Leviton Manufacturing Co. – Leviton Decora Smart Voice Dimmer with Amazon Alexa Built-in
Network Communication
Alarm.com – Smart Gateway
Network Security
Luxul – XAP-1610
Network Security
Guard Dog Technologies – Guard Dog Smart Home Shield
Physical Security – Intrusion
ELK Products Inc. – M1 Security & Automation Controls
Physical Security – Intrusion
Nortek Security & Control – 2GIG eSeries
If you enjoyed this article and want to receive more valuable industry content like this, click here to sign up for our digital newsletters!