Streaming Live, High-Quality Aircraft Footage to Off-Site Aviation Gallery
Amara International and Matrox Maevex enable high-quality, low-bandwidth streaming of 1080p60 camera footage to educational air traffic control exhibit more than a mile away.
The Hong Kong Civil Aviation Department takes great pride in promoting the civil aviation industry and educating visitors about the aircrafts and pilots. The department's Education Path aviation gallery is designed to showcase its vision, featuring a number of interactive exhibits and displays.
Earlier this year, the Aviation Department wanted to add another gallery to its collection with a "live" air traffic control exhibit. The initiative would require streaming high-quality, low-latency video feeds of the airport's aircraft activity between the air traffic control tower and the educational gallery, over a mile away.
It was also critical that this be achieved within the department's existing network, which held 8Mbps of available bandwidth, using standard, commercial off-the-shelf network cabling and equipment.
The department evaluated several third party IT providers and AV-over-IP options. It brought in Amara International, a technology solutions provider specializing in IT and telecommunication. Amara studied the infrastructure and project, and made a recommendation for an alternative AV distribution option — Matrox Maevex H.264 encoders and decoders.
Matrox PowerStream software provides a wide set control options including easy remote device management, stream switching and bit-rate customization.
"After we configured PowerStream to the client's bandwidth specifications, video distribution became a matter of plug and play," says Jeff Lai, sales manager at Amara.
Today, the Hong Kong Civil Aviation Department uses the Matrox Maevex system to stream live aircraft footage from a 1080p60 HD camera in the air traffic control tower to a remote Epson HD projector 1.2 miles away. This is all done over their local access network (LAN) with a bit-rate limit of 8Mbps, ensuring smooth and uninterrupted streaming.
The resulting high-quality, low-bandwidth video content enables the new exhibition to replicate true, up-close footage, giving visitors the live air traffic controller experience the Aviation Department was hoping for.
MORE: Matrox Graphics' Ron Berty Talks Signal Distribution Options
Take Our Latest Quiz
Recommended For You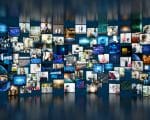 Organizations are seeing a boon when implementing AV over IP technology, and integrators are finding happy customers when installing AV over IP. In this webinar, you'll learn exactly why you need AV over IP.
After attending this free webinar from Commercial Integrator and TechDecisions you'll understand what you need – and everything you can do – to ensure you get the best UC services for your organization working together.